Are you someone who wants to target active as well as passive candidates? Do you believe in proactive hiring? Is data-driven hiring your top priority?
If your answer to the above questions is yes, you need recruitment CRM software.
What Is Recruitment CRM Software?
Recruitment CRM is also known as Candidate Relationship Software. It helps you source, nurture and manage your relationship with the candidate.
CRM was originally called Customer Relationship Management. It is meant for managing customer relationships. However, as we know modern recruitment practices use digital marketing and sales practices for efficient hiring, and the term recruitment CRM was coined.
Why Do Companies Need CRM For Recruitment?
Recruitment CRM software is primarily used for sourcing candidates.
Gone are the days when it was easy to rent a candidate database and search for candidates. Today, candidates use various platforms.
Candidates have websites. They write blogs.
If you want the best UX candidates, you should use Behance or Dribble. If you need the best programmers, maybe GitHub is the place for you.
There are so many platforms. Finding the top talent is a daunting task. And hence, you need to have the right strategy to reach, nurture, source, and hire these candidates.
Let's look at the various scenarios where using CRM for recruitment can help you hire candidates, faster.
Build A Recruitment Database of Active and Passive Candidates
Searching for talent is like marketing and sales activity. In the beginning, you wouldn't know if the candidate is interested in the job opportunity. You need to contact candidates and find out.
In your journey from searching for candidates to getting them to apply for the job, you may contact many candidates. You would connect with either active or passive candidates.
Active candidates are actively searching for new job opportunities, whereas passive candidates are not.
Again, active candidates may or may not be interested in the job position you have.
Irrespective of if a candidate is interested in the job opening or not, you don't want to lose the contact you made. Maybe the candidate could be interested in future job openings. Hence, you want to include such candidates in your recruitment database to contact them in the future.
With recruitment CRM software, you could set up a reminder to reach a candidate in the future. For example, a candidate might say he would look for a better opportunity after six months. You can set up a reminder or auto-schedule an email. This way, you don't miss out on any candidates.
A few modern recruitment CRM software also has a chrome extension that lets you add candidate details from platforms like LinkedIn, GitHub, Indeed, or most job portals directly into CRM. It means you can keep growing the candidate database and then target them with the right opportunities.
Hire Proactively With Recruitment CRM Software
Proactive hiring is about sourcing candidates ahead of time. You start building talent pipelines anticipating future hiring needs.
You could come across some great talent at any point in time. For example, you may find some well-written engineering or design blogs. And you immediately want to add the candidate to your contact list.
Use recruitment CRM to start building talent pipelines proactively. When you have the right job opportunity, reach them with the right message.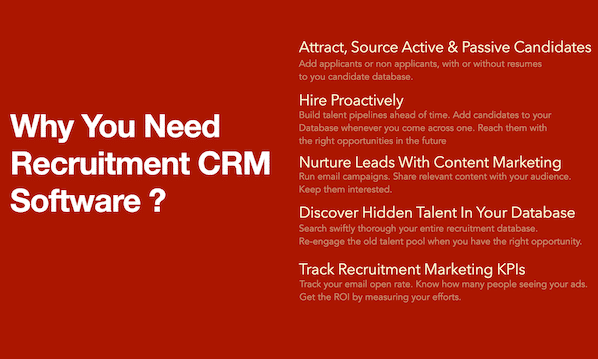 Use Your Existing Candidate Database To Discover Talent
Every company eventually builds a large talent database. How do you leverage such a candidate database to discover talent?
You should be able to swiftly search through your candidate database to find the relevant candidates. Modern recruitment CRM software can search the complete candidate database in a few seconds. But if you are using spreadsheets it could take you days or even weeks.
Also, once you find the relevant candidates in your database, the next step is to reach them by email or text message. Share job opportunities with them. If they are interested, they will apply for jobs.
You could also use recruitment CRM software to request old candidates to update their resumes. This way candidate database stays up to date.
Track Your Efforts With Recruitment CRM Software
Imagine, you email job opportunities to hundreds of candidates, and you never hear from them. You are clueless.
Another example, you posted a job ad on LinkedIn or Facebook, but you don't know how many candidates viewed your job ad. You don't know how many candidates your job ad reached.
Often we spend efforts without understanding if those efforts are producing any results.
Advanced recruitment CRM can help you track such efforts. You can track important recruitment KPIs using recruiting analytics.
When you can measure your efforts, you can also measure your ROI. It is simple as that.
Recruitment CRM software tracks many data points that help you measure your candidate sourcing efforts. For example, you can track which platform brings you the maximum candidates. What platform works best for what kind of job roles. You can measure many such KPIs to direct your efforts more efficiently.
We have ATS. Do We Still Need Recruitment CRM?
Traditionally, ATS (Applicant Tracking System) comes into the picture after receiving the applications. It deals with resumes, the hiring process, and compliance.
Recruitment CRM software can source candidates from various channels. It takes care of inbound and outbound hiring.
In other words, using recruitment CRM you can source candidates even before they apply for the job. But, once they apply for the job, you need an ATS to track their resumes and the rest of the hiring progress.
Today, the distinction between ATS and CRM is getting blurred. Many ATSs are offering some key CRM features and vice versa. Hence, the debate ATS vs. CRM is slowly subsiding.
Is Recruitment CRM Software Meant for Recruitment Agencies?
Often recruitment CRM software is seen as recruitment agency software. And there is a reason for it. Recruitment CRM software also has a module that helps recruitment agencies manage their customers.
Recruitment agencies manage two workflows. One for candidates and another for their customers for whom they hire.
ATS generally doesn't have a module to manage customers, and recruitment CRM does.
Also, the primary job of recruitment agencies is to source candidates. Hence, recruitment agencies may prefer recruitment CRM over ATS.
Nurturing Your Leads Is The Key To Candidate Relationship Management
The key to converting a candidate into an applicant is how you nurture the relationship.
Just adding contacts to your recruitment database is not enough. You should maintain the thread with candidates. Here is a quick list of things you should practice to nurture candidate relationships.
Share relevant content with the candidates. For example, how they can proceed in their career.
Send relevant job opportunities to them
Share industry insights such as the trending job roles, salary trends, etc.
Host webinars with the industry experts on various topics related to career development
Recruitment CRM software eases candidate sourcing. It puts you ahead of your competition. Be it employers or recruitment agencies, every other company is using the same traditional approaches to source candidates. The question is how you beat the competition. You need the right strategy and the right tool to support that strategy. Recruitment CRM software is the tool that can change your hiring game.