Inbound recruiting is candidates discovering jobs in your company. And then they may apply for the job if they are interested.
Traditionally we have seen more outbound recruiting practices where recruiters go after searching candidates.
In inbound recruitment, candidates find you. In outbound recruitment, you go after candidates.
So, which recruiting strategy is better? Whether it is inbound recruiting or outbound recruiting? What are the different tools to implement inbound hiring? When should we use an inbound hiring strategy? And when should we opt for outbound recruitment?
We will find answers to all the above questions. Let's get started with the basics.
What Is Inbound Recruiting or Inbound Hiring?
The concept of inbound recruiting is similar to inbound marketing. Inbound marketing helps you attract the right potential buyers. It uses SEO, content marketing, referral channels, social media marketing for drawing customers to their products or services.
Today's customers are well informed. They research before buying the product. Customers could use Google search or platforms like Quora or review sites for their research. You want to make sure your product or service pops up in a customer's research. That's Inbound Marketing. Bringing customers to your product.
Similarly, with an inbound recruiting strategy, you want to attract qualified candidates, engage them and convert them into job applicants.
What is Outbound Recruiting?
Outbound recruiting is where recruiters actively search for qualified candidates who might be interested in the job opportunity.
The outbound hiring approach is labour intensive and often seen as short term solution.
Inbound Vs. Outbound Recruiting
Inbound recruiting is like casting a fish net, whereas outbound recruiting is like spearfishing.
So, which hiring strategy is better? Inbound recruitment or outbound recruitment? Before we find out which is better, let's understand both the hiring strategies in detail.
Inbound Recruiting Strategy
Inbound recruiting is all about driving candidates to jobs. You can achieve that using organic and paid recruitment marketing channels.
Let's look at some of the organic inbound recruitment marketing strategies.
Inbound Recruitment Organic Strategies
We are living in a candidate-driven market. It means top candidates get off the market in a matter of a few days. Most candidates prefer to find their opportunities on their own.
So how do you hire such top talent? By leaving a trail which will point candidates to your company.
A. Content Marketing
Your company website is your best-selling tool. Be it your products, services, employer branding, your website is the one that makes the first impression. And you know what they say about first impressions!
Build a great website that also gives glimpses about how it is to work in your company.
Write blogs. Write about the impact your company is making.
Content marketing is slow but produces exponential results over the period. The blog you write today can bring you traffic even after ten years.
When candidates read great things about the organization, they will check the different job roles you offer in your company.
B. Search Engine Optimization (SEO)
How do you get your website or blog to rank higher in Google search? The answer is SEO.
You require a good SEO strategy for your content to rank in Google search.
The higher you rank in Google search, the more candidates would be looking at you.
Again, SEO is a long-term strategy that could produce staggering results over time.
C. Post jobs to free job posting sites
Many job sites allow free job posting, including Indeed, LinkedIn. Many job sites focus on a specific industry. Some cater to the blue-collar sector, some cater to the engineering industry, and some job sites post only internship opportunities.
We also have job sites that are specific to freelancers.
These free job sites are divided by geographies too. A few of them are international, whereas some cater to specific countries.
Free job posting brings you more candidates at no extra cost.
When you do job posting to multiple job boards, it could also improve your SEO score.
D. Get your job listed on Google For Job Search
If you are a candidate and you do a job search on Google, the first organic result you will see is the list of jobs aggregated by Google.
Yes, Google has entered the job market.
If your jobs don't feature in Google search, then it means you are losing many potential candidates.
You may want to read how to post your jobs on Google search to know how to get listed on Google job search.
E. Share Jobs and Stories on Social Media
Use social media to build an employer brand.
Everybody is on social media.
Don't just post jobs on social media. Tell success stories. Share about your company culture.
Grow your audience so that when you post jobs, it reaches the right people.
F. Retarget Candidates In Your Database With Email Campaign
Over some time, every company builds a sizable candidate database. You may want to reach these candidates with a targeted email campaign.
You may want to target the candidates who had cleared at least one round of interviews.
It is a good idea to arrange your talent as per skills, job function, or industries. It is then easier to approach relevant candidates. The resume management software could help you to get more organized.
Inbound Recruitment Paid Strategies
We have seen some effective organic strategies for inbound hiring. These strategies don't cost anything. Almost.
Let's look at some of the paid inbound recruiting strategies.
A. Employee Referral Programs
The employee referral program is the best way to get the right employees for your organization.
You can give incentives to your employees for bringing in their friends to the organization. Often companies give away referral bonuses to motivate their employees to refer their friends.
Employee referral is the most cost-effective hiring channel with a high ROI.
B. Advertise Your Jobs On Premium Job Boards
Posting jobs on premium sites could be expensive but, it gets you the attention you require.
When you post jobs to premium sites, it reaches the mass. It means you get many candidates applying for your job.
This inbound hiring strategy is short-term but brings quick results.
Outbound Recruitment Strategy
Outbound recruitment is about hunting talent. It is like Sales.
In outbound hiring, recruiters should have a good understanding of job requirements. It is only then they can identify prospective candidates.
So, how do you search for the right talent?
A. Buy Subscription To Candidate Database Solutions
Buying subscriptions to job boards that offer candidate databases is the most commonly used practice in outbound hiring. LinkedIn, Indeed, Monster are a few examples of such candidate database solutions.
It is the oldest and the quickest way to get access to millions of candidates. You use keywords (skills) to search for candidates.
However, there are many challenges in using this approach. Some of the challenges are –
You are not sure if the candidate is interested in the job opportunity unless you talk to them. It is like cold calling.
Your competitors are also looking at the same candidates. How do you make sure you reach the candidates first?
B. Proactive Hiring – Build Talent Pipeline Ahead of Hiring
Proactive hiring is identifying future hiring needs and preparing for them in advance.
You look out for talent on different platforms like social sites, blogs, job boards and then build a relationship with them. It is like building talent pipelines for future hiring needs.
When you have the right job opportunity, you pitch it to the relevant candidates.
C. Headhunting
Many people confuse recruitment with headhunting. However, headhunting is one of the outbound hiring strategies.
Headhunting is mostly about targetting people from other organizations for specific roles.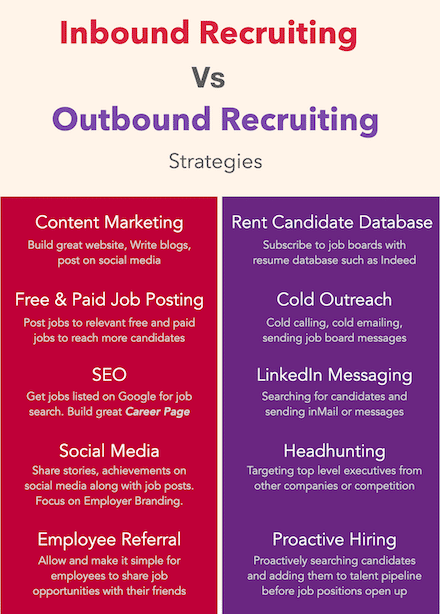 Which Recruitment Strategy Is Better? Inbound Recruiting Versus Outbound Recruiting
Your ultimate goal is to get a candidate to apply for a job.
Candidates you receive via inbound channels tend to convert better and are most likely to accept the job offer.
Candidates research your company on platforms like Glassdoor. They want to know about the company's culture. They want to find reasons to work in your company. Hence, your job is to make it easy for candidates to find this information. However, all this is effective with inbound hiring strategies.
Inbound hiring is a long-term strategy. You will be attracting more and better passive candidates over time.
Inbound recruitment is less expensive and gives better conversion.
Outbound hiring is expensive. Although it gives you quick access to the candidates, it does not mean better conversion.
Outbound recruitment strategies do not prepare you for future hiring.
If Inbound Recruiting Has So Many Advantages, Then Why Companies Don't Implement It?
Historically recruitment was confined to a couple of hiring channels. Like publish a job ad in a newspaper, and candidates would walk in for interviews.
Then came the online job boards. You can rent a candidate database of such job boards.
There were no other platforms where candidates would go. Candidates would upload their resumes only on job boards. It was easier for companies to rent a candidate database and search for the candidates.
Also, companies thought they would need special marketing teams to take care of recruitment marketing.
Paid job promotions used to be expensive because there were only a few options were available.
But over the last few years, the recruitment practices have changed drastically. The cost of job advertisements has come down noticeably. It is more affordable now. Candidates have many platforms to join. They are spending more time on social media, niche platforms, blogging, etc.
If you want to find good graphic designers or UX experts, you want to go to Behance rather than LinkedIn. Similarly, GitHub and Stackoverflow are the best places to find the best programmers.
Candidates even have their websites.
Candidate sourcing is the primary function of recruitment. To source the top candidates, you should be using the platforms where your target candidates are.
MacDonald used Snapchat for their hiring.
Most leading companies have learned they can not stick to old hiring strategies to hire the top talent.
Conclusion
Outbound hiring is no more the only way to hire people. However, it is a quick but expensive way to hire candidates.
Inbound recruitment is scalable, long-term, and gives better conversion.
The recruiting landscape has changed drastically in the last few years. Candidates are on various platforms. The way candidates go about their job search has changed dramatically.
Companies can no more rely on traditional ways of hiring. Companies may need a combination of both outbound and inbound hiring. However, it is high time companies start working on inbound recruiting strategies that are missing in most organizations.