The recruitment market, recruitment methods, and hiring techniques are changing rapidly today. Hence, modern recruitment tools are also on the horizon trying to address the new challenges faced by changing times.
However, many companies and recruitment agencies continue to trust ATS and recruiting CRM they have been using for decades. Are these tools relevant today? Have these tools got the makeover yet? What is the difference between ATS and CRM? Which one is better for you? Or do you need a more advanced platform based on changing hiring practices? Let's find out.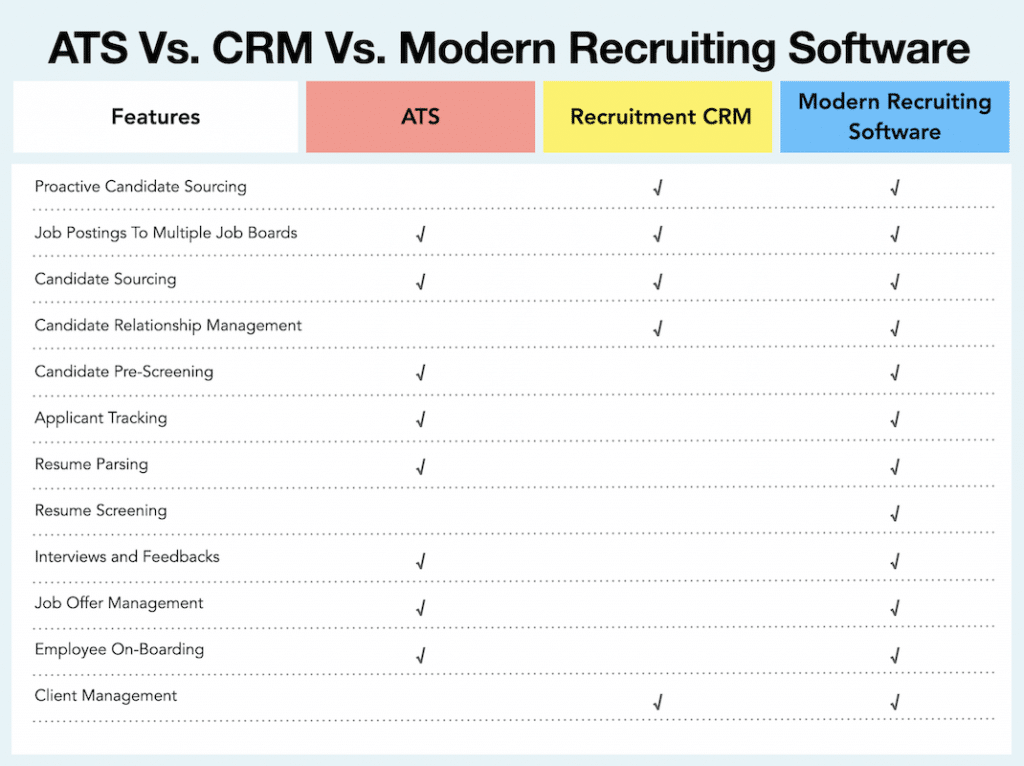 What is a Recruiting CRM?
Recruitment CRM, also known as candidate relationship management software, allows recruiters to build relationships with potential candidates.
Recruitment CRM works similarly to a customer relationship management system where recruiters treat candidates as customers to convince them using personalized experience.

Similarly, building relationship with the candidates is crucial to winning over the competition. Using recruitment CRM, a company can build various talent pipelines and keep them engaged with constant communication.

This way, whenever a company needs to hire a new employee, they may not need to start afresh rather they can look into their already built talent pipelines.
Recruiting CRM is a great tool, especially for candidate sourcing. It helps you a great deal in proactive hiring.
What is an ATS?
ATS stands for an applicant tracking system that can automate the complete recruitment process. This system is mostly focused on tracking candidates and streamlining the recruitment process.

ATS offers numerous candidate data management features to enhance recruitment processes, such as:

Maintaining a talent pool
Posting job ads on multiple platforms
Scheduling interviews with the right candidates
Tracking candidates
Handling job offers and more
When Do You Need Recruitment CRM?
Why do you need a recruitment CRM? As per recruiting software impact report by Capterra, almost 94% of recruiters and hiring managers have confessed that recruitment tools have positively impacted their hiring process. And, below are some of the use cases where using recruitment CRM has improved the efficiency of the recruitment team.
Proactive Candidate Sourcing
Since 70% of the workforce contains passive candidates, recruiters need to shift from reactive to proactive hiring models.
When you are proactively looking to hire competent employees in your workplace, recruitment CRM can help to build talent pipelines for future requirements. In other words, you might not be hiring right now, but you can maintain candidates' data in your recruitment CRM to connect in the future.
Automate Communication With Candidates
HR managers are very busy people. They don't have sufficient time to keep candidates in the loop with constant communication. Luckily, recruitment CRM can automate the communication process for recruiters.
Using email campaigns, recruiters can automatically send emails regarding new job opportunities, company events, and other specifications to keep candidates interested in the organization.
Centralized Talent Pool
Many qualified candidates come to your radar when you post a job ad. Now, you might have found the right candidate to fill the current job position currently, but you can keep details of other competent candidates in your recruiting CRM too. You can continue to build a big talent pool of yours. This way, every time you have a new job position, you could easily reach out to the candidates who had shown interest in your organization.
Customer Management For Recruitment Agencies
The key differentiator for recruitment CRM is customer management if you are a staffing company.
Recruitment agencies need to manage their customers. Search for new clients. Hence, they need a platform that can keep their clients' data, new leads in one place. There could be assigned account managers who would be handling this data. CRM for recruitment agencies makes all this possible with ease.
It is one of the reasons why recruitment CRM is also called recruitment agency software.
When Do You Need An ATS?
Why do you need an applicant tracking system? Well, today, over 98% of Fortune 500 companies are using ATS to enhance their recruitment abilities. And, below are some reasons why using an ATS will help you stay ahead of your competition.
Posting Job Ads To Multiple Job Boards In One Click
Once you have created a compelling job ad, you have to post it on different recruitment websites to reach out to more job seekers. Manually, it will take lots of recruiters time to post and track job applications on different portals. But using the ATS application tracking ability, you can post job ads on various websites with a click.
Candidate Screening
ATS can let you configure pre-screening questions. You can validate must-have criteria when they apply for the jobs.
Also, AI-powered ATS can screen resumes using machine learning, matching the right candidates with the right jobs. Recruiters don't have to read hundreds of resumes and shortlist the right candidates manually with ATS.
Scheduling Interviews
Using ATS, you can easily schedule interviews with different job applicants. This software will help you set an interview schedule based on HR managers, recruiters, and interview-taking employees' availability. You can also send reminders for interviews using ATS.
Employee Onboarding
ATS platform can speed up the onboarding process for organizations. Especially for remote and hybrid onboarding, ATS can provide collaborative, effective, and transparent interfaces.
Benefits of Recruitment CRM
Reduce Time To Candidate Sourcing
With recruitment CRM you can keep building talent pipelines proactively, which means you can source candidates much faster as the new job position arises.
You don't need to start when there is an opportunity. You would already have an audience to reach out to.
Better Employer Branding Opportunity
With automated communication, you keep your future hires engaged. You can regularly keep in touch with your audience.
You can send a newsletter. Share success stories of your company.
Generally, a career page is considered your employer branding page. However, recruiting CRM gives you better opportunities to stay connected.
Benefits of Getting ATS
Collaborative hiring
Application tracking systems come with advanced features that allow hiring managers, recruiters, recruitment agencies to collaborate.
Recruiters can share notes and feedback about a candidate's performance among themselves and with hiring managers using the ATS software. This facilitates them to make collective decisions to hire a candidate.
Speed Up The Recruitment Process
ATS streamlines your hiring process. Everything that you need to manage recruitment can be achieved with ATS. All your data remains in one place.
You don't need to go back n forth with the hiring manager or vendors. All your communication can be in one place.
Similarly, ATS offers many features that automate mundane recruiting tasks and speed up the hiring process.
Difference Between ATS and Recruiting CRM
So far we have seen how each recruitment CRM or ATS helps you automate the recruiting tasks. Each of these recruiting tools brings some unique value to the table.
So, let's quickly look at the difference between recruitment CRM and ATS.
Applicant Tracking System
The major use of ATS comes into the picture after you receive the candidate application or resume
Used for job posting, sourcing, shortlisting, interviewing, and hiring candidates
ATS streamlines the end-to-end hiring process
Recruitment CRM
Recruitment CRM is used pre-hiring
Recruiting CRM is used for candidate sourcing, candidate relationship management, and automated communication
CRM for recruitment agencies also help them manage their clients
ATS Vs Recruitment CRM – Which One Is Right For You?
The best answer is you should have both!
But if you need to choose one, then you need to ask a simple question – what is your primary focus? Is it Candidate sourcing or streamlining the entire hiring process? If your answer is the former then you could go for recruitment CRM otherwise go for an ATS for end-to-end hiring automation.
Can We Have Both ATS and CRM Features In One Platform?
There is modern recruiting software that gives the functionality of both ATS and CRM. Hence, the difference between ATS and CRM is diminishing every day and now there is a very thin line that remains between the two.
Such modern recruiting software will provide you with all the features of ATS. It also lets you connect with candidates without their resumes. Recruitment agencies can manage their clients in the same system.
Alternatively, you can consider Applicant Tracking System with CRM integration. In other words, ATS could help you connect with other dedicated CRM like Salesforce or Hubspot so that you can manage candidate relationships using such CRMs.