Well, when it comes to hiring, Indeed is such a huge brand that needs no introduction. Founded in 2004, it is a subsidiary of a Japanese firm Recruit Co. Ltd. The same company also owns brands like Glassdoor and Simply Hired!
Indeed job board serves more than 65 countries and is available in at least 25 languages.
Indeed crossed Monster.com in 2010 to become the highest-traffic job website in the USA.
If these are not enough reasons then let's look at a few more to know why Indeed should be your top choice for a job posting.
Why Should You Post A Job On Indeed?
Indeed has established itself as a top job board for several compelling reasons. Firstly, it boasts an extensive reach, with millions of job seekers actively using the platform to search for job opportunities.
Secondly, Indeed provides a user-friendly interface that allows employers to create and manage job postings effortlessly.
Additionally, the platform offers robust features such as advanced search filters, applicant tracking systems (ATS) integration, and the ability to promote job postings for maximum visibility. This makes the job posting process seamless for the companies.
Indeed provides hiring insights that help employers to gain a competitive advantage. It offers insights like expected salary, a competitive score of the job function, etc. to help you figure out how easy or difficult going to be hiring for that job.
Indeed has built a reputation for delivering quality candidates thanks to its rigorous review process.
According to Similarweb analysis, Indeed is the number one website for traffic to jobs and employment searches. It gets a whooping 632M international monthly traffic. According to Indeed, they reach 93% of online US job seekers. They have more than 225M resumes in their database, worldwide.
So, let's find out how to post a job on Indeed.
Step-by-Step Instruction – How To Post A Job On Indeed
Let's look at a detailed step-by-step guide on the Indeed job posting.
Step 1 – Set Up Employer Account on Indeed
First thing first – get your employer account set up. To get your account created, visit Indeed's website and click on the option "Employers/Post Job". This will redirect you to Indeed For Employers page.
You would need information like company name, number of employees, contact details, etc.
Once you verify your credentials and submit the company details, you are all set to post your first job.
Step 2 – Getting Started With Job Posting
If it is your first job post on Indeed, you will have to start from scratch. Otherwise, you could also use previous jobs as a template to post a new job.
To get started with a job post, we need basic job details like job title, job location (remote, physical, or hybrid model), and job type (full-time, part-time, etc.).
You can also provide a salary range. It is not mandatory, but it is a recommended practice. This will interest the right set of candidates that are within your budget.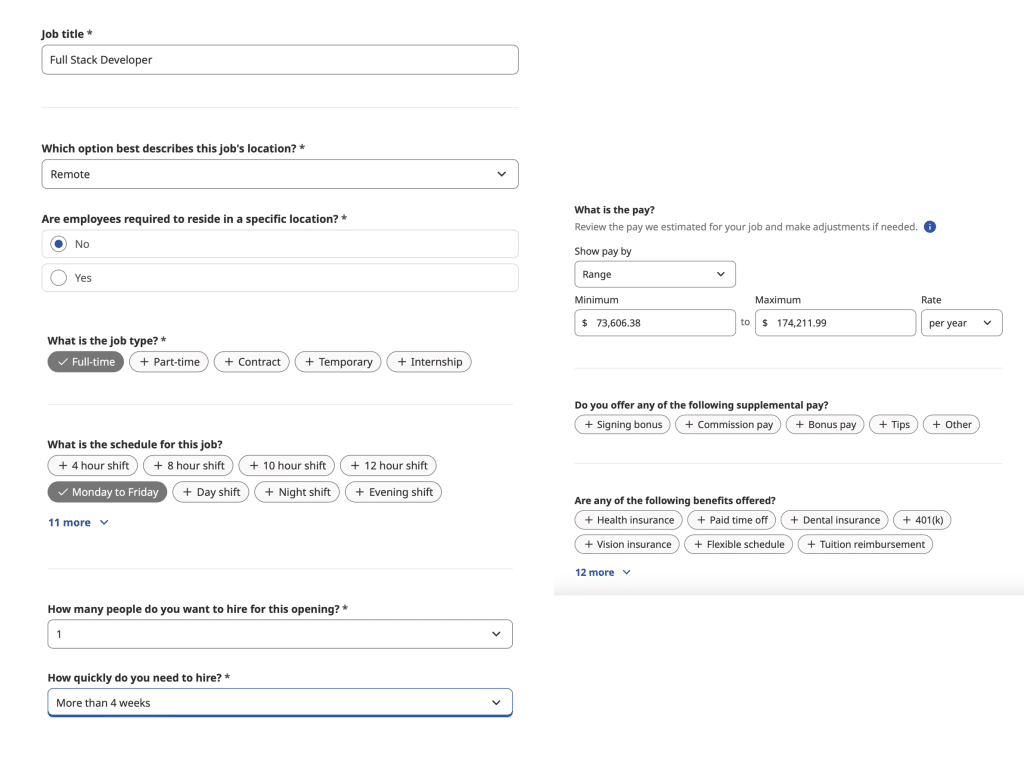 Once you entered basic job details, you need to write a compelling job description.
Step 3 – Write A Kickass Job Description
The job description is the most crucial step. It's your opportunity to sell a job to the candidate. So, you make you provide all the information like the skills required for the job, roles, and responsibilities of the hired person, benefits, and perks.
Make sure you highlight mandatory skills.
You need to keep it simple and transparent.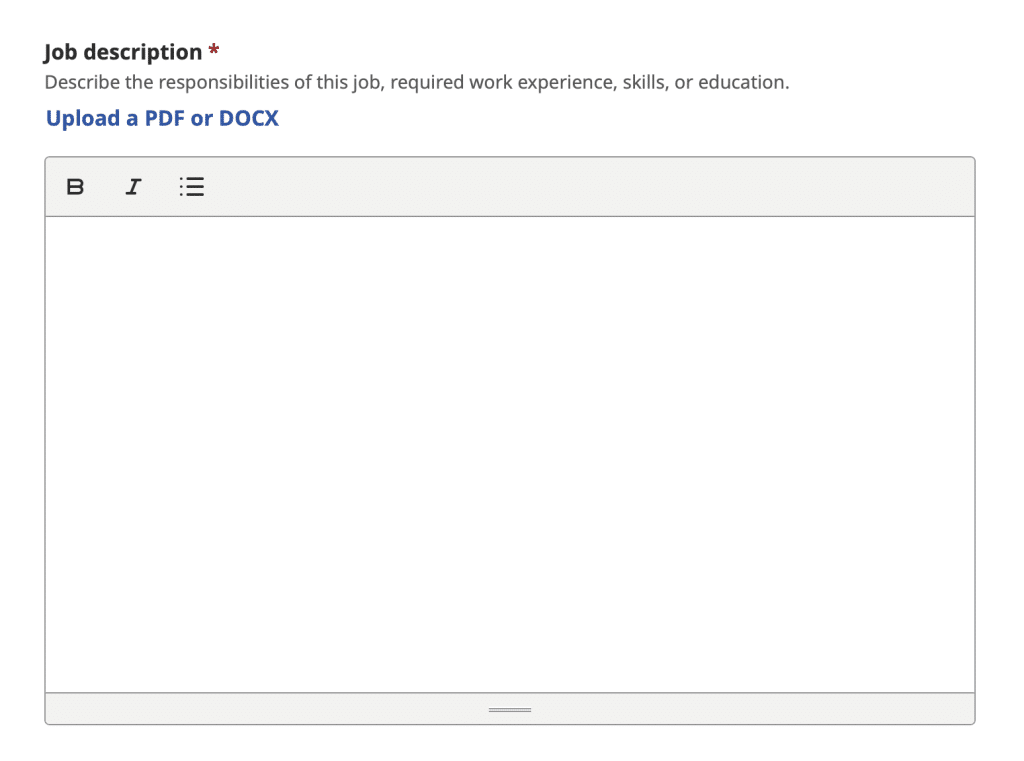 Here is a guide on how to write a good job description.
Step 4 – Add Prescreening Questions
Indeed allows employers to add screening questions to job postings to filter applicants effectively. By asking prescreening questions, you can filter out the candidates that don't match your must-have criteria.
Indeed reports that jobs with prescreening questions are 40% more likely to result in a hire.
You can ask various kinds of questions such as
Short answer
Long answer
Yes-No
Multiple Choice
You can also ask mandatory questions which takes us to deal-breaker questions.
Adding a deal-breaker question
Indeed has an interesting feature where you can add a "deal breaker" question. Meaning, if the candidate does not meet specific criteria, you may directly move the candidate to the reject stage.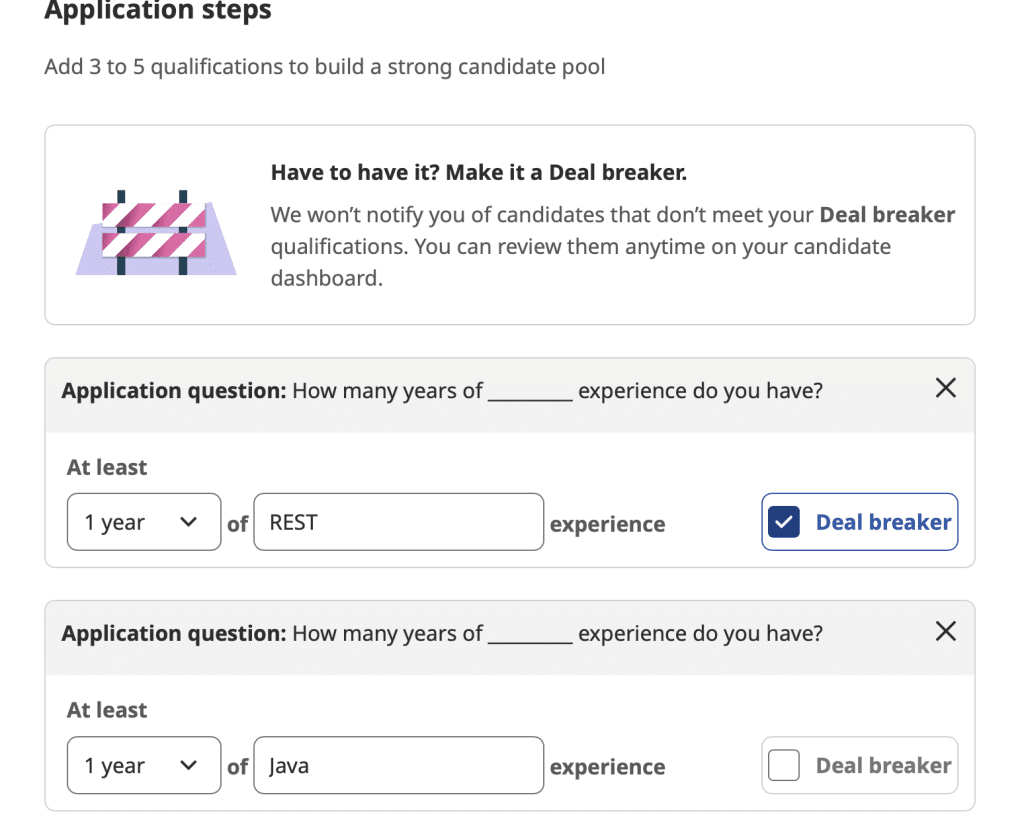 For example, if you are looking for someone with at least three years of relevant experience in some specific skill, you can ask that as a question and mark it as a deal-breaker. So, if someone has less than three years of experience, you can automatically disqualify that candidate without reviewing the job application.
You may refer to Indeed's screening question guide for more details.
Setting up an automated email response
You may not interact with all the candidates, all the time. Largely, you would interact with candidates who will continue to make progress in the hiring process.
Indeed allows you to set up a rule where you can automatically send rejection emails to candidates whom you don't interact with. This could help you focus on the candidates that meet your requirements.
Step 5 – Add Phone Screening Questions For More Insights
Adding phone screening questions is not mandatory. You could use or configure it as a later step also.
You could ask questions that would reveal the personality traits of the candidates. This will help you gain more insights into a candidate.
"What motivates you at the job other than a paycheck" – such questions could get insightful responses.
Step 6 – Review And Post Your Job For Free On Indeed
Once you are through all the above steps, it is time to review and post a job on Indeed. Check for spelling mistakes, and make sure all the necessary job details are correct.
When you are sure, submit the job posting.
Indeed will review your job posting, and if everything is good, your job posting will go live in a few hours.
Step 7 – Sponsor Your Job Post
If you sponsor a job, it gets better visibility not only in terms of volume but also reaches relevant and active candidates.
Unlike free job posting that loses its ranking over a period, sponsored or paid job listing does not lose its spot.
How To Sponsor A Job On Indeed?
As you post a job, it is by default considered a free job listing. However, next to your job title and beside job statistics, you will see a link to sponsor that job.
If you click on a sponsor job link, it will take you to the "Sponsor Job" tab.
You can set up a daily budget for your job. It starts at $5 per day and gets capped at $37.50 weekly. Indeed generally recommends a budget based on the job title and location.
The pricing could vary from country to country. You can allocate bigger budgets too.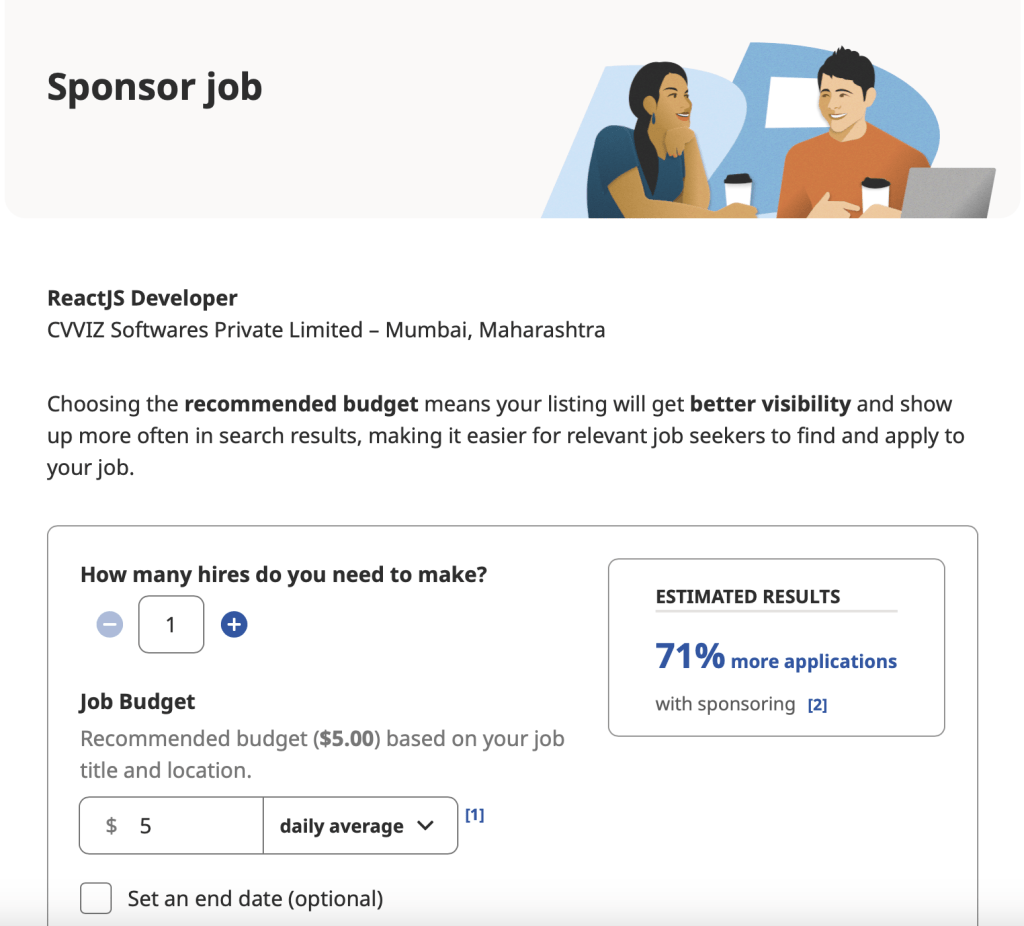 Naturally, more budget, more visibility, and more candidates. You could receive 3-5 times the candidates.
You can sponsor a job anytime. It need not be on the day of a job posting.
Post A Job On Indeed Through ATS (Applicant Tracking System)
So, we have seen a method where we directly go to Indeed's website and post a job.
You can also post a job on Indeed directly from your Applicant Tracking System (ATS). If your ATS is integrated with Indeed, you can automatically post your jobs from ATS to Indeed. You can also set up screening questions in the ATS without having them created on Indeed.
You can also sponsor a job post on Indeed from your ATS.
ATS streamlines your hiring process and makes your job super easy. With ATS, you can simultaneously post a job on Indeed and multiple job posting sites with a click!
Adhere To Indeed's Job Posting Standards
Indeed upholds high-quality standards to ensure job postings provide accurate and reliable information to job seekers. Some of the key quality standards include:
Clear and Transparent Job Descriptions – Job postings should clearly describe the position, responsibilities, and required qualifications.
Non-Discriminatory Practices – Employers must adhere to anti-discrimination laws and regulations when writing job descriptions and selecting candidates.
Up-to-Date Postings – Employers should update or remove job postings promptly to reflect the current status of the position. Posting the same job repeatedly or reposting from some other source will get ignored or removed.
Legitimate Opportunities – Job postings must represent genuine job opportunities and not promote fraudulent or misleading activities.
Educate yourself with Indeed's job posting guidelines so that your job posting on Indeed gets through.
Want to source top candidates? Learn More About Job Posting
Frequently Asked Questions Related To Indeed Job Posting
How long does it take for a job posting to appear on Indeed?
It takes up to 24 hours for a job post to go live on Indeed. The job posting goes through various verification steps to ensure the job is legit. Once the job is live, candidates will be able to apply for the job immediately.
Can I edit my job posting after it goes live?
Yes. Go to your account and click on the job you want to edit. Use the option to edit the job and make the necessary changes. After you finish making the changes, confirm those changes.
How can I track the performance of my job postings on Indeed?
Indeed provides multiple metrics to track the performance of your job post. It shows how many people viewed the job posting versus how many clicked on the job. Further, it will show you how many people applied for the job. If it is a sponsored job, it will also show you numbers related to your budget, like how much you are spending daily.
Indeed also has a client service team that can help you analyze these metrics and improve the performance of your job ads.
Are there any restrictions on promoting my job postings on Indeed?
Can I repost a job on Indeed after it expires?
Indeed automatically pauses the job after 30 days. If you want to continue sourcing candidates for that job, you must change your job status from Paused to Open. Remember, paused jobs are not part of the search results.
How many free job postings can we do on Indeed?
You can do any number of free job postings on Indeed.
Can we post a job for free on Indeed?