If you are looking for Recruiterbox alternative, then CVViZ is your best option. An AI powered Applicant Tracking System That Automates Hiring Process In The Most Simplistic Way!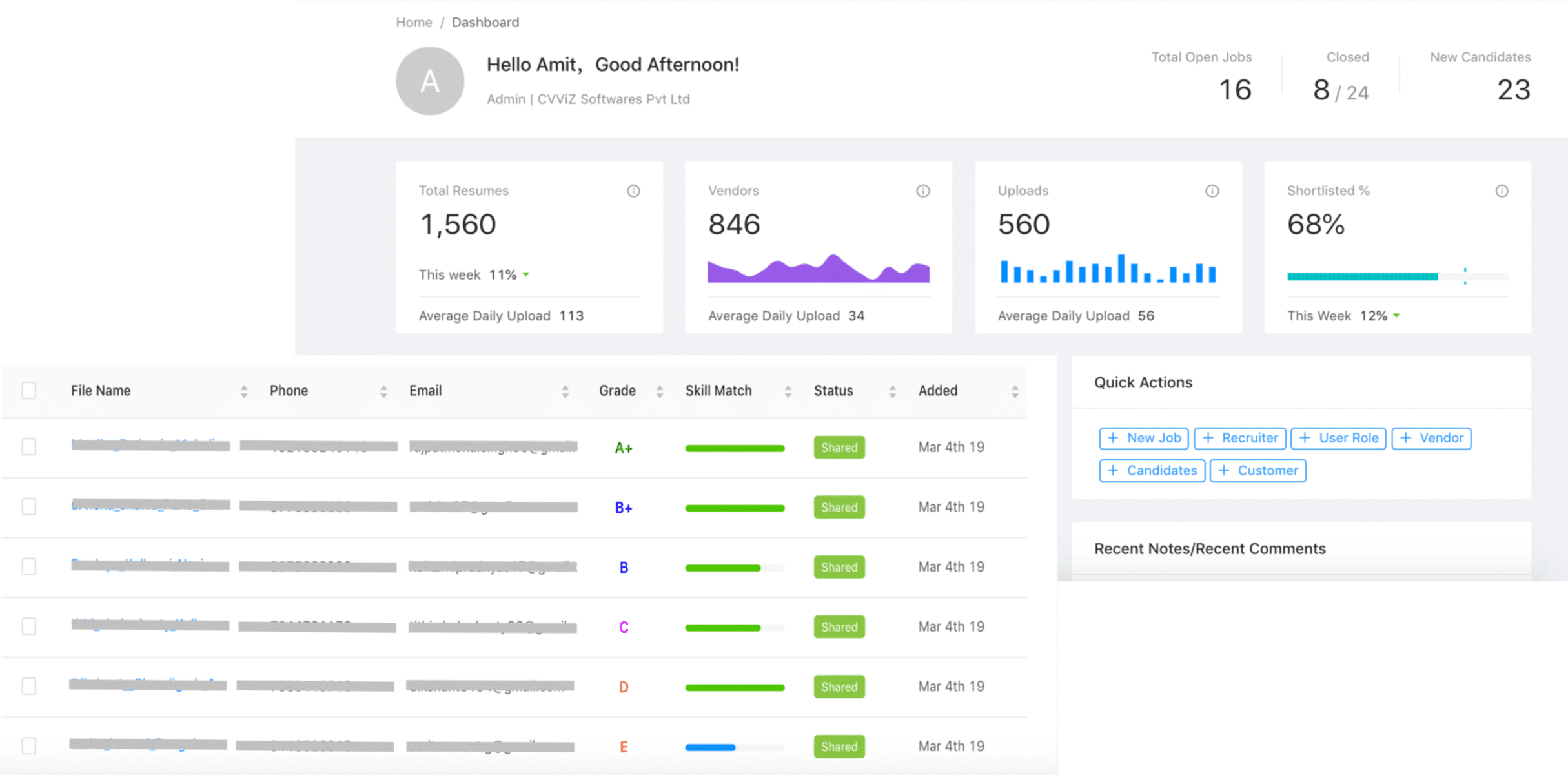 Used By 100+ Companies From Startups To Large Enterprises
Hear It From Our Customers
Red. Recruitment Group saw a 40% increase in candidate applications. It kept increasing 10% month on month…
Linq Closed 24 Positions Out Of 25 Using Resume Screening Solution Of CVViZ. CVViZ not only streamlined the hiring process but also made sure..
Remote Office migrated from an established ATS to CVViZ. Smart, intuitive recruiting automation features in CVViZ made the hiring much easier….
Why CVViZ Is The Best Alternative To Recruiterbox
Recruiterbox more or less offers most of the features that an Applicant Tracking System (ATS) would offer. However, it does not leverage the most advance technologies like AI, Machine Learning.
CVViZ apart from offering extensive features that a recruiting software would offer, also leverages AI to simplify hiring process.  For example, CVViZ offers context based resume screening using proprietary NLP and machine learning algorithm.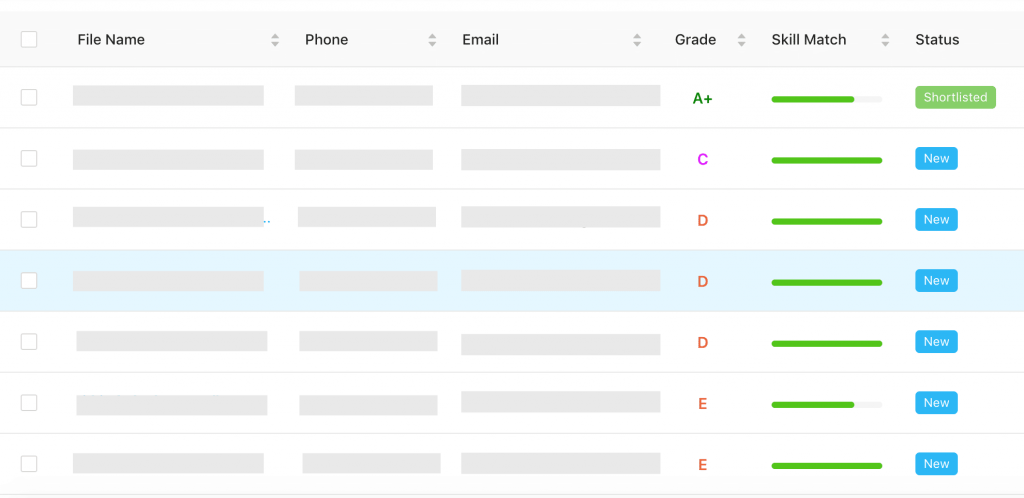 Use AI For Resume Screening And Match Right Candidates To Right Jobs
CVViZ can screen resumes contextually. Algorithm built using NLP, machine learning screens and matches right candidates with the right jobs.
Why limit yourself to just searching for candidates in a candidate database when you can also find where they fit the best. Automate resume screening using Artificial Intelligence.
Learn More – AI For Resume Screening
Publish Jobs To Multiple Paid And Free Job Boards In One Click
Job board is easily the most trusted source to find the qualified candidates. CVViZ post jobs to multiple job boards across the world at a click of a button.
You can post jobs to Google for job search, career page, paid or free job boards in one click.
Learn More – Free Job Posting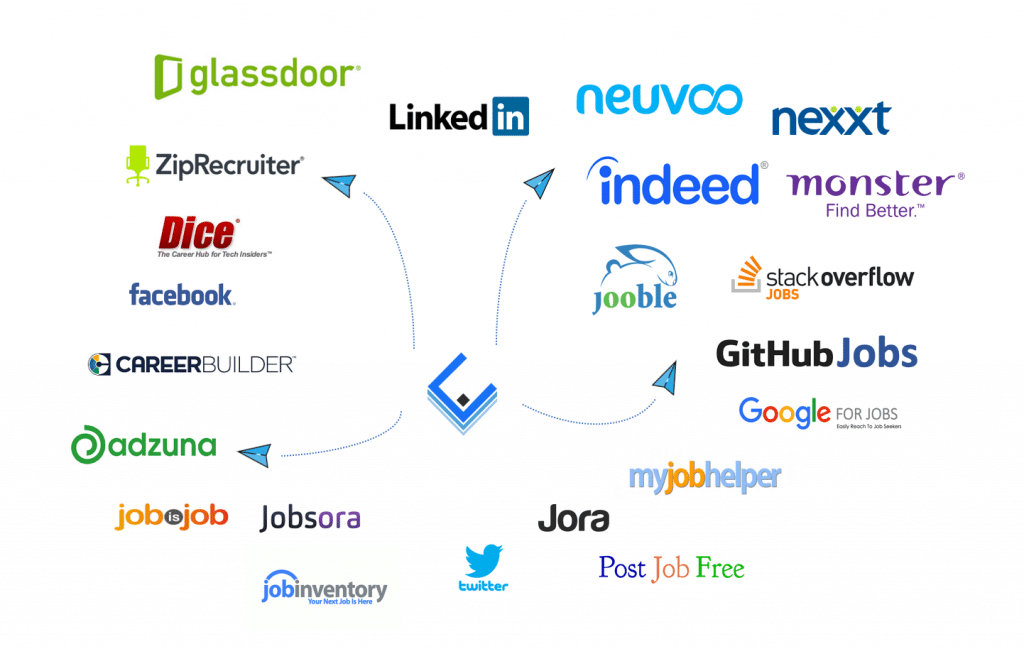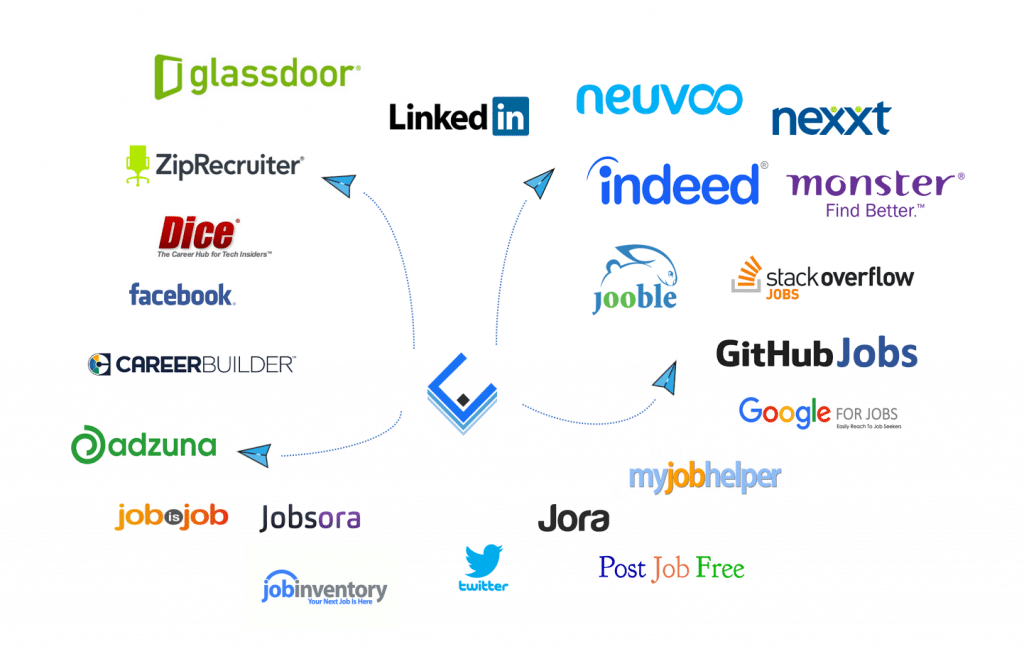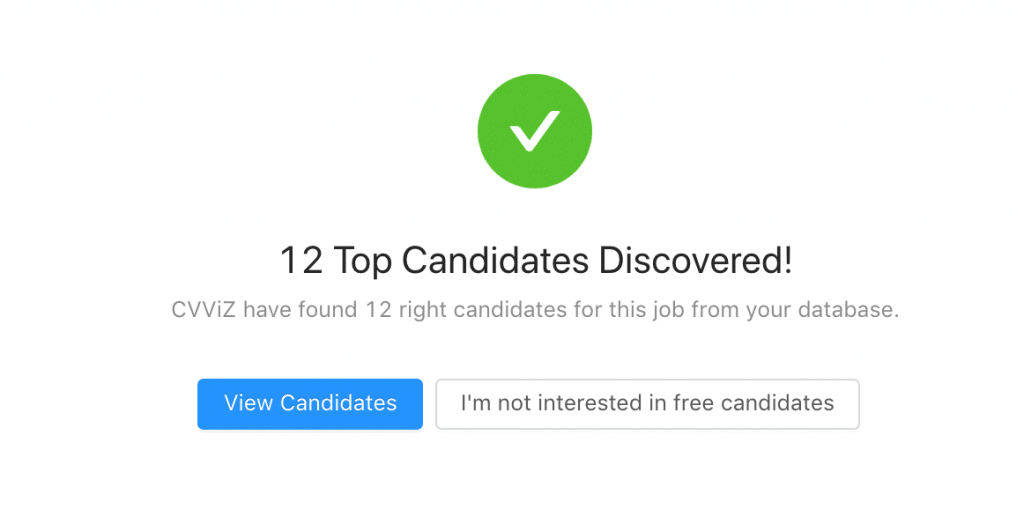 Discover Top Talent Automatically In Your Candidate Database
Every time you are working on new job, CVViZ uses AI to automatically find top talent in your own candidate database. It screens resumes in your database to match with the new job positions.
Design Beautiful Career Pages To Attract Top Talent
Company career page is a place for employer branding. When many potential candidates visit career page, you should be able to sell a job. CVViZ ensures a great candidate experience by making job application process  simple, quick, intuitive and also optimized for mobile phone.
CVViZ not only designs beautiful career page but also integrates it into your website in few seconds. 
Also, jobs posted through CVViZ on company career page are automatically marked up for Google For Job Search!
Learn More – Career Page Design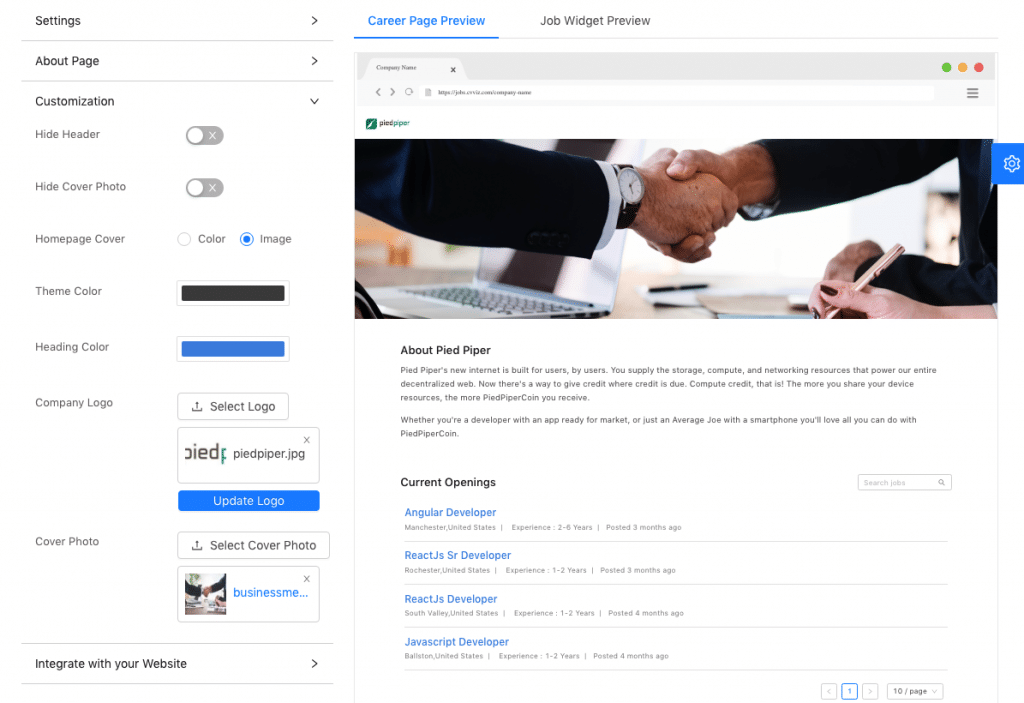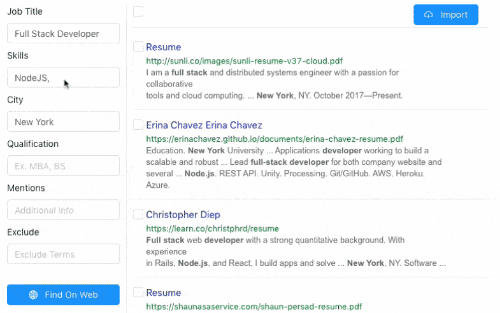 Use Social Hiring For Finding Best Talent
Discover and source candidates from various niche and social platforms like LinkedIn, GitHub, StackOverflow and many other platforms in one go!
Using Find On Web feature you could import resumes of relevant candidates from most of such platforms.
Learn More – Social Media For Recruiting
CVViZ Automatically Pull Resumes From Emails
Email is the oldest, most trusted and commonly used medium for receiving candidate applications. Use CVViZ email integration that smartly pulls only resumes out of your emails.  It directly imports resumes into CVViZ, your candidate database.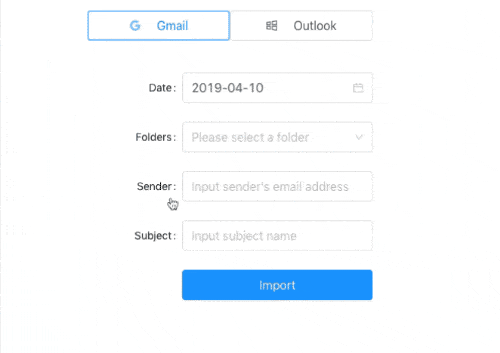 Import Resumes From Job Boards Using CVViZ Chrome Extension
As a part of online recruitment software, CVViZ also offers a chrome extension that helps you import resumes directly into CVViZ from job boards like Dice, Indeed, LinkedIn, etc. It saves recruiter's time by directly uploading resumes into CVViZ resume database. It also indicates if resume already exists in your database, hence, avoid duplication. 
Search Anything In Your Resume Database Using Elastic Search
Search could be the most used feature in any applicant tracking system. Experience the power of elastic search. Search anything and everything that exists in your resume database. Elastic search is fast, very very fast.
Your relationship with your database changes when you get accurate results in a blink of an eye. Find every information, discover hidden gems in your candidate database. Perform all kind of searches like exact match, multi words search, boolean search and get results in the relevant order. Elastic search can scan thousands of resumes in fraction of a second.
Learn More – Resume Full Text Search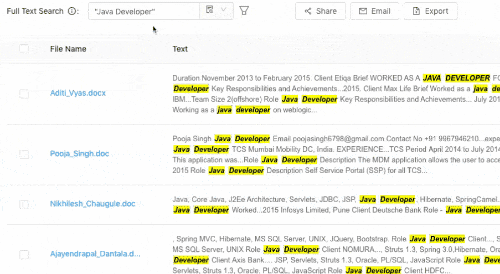 Schedule And Conduct Video Interview To Save Logistic Cost
With CVViZ you can schedule video interview. You can easily invite hiring managers, recruiters and candidates to be on the same video interview.
Hire developers with smart video interviews. Use inbuilt code editor to watch candidates coding live during the interview.
Learn More – Video Interview
Build & Manage Candidate Relationships With Ease
As you build new candidate relationships it is equally important to nurture existing ones. CVViZ helps you build and nurture candidate relationships with its powerful tools.
Sync Your Email Account With CVViZ 
CVViZ helps you With Email Sync – Sync your G Suit, Outlook Exchange, Office365 or any other mailbox with CVViZ to send and receive an email from within the CVViZ.
Email Templates
Use Email Templates With Quick & Easy templates. Our build your own email templates.
Bulk Emailing
Contact multiple candidates in one go. Use the bulk email function to reach to many candidates at once.
Candidate History
Understand the history of the candidates through all the actions that were taken in the past, notes, and emails in one place.
Build Top Talent Pipelines
Track your top talent by managing your talent pipelines easily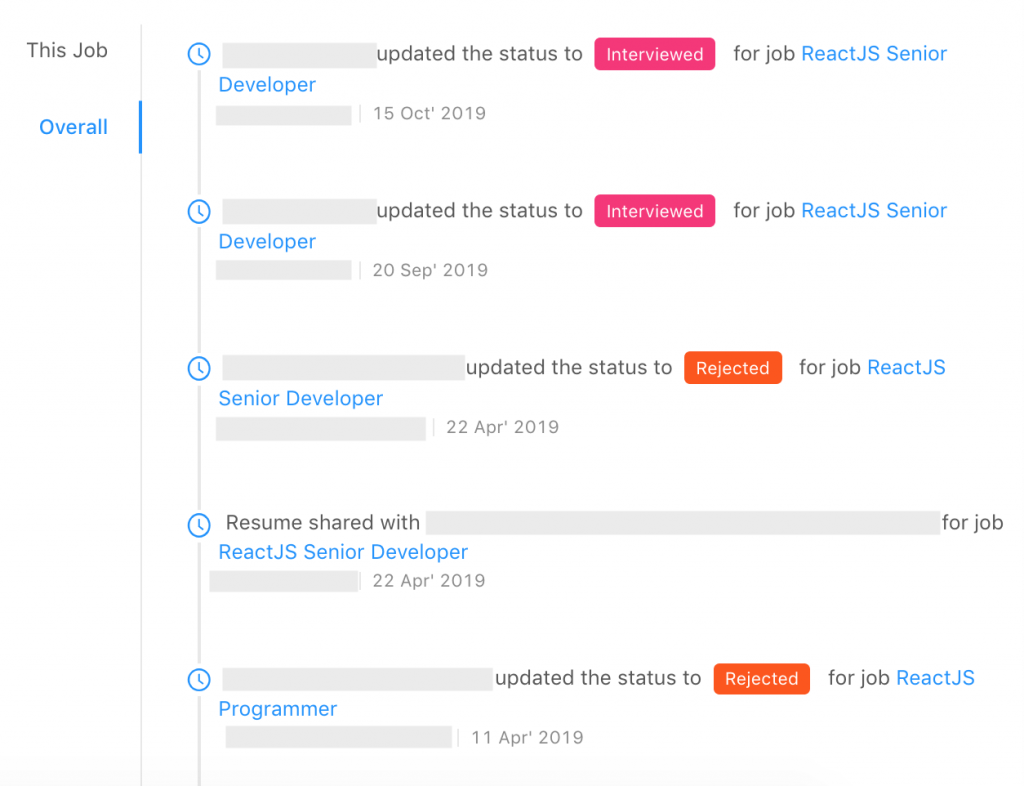 Recruitment Analytics - Use Data Driven Hiring To Optimize Your Recruiting Process
Data driven hiring is important. It means your are measuring your hiring process. Important recruiting metrics help you understand if you are hiring efficiently.  
CVViZ gives important insights into hiring. Important metrics like Cost per hire, Time to fill, Effective candidate sourcing channels not only help you optimize your recruiting process but it also help you spend wisely.
Learn More – Recruitment Analytics
CVViZ is GDPR compliant. We also help our customer to adhere to GDPR compliance with our extensive GDPR toolkit. 
CVViZ acts as a data processor for its customers and helps them with various aspects of GDPR such as The Right to Access, The Right To Rectification, The Right To Be Forgotten, The Right To Data Portability, etc.
Learn More – GDPR Compliance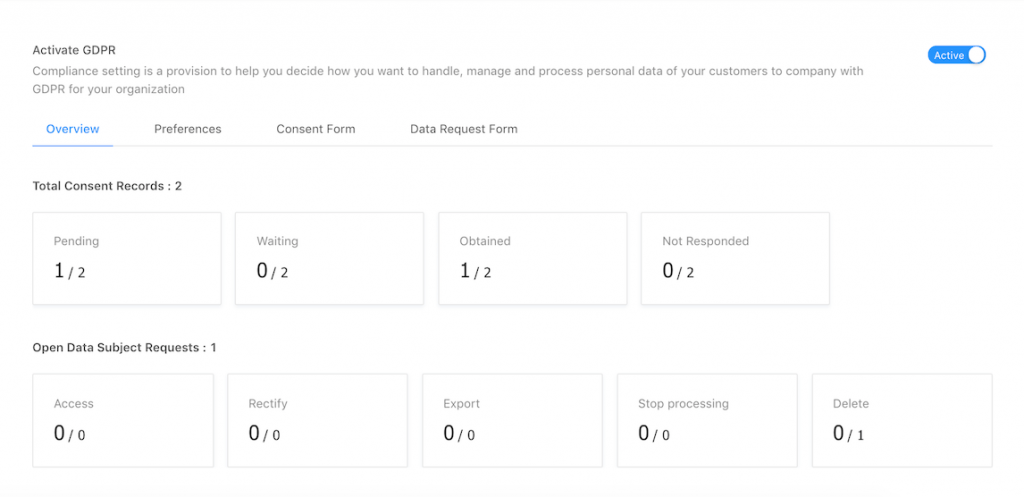 All The Features That You Get
Post jobs to various paid and free job posting sites, social media platforms, etc.

Design career pages and list all your active jobs automatically

Set pre-screening questions as part of job application process
Candidate Sourcing & Management
Search & import candidates profiles from various platforms

Chrome extension to import profiles directly into CVViZ from job boards

Track all candidates

Build talent pipeline

Take notes, manage history, interview feedback

Export candidate tracking list into Excel sheet
Video Interviews, Communication
Schedule & Conduct Video Interviews without going back & forth
Integrated code editor to watch candidates code live during video interview
Integrate & sync your emails within CVViZ

Multiple email templates or create your own

Personalized email based on candidate profile

Bulk emailing to candidates
Screen resumes contextually, going beyond keywords

Rank candidates based on your hiring pattern

Discover best matched candidates automatically from your database
Elastic search for extremely quick results

Search candidate database using keywords

Full text search – find anything and everything

Use boolean search operators and wide range of filters
Resume Database Management
Resume parsing

Resume storage over cloud with quick access from anywhere

Identify duplicate resumes
Track all important recruitment metrics

Export or download reports into Excel sheets, pdf, jpg
Data Security & Compliance
Data secured while in transit or still

Authorized access 

Role based access

GDPR Compliant
Easily collaborate among hiring managers, recruiters, vendors and candidates

Click to share resumes, notes & emails

Auto notifications & reminders
Looking For Recruiterbox Alternatives - Experience The AI Powered Modern Applicant Tracking System