Job boards have been one of the traditional candidate sourcing channels for recruiters. Job boards and job search engines also referred to as job posting sites have made it easy for both candidates and employers to reach each other. And the best part is, that there are job posting sites that allow posting jobs for free. Yes! Free job posting sites.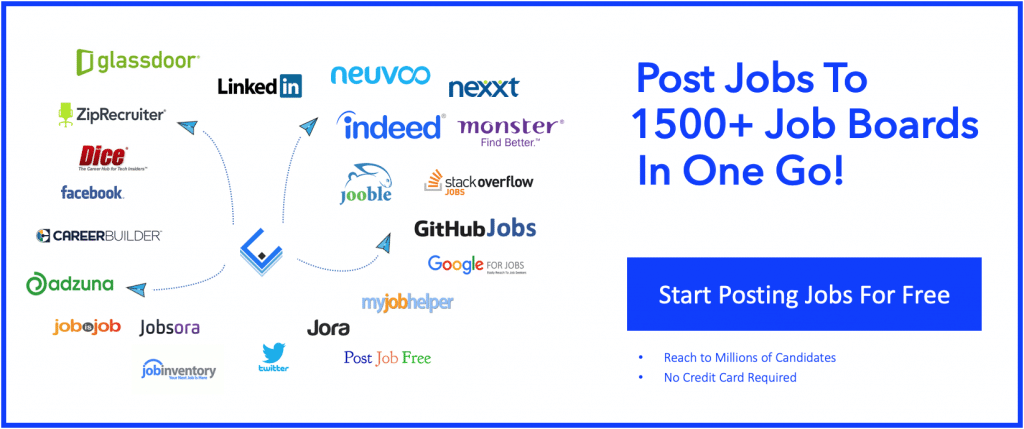 In addition to job boards, there has been the rise of social media platforms which also let you post a job for free.
Most of these job boards or social media platforms that let you post jobs for free, also give you an option of a paid job posting which promises a larger candidate reach.
We have compiled a list of free job posting sites that you could leverage to attract more candidate applications. These job boards are active in most parts of the world. Some of these sites will ask you to register and some will allow you to post jobs without any registration.
Free Job Posting Sites
Indeed doesn't need any introduction. It is one of the leading job boards in the world. Job board Indeed gets more than 250 million visitors in a month. Although it's a top job board, it does allow free job posting to companies. One may say, it is the number one free job posting site. You can post to Indeed directly from CVViZ. CVViZ is integrated with Indeed so that you can directly post jobs to Indeed for free. In other words, the jobs that you add to CVViZ will get automatically posted on Indeed.
Glassdoor is one of the best sites that brings employers and job seekers together in more than one way. One of the reasons candidates prefer Glassdoor is that they get to read about company reviews, and salaries offered. These reviews are anonymously given by the current or ex-employees of the company. 
As more candidates visit the Glassdoor site, it also becomes a good channel for companies to attract more talent. Hence, many companies post jobs on Glassdoor. And the best part is, it allows free job posting as well.
Ziprecruiter is a job search engine. It is one of the most popular job search platforms for candidates. Ziprecruiter iOS and Android apps are one of the most popular apps in the recruitment segment. Its AI-driven matching technology matches the right candidates with the right jobs.
Ziprecruiter allows an employer to post jobs for free.
Google has entered the recruitment space with Google for job search. It has made it a lot easier for candidates to search for jobs. Candidates can search for jobs just like they could search for anything on Google.
As per recruitment statistics 2019, 70% of the respondents said they use Google For Jobs to search and apply for jobs.
Although Google for Jobs is a free job posting site, you cannot post jobs directly to it. Google would either read jobs from the company career page or read it from other job boards. The best way to put your jobs on Google job search is by keeping your career page active with the required details. Online recruitment software can keep your active jobs ready for Google to read.
LinkedIn is the largest professional network. You can post jobs on your personal profile page or on a company career page or even to various groups that are active on LinkedIn. You could ask people in your network to share job postings with their friends so that it reaches more people.
LinkedIn also has paid options where you can promote jobs. However, if you are active or have a large number of people in your network you could very well reach active and passive candidates.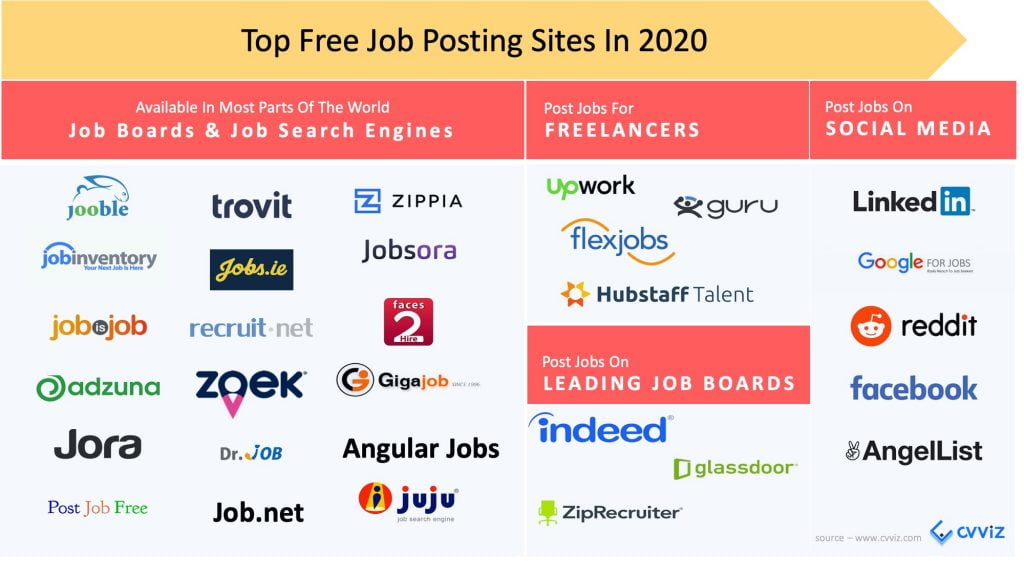 Copy and paste the text below to embed this infographic into your website –
AngelList or angel.co is a #1 place to find startup jobs. It is a professional network for the startup community. Startups from various industries post their updates and stories. And of course, they post jobs.
So, if you are a startup looking for talent then AngelList should be your first option for posting the job. It allows for a free job posting and many other paid job posting options.
Hiring a remote employee or a freelance is always a great idea. And the idea is getting popular, especially among startups. Upwork is a global platform that connects employers and freelancers. These freelancers are from various industries. Whether you are looking for a web designer or a Data scientist or an Architect, they got it covered. Upwork has a presence in over 170 countries.
So, if you are looking for a freelancer then Upwork is your top free job posting site. Like other portals, they also have paid options that could help you expedite your search.
Neuvoo is one of the most active available free job boards. It is available in almost all parts of the world. It has established itself as one of the largest sources of employment.
Neuvoo has posted around 30 million jobs spanned across more than 75 countries in the world.
Also, it may soon get renamed Talent.com
Neuvoo is one of the best free job posting sites where recruiters or employers can post any number of jobs. Also, you can go for the sponsored jobs option if you aim to attract more candidates to apply to your jobs.
Regions: Worldwide
Jooble is a job aggregator and is the second-largest job site in the world. It operates in 71 countries and is visited by over 80M candidates.
You will find jobs from various companies from various industries listed here. Unlike many other job boards, Jooble does not ask candidates to sign up on their platform; When a candidate hits the apply button, it takes them to the company's career page or to the original job board.
You can directly post jobs on Jooble. Also, if you use an Applicant Tracking System then you can integrate with Jooble to post jobs automatically to their platform.
Regions: Worldwide
Adzuna is a job search engine. It lists jobs from across the world. Adzuna searches thousands of websites to list more than 4M active jobs. It uses advanced filters and smart algorithms to help candidates find the most suitable jobs.
Adzuna partners with multiple job boards, ATS, and employers. Although Adzuna allows free job posting you can also choose from various paid options for the premium job listing.
Regions: New Zealand, Poland, Russian Federation, Singapore, South Africa, United States, Andorra, Australia, Austria, Brazil, Canada, France, Germany, India, Italy, Netherlands,
Expertini is a job search engine that operates in 122 countries. It also acts as a professional social networking platform for professionals who are in search of new opportunities.
You need to register with the platform before you want to post a job for free.
The unique thing about Faces2Hire is they allow video profiling. Candidates get to build a live interactive resume. It gives candidates a great opportunity to market themselves. This helps employers too as they get to almost interact with the candidates.
Faces2Hire is an unlimited free job posting site! You can post any number of jobs. And you get to see resumes and videos posted by the candidates.
JobisJob lists more than 4M jobs from more than 200k companies across the world. It lists jobs from various industries. JobisJob operates in 28 countries and growing.
JobisJob acts as a good common point for job boards, recruiters, and candidates. Companies can receive resumes in emails or they can just integrate their hiring software with JobisJob.
JobIsJob allows free as well as paid job posting options using job adverts.
Jora is a worldwide job aggregator that started in Australia and now spreading to every continent. It is a free job posting site. You can post any number of jobs. If you want to automate the indexing of your jobs then you can push the job feed to Jora. Jora makes it easy for candidates to find a job.
Juju is a job search engine that lists jobs from thousands of employer websites, job boards, etc. It is currently active in the USA only. It lists over 6M jobs available across the United States.
Apart from free job posting, Juju offers a PPC, Pay Per Click model where companies or recruiters have to pay only when a candidate clicks on the job advertisement. 
PostJobFree is a job board true to its name that allows you to post jobs for free. These jobs are also distributed to other websites, however, one may have to pay for such an option.
PostJobFree started in 1997 and now they have a sizable resume database of over 1M resumes. Starting in 2007 they have also started distributing job adverts to help recruiters in finding candidates faster.
Recruit.net is a leading job search engine that started in 2007 focusing in the APAC region. Today, however, it lists jobs from all over the world. recruit.net's propriety search technology finds the jobs listed across the various sources and lists them for candidates. It performs more than a million job searches every day.
recruit.net is available on 18 localized websites and in 6 different popular languages. 
Trovit is a Spanish vertical search engine for classifieds. It became the leading search engine for classified ads in Europe and Latin America, in March 2012. In 2016, Trovit reached 51 countries worldwide. It is available in 19 languages and enjoys more than 90M unique visitors per month.
Trovit gathers job openings posted on thousands of different websites and shows them in one place.
Meet ZOEK, the UK's fastest-growing job board! The intelligent job-matching site/app delivers a service where passion and purpose come together, and everybody wins. A team of diverse, creative people, striving to attract quality, well-matched candidates to fulfill job vacancies.
Zoek although a UK job board, is slowly spreading in other countries.
The CBCJobs is one of the largest job board networks in the United States. It pulls jobs from over 100 job boards and corporate sites. CBCJobs also posts jobs on multiple job boards and helps candidates distribute their resumes to various channels and recruiters.
Job.net is a job search engine with over 4 million openings for candidates. With its advanced job-matching technology, it makes it easy for candidates to find the right jobs. Employers also get to access job.net's resume database.
job.net has multiple paid job posting options but they also allow free job postings to employers.
Zippia is a new-age job search platform. They believe people should have more information and more options when they are deciding on their career move. Hence, they use advanced methods to match the right candidates with the right job. They want people to make informed decisions. They share important information about the company with candidates.
Companies can expect more qualified candidates using Zippia. For companies, it also offers free job posting as a basic service. roles.
UI technology has become the need of the hour. It doesn't matter if you are a retail chain or a manufacturing company, every company wants to go digital. And that has increased the demand for UI technology. It is no surprise a portal like Angular Jobs has become a niche job portal that offers job search and candidate search for UI technology.
The job posting for companies is free. The free job posting is visible for 30 days. If you are a tech startup that needs candidates with any UI skills then Angular Jobs is your go-to free job posting site.
Guru is another top site for finding part-time contractors, employees, or freelancers. It lists skilled candidates from various industries and for various skills. You can find people right from various Information Technology roles to engineering, finance, and legal roles.
Posting a job to Guru is free of cost.
Talmix is a network of freelancers. Companies can post their projects or jobs on Talmix and the successful applicant then can bid for the work. There is no cost for posting jobs or projects. Talmix helps companies in finding candidates in the independent workforce marketplace.
Hubstaff Talent is one of the leading free job boards to find remote talent. Companies can post any number of jobs for free and can also engage with contractors at no cost. Once you decide on the contractor or agency to hire, you may decide to pay using various options.
Considering the current coronavirus outbreak where companies are looking to hire remote employees, Hubstaff could be a great place to search for remote talent.
Ladders is a specialized job board that focuses on jobs that pay more than $100,000 in salary. In other words, this job posting site focuses on executive positions.
You can post 10 jobs for free at any time. However, you would get limited access to candidates. Recruiters can go for paid job options to get access to a wider candidate database.
MyJobHelper is a job board with more than 30 million registered candidates. It is available in 12 countries. It is recognized as one of the fastest-growing technology companies.
Recruiters can post jobs for free. The platform is visited by over 13 million candidates every month.
When you visit the Jobspider job board, you will notice it is inspired by Craigslist.
A company can post jobs for free. Jobspider internally posts jobs to multiple job boards in one go. It helps companies to reach millions of candidates.
Oodle is another website that looks inspired by Craiglist. It is a classified website. However, job posting is its major function.
Oodle started in the USA. However, it is not spreading to countries like Canada, Australia, Ireland, India, and New Zealand.
You can post jobs for various industries such as Accounting, Finance, Engineering, Marketing, etc.
Social Media For Free Job Posting
We have already covered LinkedIn among social media platforms because it is specifically meant for recruitment. However, there are other social media platforms that are effective in sourcing passive candidates.
Many recruiters are not aware that Reddit is a great platform for attracting candidates. Reddit has many subreddits (groups) for recruitment where recruiters often post jobs. These job posting also becomes part of regular Google search. Hence, in more than one way Reddit helps in attracting job applications.
A recruiter just needs to become part of such groups and they should be able to post jobs for free.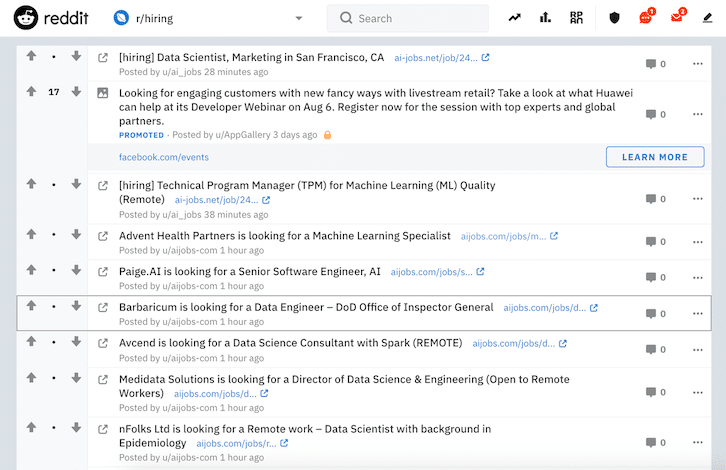 Facebook has already entered the job market. It has created an option for its users to post a job. This is different than a normal post that Facebook users use. This option is available when you create a company page or a community page.
Considering Facebook has users from all age groups it becomes an important platform to advertise jobs. Hence, one must use Facebook as well as a free job posting site.
Twitter may not be seen as a platform but it has great potential to reach potential candidates. If you use the right combination of hashtags, and images you could drive the attention of candidates. Many new-age startups use Twitter for job postings. It is free and it is quick!
Instagram is the fastest-growing social media platform. No platform has grown as fast as Instagram in recent times. Generation Z (Gen Z) uses more and more visual platforms and that is one of the reasons why Instagram scaled up so fast.
Generation Z is rapidly becoming part of the workforce. If you use the right colors, right visuals you could catch the attention of this latest generation. Not using Instagram for job posting would be a wasted opportunity!
If you haven't heard yet, McDonald's made headlines for the hiring of 250,000 employees 2017-18 summer using Snapchat.
Job seekers could apply on McDonald's career page in less than 10 seconds using Snapchat. They would call it Snaplications. A candidate would create his or her 10-second video to share it with the nearest McDonald's manager.
Companies are getting creative in using social media for hiring. If you know the kind of candidates you are looking for then you just need to use the right social media platform to get the attention of the right talent.
Monster.com does not need any introduction. Monster may not qualify as a job board that allows a free job posting. However, they allow a free trial. Monster used to provide a seven-day free trial. Currently, it is providing a four-day free trial. A user may try posting a job during this trial period.
Company Career Page Crawled By Leading Job Boards
Many companies or recruiters are unaware that leading job boards crawl company career pages to compile the list of jobs for their job boards. These job boards automatically read the job opening from your company and show it on their job board. This is like free job advertisements for companies. Companies need not do anything but just keep the career page updated.
Use Free Job Posting To Save Cost On Candidate Sourcing
Sourcing candidates are always expensive in terms of effort and money. However, it shouldn't be that hard. The more platforms you use to post jobs, the better the chances of finding candidates. If you use free job posting sites it saves you a lot of money. Although, posting to 20-30 sites could be time-consuming. Hence, you could use recruitment automation tools to automate most of your mundane tasks. Also, you could use AI recruitment software that could easily screen resumes and engage the right candidates for you.