Source Right Candidates Using Right Candidate Sourcing Channels
CVViZ's intelligent algorithm recommends the best candidate sourcing channels based on the job industry, job role and job location.
CVViZ's automated candidate sourcing can source unfindable candidates from the web, job boards, specialized social platforms like GitHub, StackOverflow, etc.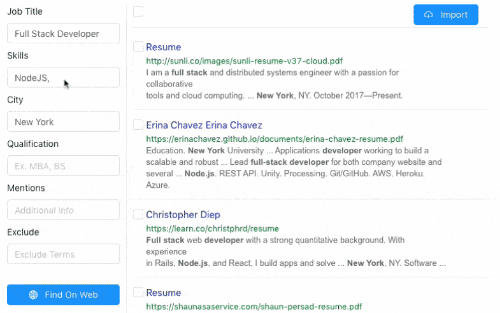 Used By 100+ Companies and Recruitment Agencies
Red. Recruitment Group saw a 40% increase in candidate applications. It kept increasing 10% month on month…
Linq Closed 24 Positions Out Of 25 Using Resume Screening Solution Of CVViZ. CVViZ not only streamlined the hiring process but also made sure..
Remote Office migrated from an established ATS to CVViZ. Smart, intuitive recruiting automation features in CVViZ made the hiring much easier….
CVViZ Recommends The Best Sourcing Channel
Most companies subscribe to couple of leading job boards and sticks to it to source resumes for all kind of roles. However, this doesn't work effectively as candidates may prefer different job boards to upload their resumes, based on industry, role and geography.
CVViZ has learnt over the period of time which job board works for which kind of roles. It's recommendation engine suggest you the right job board based on the job role, job industry and job location.  
Automate Candidate Sourcing
Source resumes from various candidate sourcing channels into centralized candidate pool. Seamlessly source, screen, filter and track candidates.
Source Candidates From 20+ Free Job Posting Sites In A Click
Job board is a natural platform to find best talent. Post jobs to multiple 20+ free job boards in one click and find the best candidates!
Be it Google for job search, career page, free or paid job boards, you can post jobs in one click.
Learn More – Free Job Posting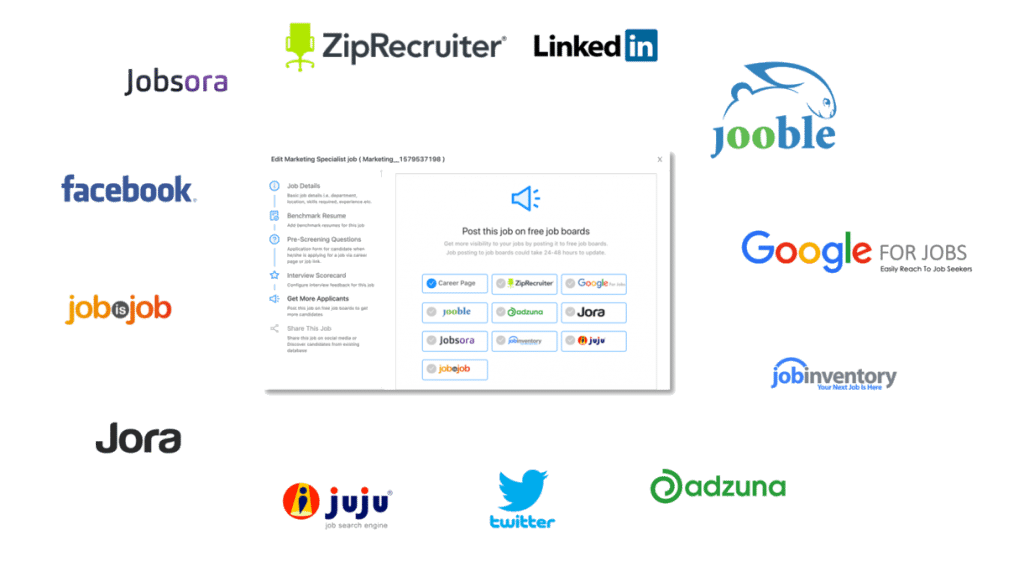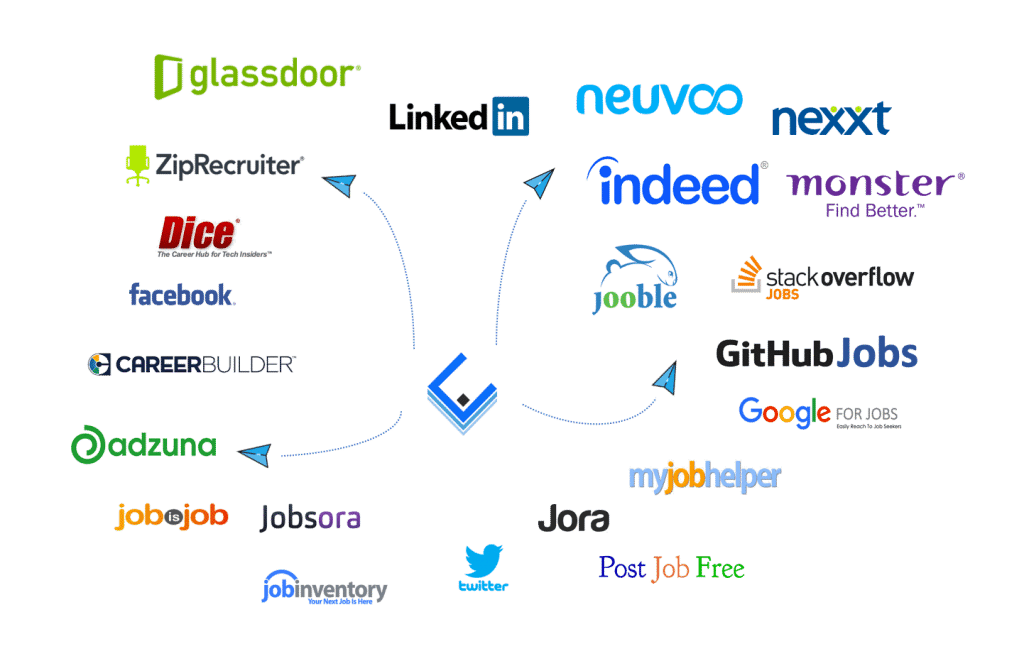 Source Candidates Using Premium Job Boards At Great Discounts
Now don't get stuck with 1 or 2 job boards. Use the right resume sourcing channel for the right job. 
CVViZ has integrated with 1500+ job boards across the world. This includes premium, niche and diversity job boards.
CVViZ offers great discount on these job boards.
Learn More – Paid Job Advertisement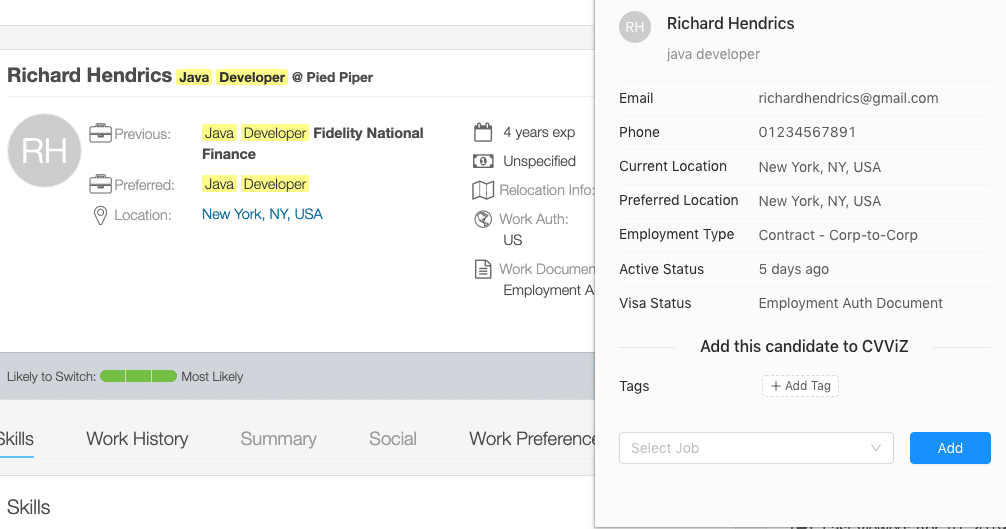 Use CVViZ Chrome Plugin To Import Resumes From Job Board
Adding candidates to talent pipeline or candidate database has got more simpler.
Using CVViZ chrome extension you can directly import candidates from job boards like Dice, Indeed, Monster, etc.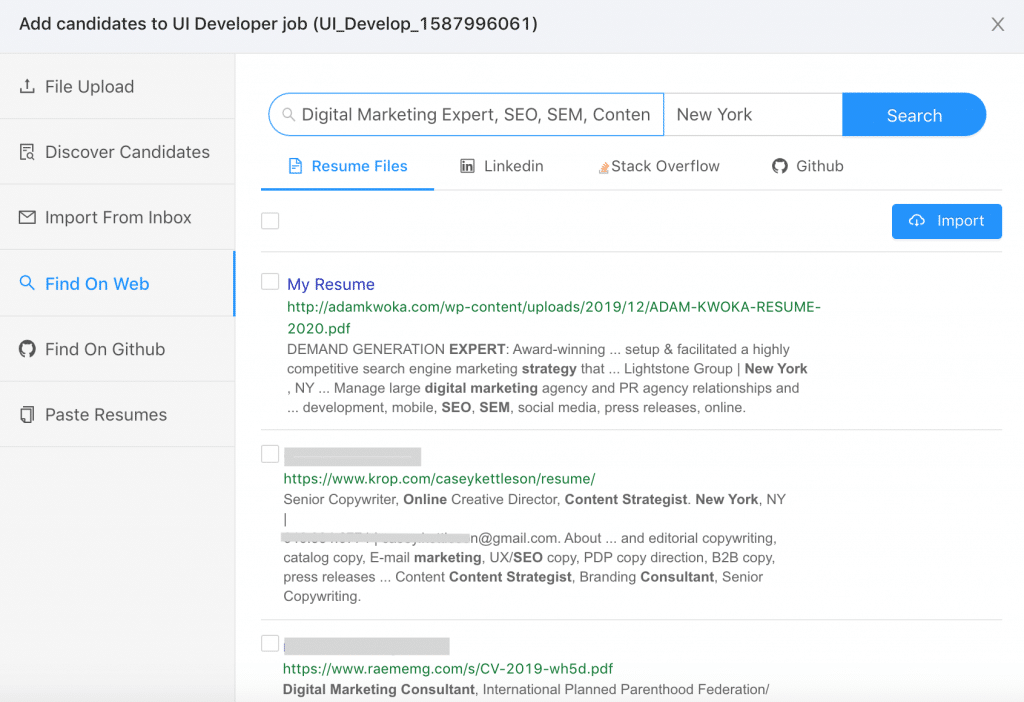 Find Hidden Candidates On The Web​
It's time you sit back and relax. We search the whole web in real time to find best candidates for you. These kind of passive candidates are not easily available on job boards. We automatically search & source these candidates for you.
Source Candidates From Specialized Platform
If you are looking for candidates with niche skills then platforms like GitHub, Stackoverflow, Behance are great source of high quality candidates. We identify candidates from such platforms and get you connected with them.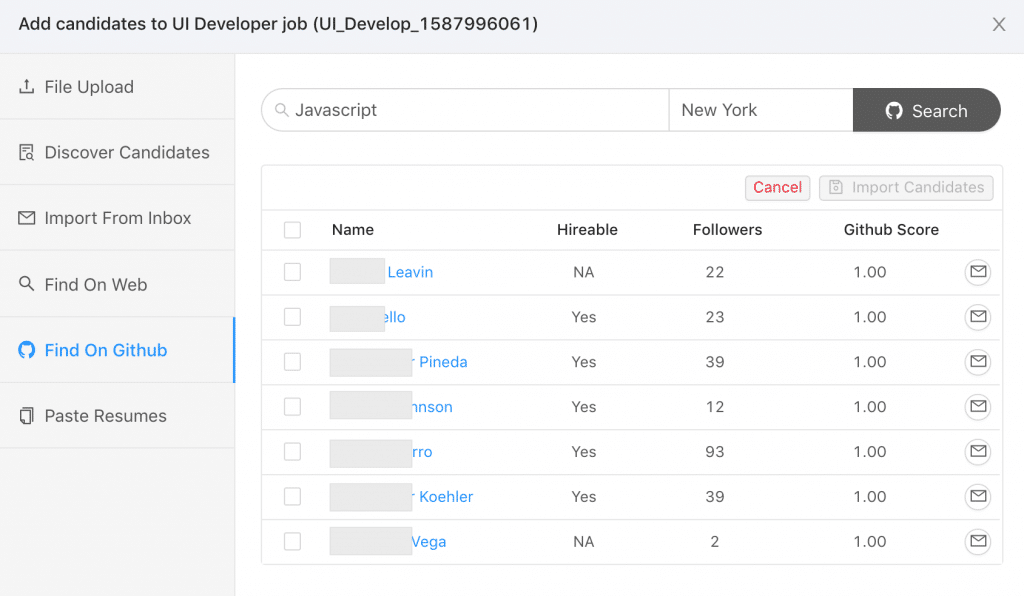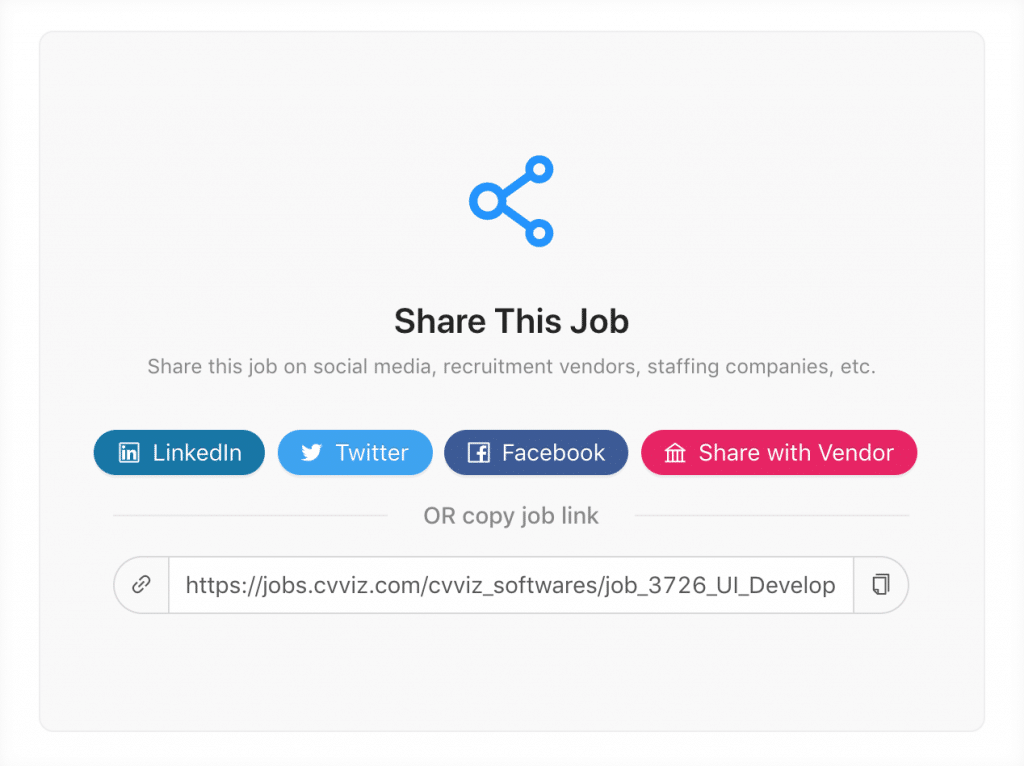 Candidate Sourcing Using Social Media
Social media platforms like LinkedIn, Facebook are the most active places where most candidates get to know about various job opportunities.
CVViZ helps you reach both active and passive candidates on social media. Automated resume sourcing helps you receive applications from interested candidates. This probably is the best and quickest way to market your job position.
Discover Top Candidates In Your Resume Database
Our AI Matching & Ranking algorithm identifies right candidate for the right job.
CVViZ automatically discovers best candidates from your candidate database and can automatically engage them using emails and SMS.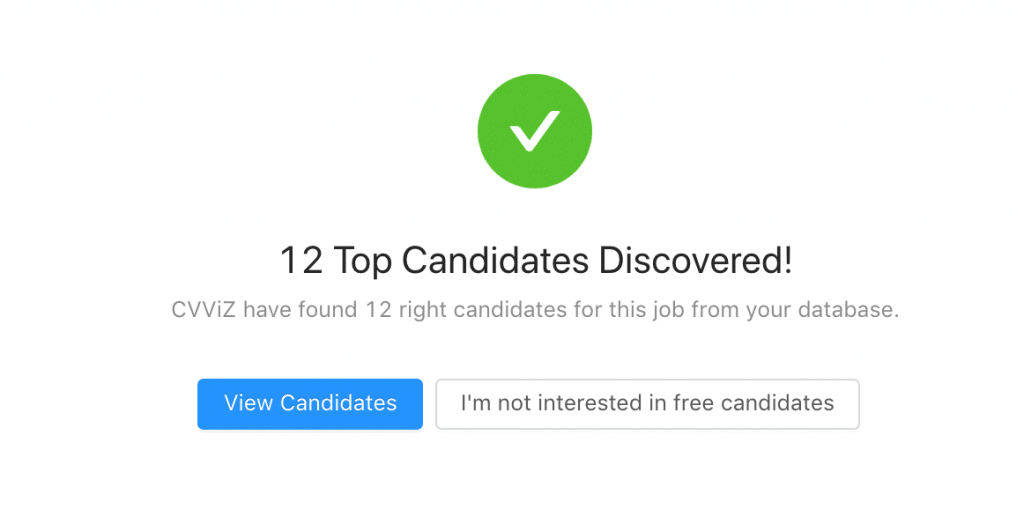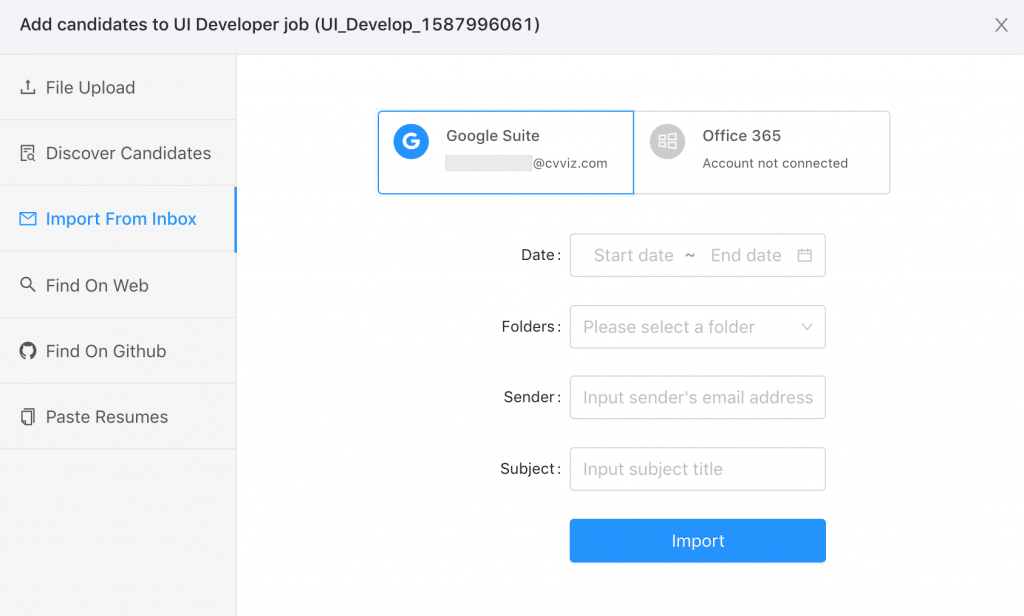 Source Candidates From Emails
Calling applications over emails have been a long practice. There might be piles of resumes sitting in your Inbox.
CVViZ can automatically import resumes from your emails and add it to your candidate database.
Source Best Talent With Employee Referral
Employee referral software help you to run employee referral programs. Use gamification to boost your employee referrals. 
Learn More – Employee Referral Software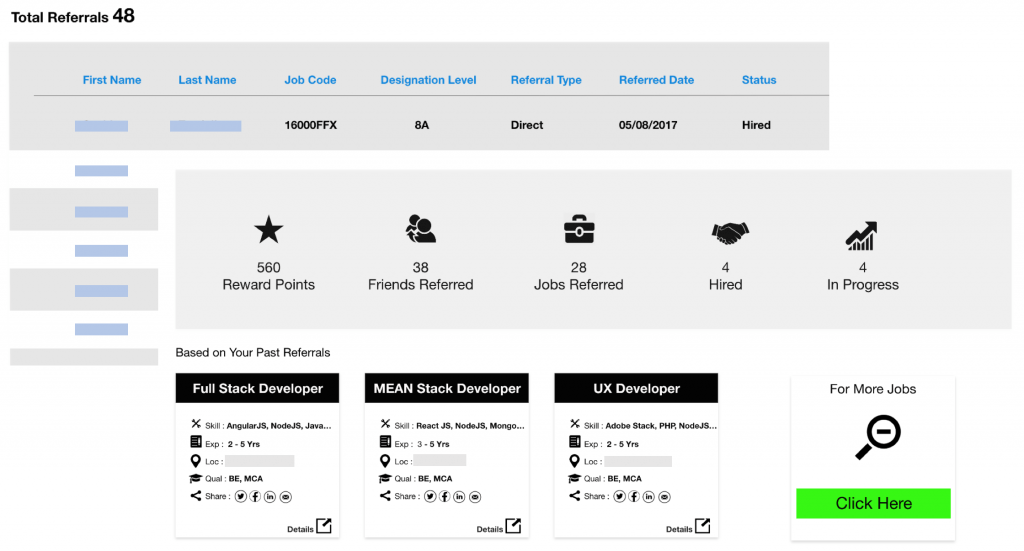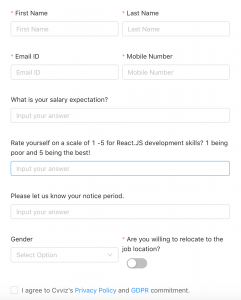 Pre-Screen Candidates With Customizable Job Application Form
Want to prescreen candidates when they apply for the job? 
Include important prescreening questions in your job application form.
Be it knockout question, multiple choice, long answer or short answer question; you can configure any type and any number of prescreening questions.
Use CVViZ To Automatically Source Candidates From Various Candidate Sourcing Channels