Recruitment CRM for Staffing and Recruiting Agencies
Streamline complete hiring process. Manage customer relationships. Track new leads. Convert more deals.
Used By 100+ Companies and Recruitment Agencies
Red. Recruitment Group saw a 40% increase in candidate applications. It kept increasing 10% month on month…
Linq Closed 24 Positions Out Of 25 Using Resume Screening Solution Of CVViZ. CVViZ not only streamlined the hiring process but also made sure..
Remote Office migrated from an established ATS to CVViZ. Smart, intuitive recruiting automation features in CVViZ made the hiring much easier….
Recruitment Agency Software
Customer relationship management and candidate relationship management are the two crucial workflows a recruitment agency needs to manage. For years, staffing companies would use ATS for candidate tracking and recruitment CRM to manage their customers. CVViZ is a modern recruiting software that offers the best of both CRM and ATS, making it the best recruitment software for agencies.
Customer Relationship Management
Manage companies and contacts.
Manage new leads. Create and assign leads.
Assign account managers.
Manage all your emails within CVViZ.
Send bulk emails. Track open and reply events.
Take notes, and manage documents.
Basically, achieve everything with a CVViZ that a CRM could do.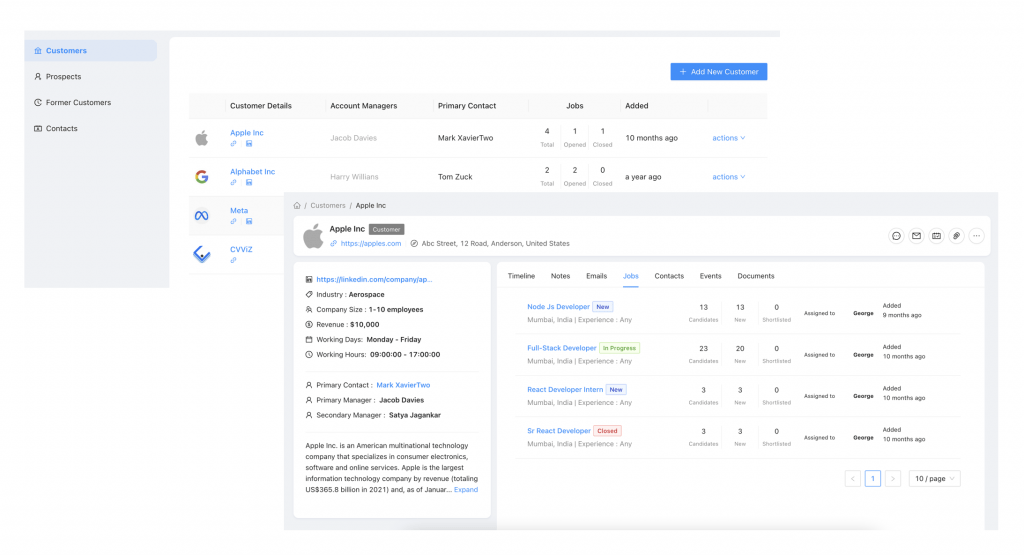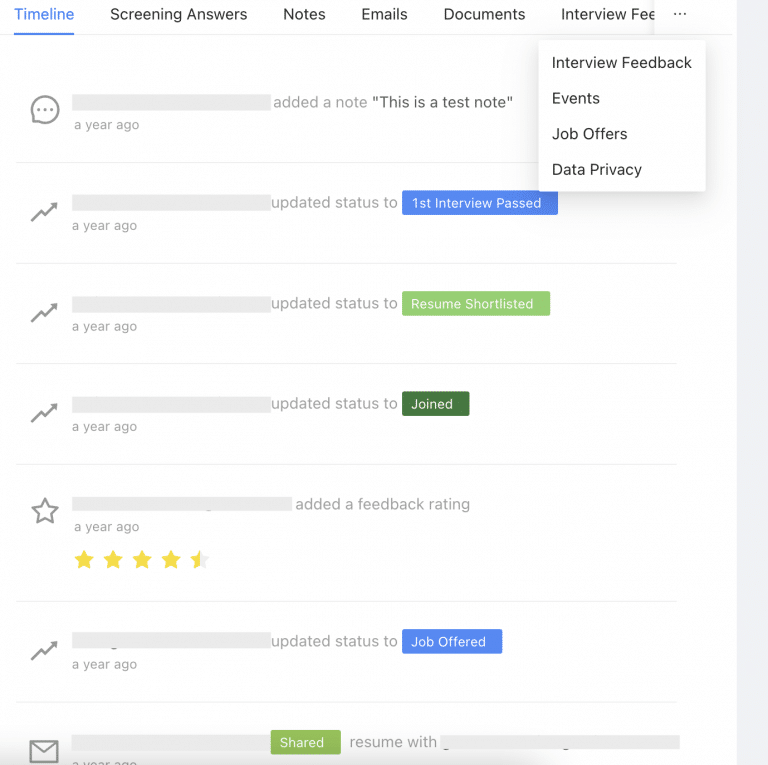 Candidate Relationship Management
CVViZ offers an enterprise-grade ATS (Applicant Tracking System). A recruitment agency can achieve many things such as – 
Job Posting to 2000+ job sites
Candidate sourcing from multiple channels
Applicant Tracking
Resume management
Candidate history management
Design and integrate the career page
Take notes, tag others
Document management
Recruitment analytics
Learn More – Applicant Tracking System
Client Portal - Allow Access To Your Customers
Let clients post the jobs and access the candidates with a login.
You decide what information can customers access with permission settings. And this can be different for different customers.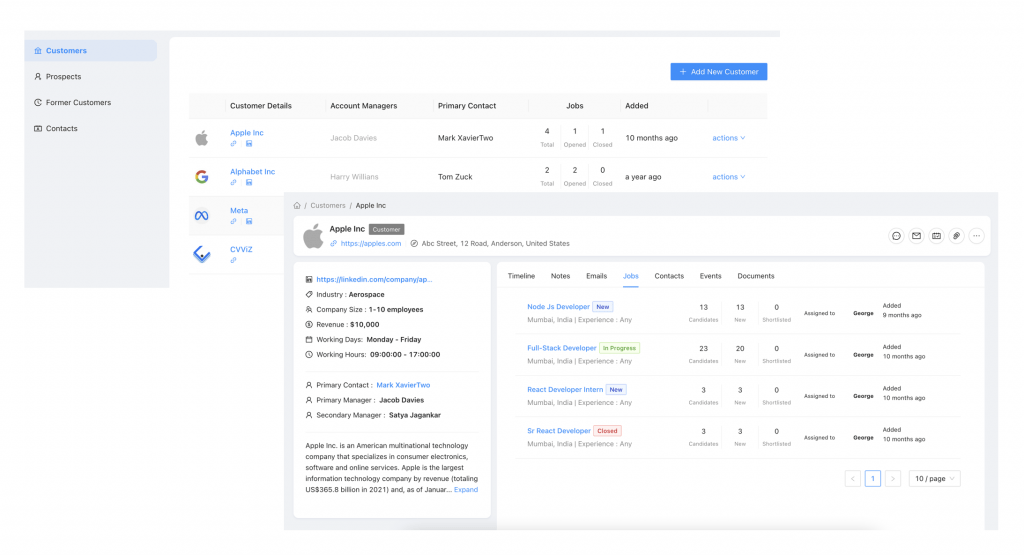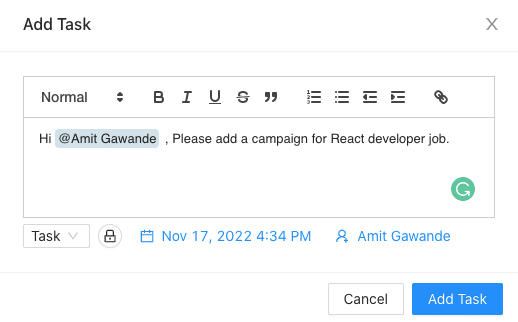 Collaborate On Hiring and Sales Process
Collaborate with recruiters, account managers, and salespeople.
Call Logs
Notes With @Mention
Bulk Emailing and Email Tracking
Assign tasks and track them.
Set up different permissions for different roles.
Frequently Asked Questions (FAQ)
In the recruitment industry, recruitment agencies or staffing companies help corporates in hiring new employees. So, for a recruitment agency business, it is crucial to manage customers and also important to look for new customers. Hence, they need CRM – Customer Relationship Management.  Customer relationship management could include managing contacts, communication, deals, documentation, invoicing, etc.
However, unlike other businesses, recruitment agencies also have to manage the hiring process or their relationship with the candidates. So, they also need to manage candidate profiles, resumes, interviews, communication, job offers, etc.
Hence, staffing companies need a special tool like recruitment CRM that could help them manage both customer and candidate workflows. 
Learn more about why recruiting agencies need a recruitment CRM software.
ATS (Applicant Tracking System) is used for applicant tracking. When a candidate is going through the hiring process a recruiter needs to keep track of the candidate's progress. It includes status, notes, and all communication that is happening between a candidate and the company. So, ATS comes into the picture once you are hiring for a job position. 
ATS may not let you proactively build relationships with candidates if you are not hiring.
Recruitment CRM will let you add candidates as prospects. This means, you can build your future talent pipeline and engage them. Basically, Recruitment CRM offers more options for candidate sourcing.
If you are a staffing company, recruiting CRM will also let you manage relationships with your customers. ATS has no workflow for the customers. 
Read more on difference between ATS and CRM.
Experience The Recruitment Agency Software That Is The Best Of ATS And CRM