According to the Society of Human Resource Management, SHRM reports, it takes around 42 days to fill an average job position irrespective of the industry.

Undoubtedly, recruiting the right person for a job from the sea of talented applicants is a very tough task. Recruiters have to advertise job positions, screen resumes, invite candidates for interviews, and do so much more to complete the recruitment process.

All the more time recruiters take to complete the recruitment process keeps the job position empty, which will put your organization behind in the progress cycle.

So, what's the solution?

Automation!
Using HR or recruitment software, you can save time and resources on the recruitment process. According to a Forbes passage on automation, 53% of respondents confirmed that automating repetitive tasks can save up to 240 hours and $4 million annually.

Fortunately, there are brilliant automation tools available to automate each recruitment stage. For example, you can use Chrome extensions for various purposes in the recruitment cycle. There are chrome extensions if you want to download a resume directly from a job portal like Indeed into your ATS or you need to find the digital footprints of a candidate on social media.
If you come across a candidate on some platform and you want to directly add that candidate into your candidate database then you can do it with chrome extensions!

Really?
Yes! Recruitment Chrome extensions can automate every aspect of the hiring process, including screening candidates, sending emails, and much more.
Let's scroll down to explore the best chrome extensions that can empower recruiters in 2022.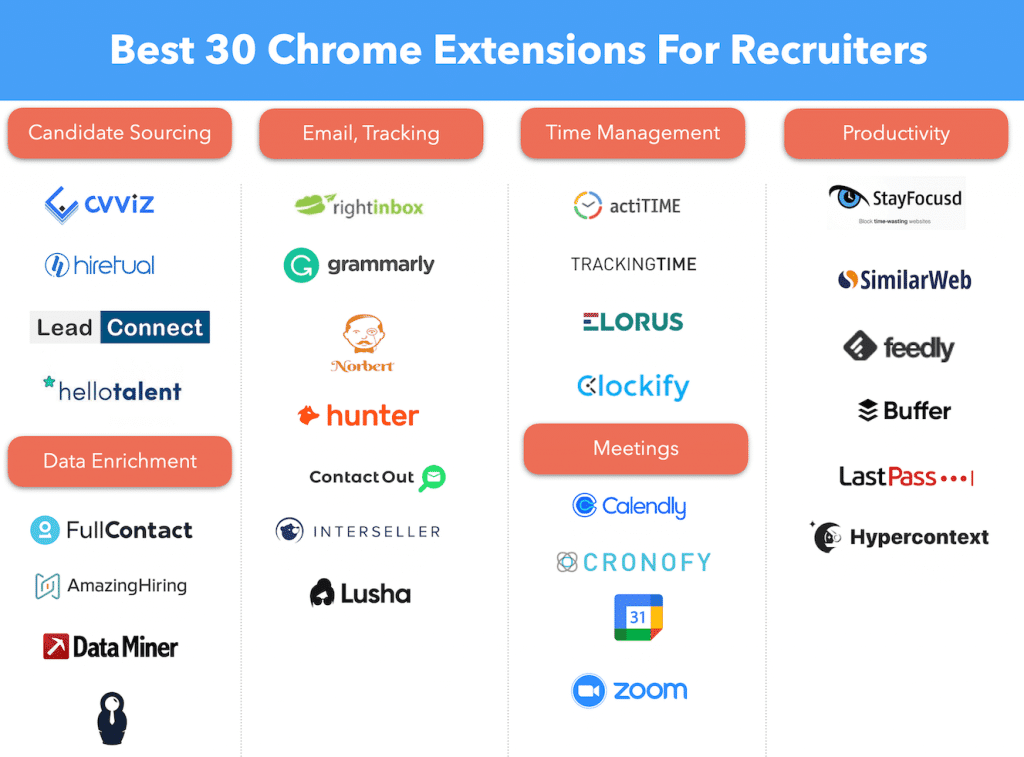 What is a Recruitment Chrome Extension?
Google Chrome extensions are programs that you can install in your Chrome web browser to automate specific operations. In the case of recruitment chrome extensions, this program can automate certain HR functions in your browser, modify existing behaviors, and improve your software's convenience.

These extensions are designed to perform multiple tasks for recruiters, such as:
Sourcing candidates from different recruitment websites and social media networks.
Tracking applications and screening resume for the particular role.
A dashboard to analyze recruitment data and funnel metrics.
Pre-hire assessment and background checking such as personality, cognitive and skill tests.
Provide training and orientation to selected candidates.
Check social media footprints of the candidates
30+ Best Chrome Extensions for Recruiters Category-wise
Candidate Sourcing Chrome Extensions
Candidate sourcing is one of the most important recruitment tasks. Recruiters use multiple job sites, various niche platforms like GitHub, Behance, etc to search for the candidates.
When they come across a candidate or candidate's resume they want to quickly add it to their candidate database.
Fortunately, there are some good Chrome extensions for candidate sourcing available to quickly add candidates to the talent pool. Here is a list of such chrome extensions –
1. CVViZ: CVViZ is a modern recruiting software powered by AI. It also provides a chrome extension inside the web app. It helps you source resumes of candidates from job portals like Indeed, Dice, Github, etc. You can also source the contact information of the candidate if the resume is not available.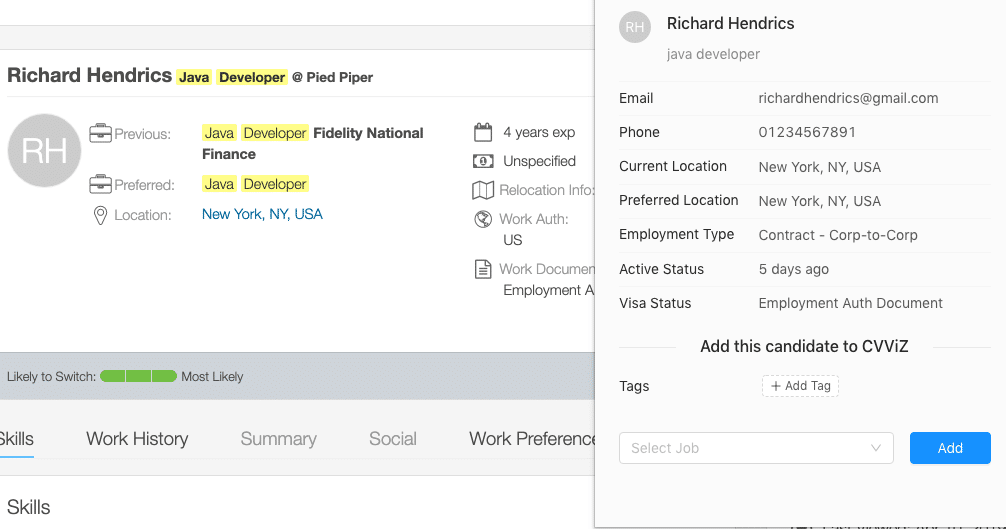 2. Hiretual: Hiretual chrome extension is a free recruitment Chrome extension for candidate sourcing, contact crediting, and performing other recruitment operations. Of course, the free version comes with limited functionality. Going with the paid option will unlock many useful features for recruiters.
3. Lead Connect: Using the Lead Connect chrome extension, you scan thousands of LinkedIn profiles to find the relevant accounts to send job information. You can set up LinkedIn automation for message sequencing. Lead Connect is majorly used by the sales reps that use LinkedIn which means it is also a great way to connect with candidates.
4. Hello Talent: We are the advocate of proactive hiring. HelloTalent chrome extension is one such candidate sourcing tool. It is the perfect extension to source candidates anywhere from around the globe.
Email Tracking and Validation Chrome Extensions
Recruiters send and receive numerous emails daily to/from candidates, management, and other stakeholders. It takes up a huge time out of the recruiters' schedule to send shortlisted candidates, send follow-up emails, etc.

Thereby, using email tracking and validation Chrome extensions, recruiters can reduce their mammoth workload. The best email management Chrome extensions for recruiters are:
5. Right Inbox For Gmail: This email tracking chrome extension allows recruiters to achieve more within their Gmail accounts by tracking, merging, and sending email reminders. Recruiters can know if the candidate has opened the email and clicked the links or not. This certainly helps to know if the candidate is interested in the job opportunity or not.

6. Grammarly: Grammarly needs no introduction. Grammarly extension will allow recruiters to draft fluent, grammatically correct, and perfectly spelled emails. It also offers a free version which is good enough for day-to-day writing communication.

7. Voila Norbert: It is a stunning email prospecting extension designed to find and verify emails. Recruiters can use this as a candidate sourcing tool to search for talent and reach them with the right message.

8. Hunter.io: This is an email finding and prospecting solution to extract valid email addresses from a huge database by simply putting the person's name and company name. Hunter is also great at finding business emails. This is just great if you are a recruitment agency and trying to find new clients.

9. Contact Out: It is a search engine for recruiters to extract the email and phone numbers of potential applicants and clients. Most email chrome extensions only help you find emails but Contact out will get you the phone numbers too. They have more than 1 billion contacts in their database.

10. Interseller: This tool will not only find relevant candidates' email addresses but also address the outbound needs of recruiters. Using Intersteller chrome extension Recruiters can source candidates from social sites AngelList, Crunchbase and send them a personalized message.
11. Lusha: It is a popular B2B information extracting Google Chrome extension for recruiters about candidates/clients. You can start free with this tool. It is also one of the popular chrome extensions for recruiters.
12. SignalHire: SignalHire chrome extension helps you find the email and phone details of the candidates on platforms like LinkedIn, Twitter, Facebook, etc. It is one of the highly used platforms by recruiters and Sales professionals.
Time Management Chrome Extensions
If you are concerned about efficiency or productivity, you ought to track time.
Time tracking is often seen as a need of companies than individuals. However, individuals or recruiters can use these time tracking tools to manage their time efficiently. This way, recruiters can quickly shorten the recruitment cycle and hire competent professionals. Here are a few time management Chrome extensions for recruiters:
12. actiTIME: It is a simple, free time tracker tool that tracks work hours from web browsers and other applications used by recruiters.

13. TrackingTime: This extension helps to track accurate work time data and sync it with users' TrackingTime accounts to draw analytical reports. You can also connect data from TrackingTime to project management tools such as Asana, Trello, etc.

14. Elorus: It is a time tracking slash invoicing extension that can calculate billable hours based on the working hours. This browser extension also works on Firefox.

15. Clockify: It is another free-time tracking extension. Based on the Pomodoro technique, this extension tracks time and helps to boost recruiters' productivity in real-time.
Scheduling Chrome Extensions
Scheduling interviews, meetings, and sending virtual interview reminders is a vital part of a recruiter's day. So, here these scheduling Chrome extensions can help recruiters a lot:
16. Calendly: Calendly is well-known. This extension can completely control recruiters' schedules and help them book meetings without overlapping. Calendly browser extension is available for both Chrome and Firefox.

17. Cronofy: Cronofy works with all your favorite business applications to schedule your day from anywhere on the web with a click.

18. Google Calendar Extensions: Google calendar is a household name. Many companies are using the G suite and hence having the Google calendar extension makes sense. You can refer to the list of the 5 best Google calendar extensions.

19. Zoom Scheduler Extension: Zoom reached the peak of its popularity during the pandemic when almost everyone was working remotely. Its Chrome extension can schedule video meetings and send reminders. It works fine with Google calendar.
Data Enrichment Chrome Extensions
Having more data about the candidate is always good. When you have more data inputs, decision-making becomes simpler. So, if you want to know more about candidates, social media is the place. Manually searching or data scraping on several social media platforms and web can take up time, but these extensions can fasten up the process:

20. FullContact: Allows recruiters to extract additional information about candidates from social media accounts and other online sources. It enriches data about your contacts.

22. AmazingHiring: This AmazingHiring chrome extension can track your candidates' digital footprints across the internet. It indexes data from platforms like GitHub, Dribble, Behance, etc. This recruitment chrome extension is really helpful if you are into tech hiring.

23. Data Miner: It is a free extension that can crawl and scrape data from web pages and add it to a spreadsheet. Recruiters can extract potential candidates' email addresses and phone numbers from various job-related sites. Unlike email or contact finding browser extensions, it can find much more data about the candidate from the web page.

24. Discover.ly: This chrome extension helps you find the connection on social media. For example, if you receive an email from a candidate (on Gmail), it will quickly show you if you are already connected with them on any social media platform. Or how you can connect with them through mutual connections. It's a smart way to gather more information about a candidate using their social media accounts.
Get Focused With Some Productivity Chrome Extensions
Besides the basic candidate screening and scheduling interviews, recruiters need numerous other extensions to improve their productivity and efficiency, such as:

25. StayFocusd: With the rise of social media and other digital platforms it is so easy to get distracted while trying to focus on your work. StayFocused extension helps recruiters put time limits on websites like Facebook, Reddit, or Twitter so they can focus on work rather than watching cat videos.

26. SimilarWeb: Similarweb chrome extension is useful for companies if they want to measure how much traffic they generate to their career page. Similarly, if you are a recruitment agency, you can use SimilarWeb to do SEO, traffic demographics, and other online marketing stuff.

27. Feedly: Help you organize all reading materials for later so you can read when you have free time. If you are too busy to read now, you can mark it for later.

28. Buffer: This is a perfect tool to share multiple job posts on social media, monitor each post, and extract candidates' data from social media.

29. Last Pass: LastPass is your Google chrome password manager. It helps recruiters store all their passwords and secure their digital life.

30. HyperContext: It is an extension to host productive meetings with your team. HyperContext extension will let you take notes, assign action items and decide the agenda beforehand. No need to prepare the minutes of the meetings separately. Isn't that efficient?
Benefits of Recruitment Chrome Extensions
Spending No Time On Manual Tasks
Recruiters are busy people. They are always screening, interviewing, and creating a talent pool in the workplace.

Thus, using recruitment chrome extensions they can quickly and effectively automate recruitment tasks. This will eventually save them the time they spend on repetitive tasks to focus on human-centric activities like connecting with employees.
Get More Organized
Tools help recruiters to divide their work into different portions. This will allow recruiters to set deadlines for each task and monitor progress in real-time. The productivity Chrome extensions can help recruiters to get more organized.
Sync Your Contacts and Communication
Chrome extensions allow recruiters to sync all their data in a place. It will help recruiters to easily find and access data to make quick decisions.
Reduce Human Errors
Tools are programmed to run systematically. Thus, they will perform recruitment operations faster and flawlessly than humans. Further, hiring competent and accountable people based on the data will improve your manpower efficiency.
Things to Consider Before Getting Chrome Extensions for Recruiters
Define your needs
There are multiple Chrome extensions available to help recruiters today. But not all extensions are suitable for every recruiter.

Therefore, you have to first define your needs and then select the right recruitment. For example, if you want an extension to screen resumes, get a program that can process data and provide input based on your requirements.
Check What Functionality You Need
Functionality is a vital thing that you should consider before investing in recruitment Chrome extensions. That's because every Chrome extension comes with different functions such as time management, talent management, and more.
Decide Your Budget
Most Chrome extensions are free, but they lack functionality. Thus, if you want to get highly functional and powerful Chrome extensions, you might have to get paid ones. So, you should define your budget for a recruitment tool as you have to acquire many other business automation solutions to run all your business operations seamlessly.
Performance
Performance is a crucial factor to consider before buying any business tool. If the extension is not up to the mark, it will not be able to improve your recruitment efficiency. For example, an email finder must have the potential to extract valid emails, in less time.
It Must Be Ease-to-use
Make sure to get a simple and powerful Chrome extension that your entire HR team can use easily. Getting a complex recruitment tool will unnecessarily complicate your recruitment process rather than make it easy.

You should always get recruitment software with an easy UI, a strong knowledge base, and community support.
Just Get Your Recruitment Chrome Extension
There are plenty of different activities that recruiters have to perform daily to create a dynamic talent hub in the organization. However, manually doing all the recruitment activities can take up lots of time.

But, thankfully, using the instant Google Chrome extensions, recruiters can automate most of their operations and hire highly competent candidates. So, now we leave you to select the best Chrome extensions to boost your recruitment process.