"Oh, I wish I had called the candidate sooner. He got the offer from somewhere else!" "We need to start from scratch as the candidate we offered the job has ditched us!". "We are finding it difficult to find candidates for these skills!". Does this sound familiar? If so, maybe because your recruitment model is reactive and not proactive? Meaning, you are competing with a thousand other companies who are also looking at the same talent pool just like you. You are part of the fastest finger first competition and your chances of winning are as much as that of any of your competitors. If you want to win, you would want to shift to a proactive recruitment model.
Gone are the days when there were limited means to find and to reach candidates. Today, candidates get to know about a job opening at the tip of their fingers. With digitization happening all around, companies have many ways to reach potential candidates.
So, how do you stand apart in the candidate-driven recruitment market where there a steep competition to acquire the best talent. How do you make sure you reach the best candidates before your competition? The answer is to switch to proactive recruitment. So, what is reactive recruitment and proactive recruitment?
What Is Reactive Recruitment?
If your search for the candidate starts right after the new job position is created, then you are using a traditional reactive recruitment approach. Reactive recruitment practices are passive in nature.
Disadvantages of Reactive Recruitment
Reactive recruitment is often high pressure, time-consuming, and redundant in nature.
High-Pressure Situation Lead To Bad Hiring Decisions
When a new position is created, hiring managers want to close it as early as possible. Recruiters start with the easiest approach either by start sourcing from the job boards or outsourcing it to recruitment agencies. Recruitment agencies would most probably start sourcing from job boards. In this reactive recruitment model waiting for the candidates to apply for the job could take longer.
When you are sourcing from the job board you are competing with every other company that is looking at the same talent pool. You have to call most of the candidates to know if they are interested in the job opportunity. After you source candidates who are interested, line managers will screen resumes to select a few for the interviews. If you end up offering a job to a candidate then you need to wait for the candidate's notice period to get over. The whole process easily takes away anywhere between 16-18 weeks. If you are lucky you may find good candidates for an interview sooner. However, in most cases, it takes a few iterations between sourcing candidates and screening resumes until line managers find the relevant candidates. In this situation, the pressure is mounting on the line manager as he or she needs to assign additional responsibilities to other team members. If it takes longer to source or interviews the right candidates, management may start thinking that they can do away with the open position. Similarly, the recruiters are under pressure for sourcing the right candidates.
The pressure situation pushes the hiring managers to compromise on the quality of hire. At times making the bad hiring decisions.
Reactive Recruitment Is A Recipe For Redundancy
Most companies hire for similar roles throughout the year. Companies could have multiple openings for the same job profile. Sometimes these openings are for the same or different departments. However, because of the reactive approach, most of the time recruiters fail to coordinate with their other team members and end up processing the same talent pool. It leads to obvious duplication of work where the same resumes and candidates are screened, contacted over and over again.
What is Proactive Recruitment?
Proactive recruitment is about planning ahead. You anticipate or forecast the roles, skills you are going to hire for in near future and you plan for it. You work on building talent pipelines much before you start hiring for the job positions.
Proactive recruitment is also about reducing the noise from your hiring process. It means you want to engage the best candidates, organize interviews swiftly and make sure of great candidate experience. In other words, you want your hiring teams to focus their energies on hiring and not get burnt out because of mundane, repetitive tasks.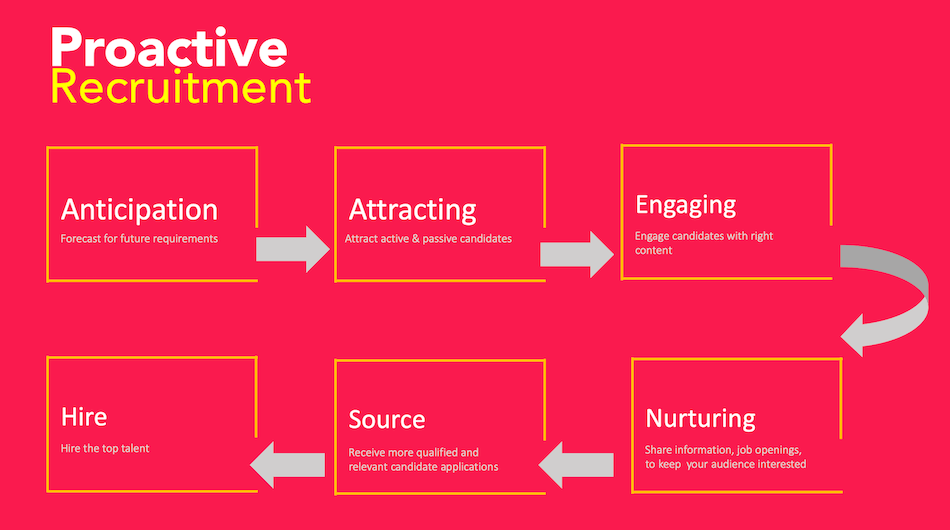 How Does Proactive Recruitment Work?
Proactive recruitment is about building your audience. You want to attract both active and passive candidates. The main building blocks of proactive recruitment are
Find – Figure out the skills and roles you need to hire candidates for
Attract – Engage candidate with the right content
Nurture – Keep your talent pool hooked with the right information
Source – Source right candidates for the right job
Convert – Find your employee
Find
In order to find the candidates, you need to first figure out the roles you are going to hire for. Use recruitment metrics from the previous year, previous quarters to understand the roles that you generally hire for. Hold discussions with line managers for capacity planning so that you know how many candidates you need to hire.
Look into the kind of candidates you successfully hired in the recent past. It will help you to build the persona of candidates you want to hire. After that, figure out the platforms where you can find these candidates. For example, you may find great tech talent on platforms like GitHub, StackOverflow.
Apart from external platforms, every company has their own candidate database they have built over time. Use this candidate database to discover the right candidates.
Attract
Once you know where you can find potential candidates, it's time to catch their attention. You could attract your audience by writing informative articles, blogs, sharing job posts on social media platforms, sharing your achievements, etc. As per recruitment statistics 2019, 47% of the recruiters think, social media like platforms help in employer branding. Basically, you must work on employer branding.
Make sure you create or curate content that is most relevant for your audience. You could ask your audience to subscribe to newsletters or new job openings. These activities will help you catch the attention of passive candidates too. Remember, passive candidates, are the best kind of hire!
Nurture
Once you have an audience that follows you or subscribes to your content, make sure you keep your audience hooked. Share about new work, projects that your company is working on. Share about technology or market trends. Build on your brand. Write about your company's work culture. Invite them to webinars that reflect on the business your company does.
Source
At this stage, you should have a sizable audience with whom you have built the relationship. Share job posting with them. Use social media, emails, text to reach out to them. Build talent pipelines for various roles and skills.
Convert
Once you get the candidate to apply for the job, make sure they get the best candidate experience. Remember, you have built a relationship with these candidates over the period and they are interested in your brand. Candidates apply for the brand rather than the job position. Hence, you need to take care of the candidate experience. Irrespective of whether they join or not, they are also the people who will help you grow your brand by sharing your job post and various other content.
How To Implement Proactive Recruitment Model
Proactive recruitment is about anticipation. You need to first figure out what you need before you seek it. You could use past data to forecast your future needs.
The recruitment world is adapting to the marketing concept of "inbound leads". It means, companies want to rely more on candidates who apply for the job. It saves many days of searching for candidates and then competing for them. Not to mention there is always a factor of uncertainty if the candidate would join or not. However, in order to work on "inbound leads," you should be able to reach a larger group of potential candidates. And that is the key to proactive recruitment.
Let's look at the factors that will allow a company to implement a proactive recruitment model.
Use Recruitment Automation
Use recruitment automation to capture data and then to use that data for intelligence. Recruitment software like ATS or CRM can help you organize your recruitment process. You can gather all the details of candidates like resumes, contact information, communication details, notes, interview feedback, etc. in one place. Build recruitment analytics using this data. Find out which sourcing channel works best for what kind of role. Calculate the cost of acquisition. Calculate the attrition rate. All these numbers will help you in forecasting your future recruitments, the time you would need and the budget you would require.
The advancement that happened in recruitment automation over the last few years will help automate things intelligently. For example, AI recruiting software can automatically post jobs to different platforms, screen resumes, discover the best matching candidates automatically from your database, can contact them using email or conversational chatbots. Recruitment automation will eliminate most of the noise from the recruitment process. It certainly brings efficiency by automating mundane tasks. It will help recruiters focus on the most important things like engaging candidates.
The greatest advantage of using technology for recruitment is that it helps you to quickly adapt to ever-changing situations.
Recruitment automation will help you to move in the direction of data-driven hiring which will help you to anticipate your future recruiting needs.
Build Relationships
Another important aspect of proactive recruitment is building relationships. You definitely need to build relationships with potential candidates by attracting, engaging and nurturing them. However, building a relationship with your hiring team is equally important.
Recruiters must build good relationships with hiring managers and vice-versa. We often see a strained relationship between recruiters and hiring managers. It is also because of the reactive recruitment model which as we have seen creates a stressful environment. Recruitment is a highly collaborative process and it is important everyone gels with everyone.
Recruiters and hiring managers should work together for capacity planning. Hiring managers can share if they could need more resources on the basis of their work estimates.
Get Creative
We are already seeing companies are using various approaches to attract the best talent. For example, many tech companies or big giants organizing events like Hackathons to identify top talent. These companies may or may not be hiring directly of such events but they are definitely building talent pipelines for the roles they need to hire.
Companies that are into campus hiring, organizes many philanthropic team events where they try to identify their future employees.
We Use Recruitment Technology – But Are We Using Proactive Recruitment Model?
Just because you use recruitment technology will not transform your recruitment model from reactive to proactive. Many companies invest in recruitment tools, however, they use it in the reactive mode. For example, companies look into recruitment analytics to understand how the year went by but not for proactive planning.
Even if companies come up with numbers they need to hire in the future they don't gear into proactive mode. Their recruitment process still starts after the new vacancy is created.
Proactive recruitment would be extremely difficult without using technology. At the same time recruitment technology will not alone change things for you if you do not use the technology actively. It is a process change that you will need to drive to make it successful.
Summary
The proactive recruitment model saves you time, money and efforts. It reduces redundant efforts and keeps pressure from mounting. It keeps you more agile. Because you build relationships with potential candidates you receive more qualified candidates. So, even if candidates want to turn down your offer at the last moment, you would still be able to recover quickly from it as you would have more options. With a proactive approach, you do not have to rush in hiring people and hence it reduces bad hiring decisions significantly.