Recruitment is very much a candidate-driven market job. Companies want to hire the best candidates using various strategies like branding, outreach, etc. It is very similar to how a company wants to market its services or products so that it can attract customers. However, the practices used in the recruitment process are not as optimized as marketing practices. Recruitment practices although have gone under changes but haven't transformed as greatly as marketing practices.
The growth of digital technology has transformed all sectors. If we look at marketing strategies used a decade ago, these strategies were more outgoing. Marketing consultants would go about attracting their potential customers by email, cold calls, participating in exhibitions, doing a mega product launch, etc. Today, most of these offline strategies have become secondary. Companies are using digital marketing methods to reach their potential customers. Strategies like SEO (Search Engine Optimization), CPC campaigns, programmatic marketing, content marketing, viral marketing, conversational chatbots, etc are becoming the spearhead digital marketing strategies for companies.
The rise of digital marketing is such that digital marketing professionals are choosing this has their entrepreneurial career and starting digital marketing agencies from home. 
We definitely see new digital marketing methods that can be adopted for efficient recruitment, especially for candidate sourcing. Let's look at how we can use these digital marketing methods for recruitment.
Drawing Parallels Between Recruitment Marketing And Digital Marketing
Today, we are spending more time on smartphones. We are using the internet to accomplish all kinds of day-to-day tasks. We are always connected to the internet. Hence, companies want to reach their potential customers on various internet platforms. Digital marketing is all about reaching customers when they are on internet platforms. Digital marketing uses channels like social media platforms, emails, search engines, websites, chatbots, etc to advertise or to reach potential customers.
The recruitment process comprises four main stages. Candidate sourcing, candidate screening, interviewing, and hiring. Candidate sourcing is a heavily marketing-like activity. It is about driving more and more candidates to apply for open job positions in your company. As part of candidate sourcing, you need to create interest in the candidate's mind, you need to build awareness about job openings in your company. You need to make sure of great candidate experience.
Let's look at how recruitment activities are similar to that digital marketing activities.
1. Employer Branding
Employer branding is a way of selling your best offerings. You want to show off your culture to your target audience. Whether it is marketing or recruitment, employer branding will play a huge role in the success of your company. Remember most people focus on the brand proposition.
As per recruitment statistics 2019, one of the key reasons for negative candidate experience is poor employer branding. Poor candidate experience drives away potential talent from considering a job in your organization.
2. Inbound Leads Vs Inbound Candidate Applications
Inbound leads are more effective. When you get an inbound lead it is a qualified lead. This means the customer is interested in your product or service. Similarly, when a candidate applies for a job in your organization he or she is interested in the job.
Inbound marketing works when you have strong content; when your content ranks higher in Google searches. So, when someone is searching on the internet your website should appear on top. Similarly for recruitment, when someone googles for jobs, openings from your company should come on top. Google for job search is a great validation that more and more candidates are googling for new job opportunities.
3. Social Media Marketing – Advertisement Vs Job Promotions
Social media is heavily used today for marketing. Google provides Adwords and AdSense where you can put up ads on the Google search engine. Many companies run paid marketing campaigns on Facebook, Instagram, etc. Similarly, job ads are also promoted on platforms like LinkedIn. Niche social platforms like Angle List, and Stackoverflow also allows paid campaigns.
The paid job posting campaigns help companies fetch many numbers of candidates' applications. Interestingly, companies are cutting down on their job board subscription costs and putting more money into recruitment marketing as they get more qualified leads through such campaigns.
4. Customer Relationship Management Vs Candidate Relationship Management
Customer relationship management (CRM) is a big part of marketing efforts. Once the potential customer becomes part of the sales funnels companies put in efforts to keep in touch with the potential customer. It keeps in touch with its qualified leads through emails, newsletters, SMS, etc. CRM is also about keeping track of all minute details, and the history of your customers.
Similarly, Candidate relationship management is all about attracting active and passive candidates by keeping in touch with them through emails, new job openings, etc. Companies share some interesting insights like job trends, salary trends, etc with their potential candidates. As part of candidate management, companies must maintain a candidate database and details of every candidate. This helps companies understand the kind of candidates showing interest, the kind of candidates rejecting job offers, etc.
A recruitment CRM can help you build and nurture relationships with candidates.
5. Marketing Analytics Vs Recruitment Analytics
Marketing analytics help companies measure their marketing efforts and help them optimize their efforts for future digital marketing campaigns. For example, when a company is running a CPC (Cost Per Click) campaign, companies measure impressions, click ratio, and click-to-action ratio. It helps them measure the success of their marketing campaigns.
Recruitment analytics will help companies measure their recruitment efforts. For example, companies would know which recruitment channel is working best for them, and how many candidates are clicking on their job posts and completing the job application. It helps companies measure important aspects such as cost per hire, etc.
Tools For Recruitment Marketing
Using digital marketing methods for recruitment will move you in the direction of data-driven hiring. It means you will rely more on data to make your recruitment marketing decisions like budgeting, spending on sourcing channels, etc. Let's look at some of the tools that can help you implement digital marketing methods for recruitment.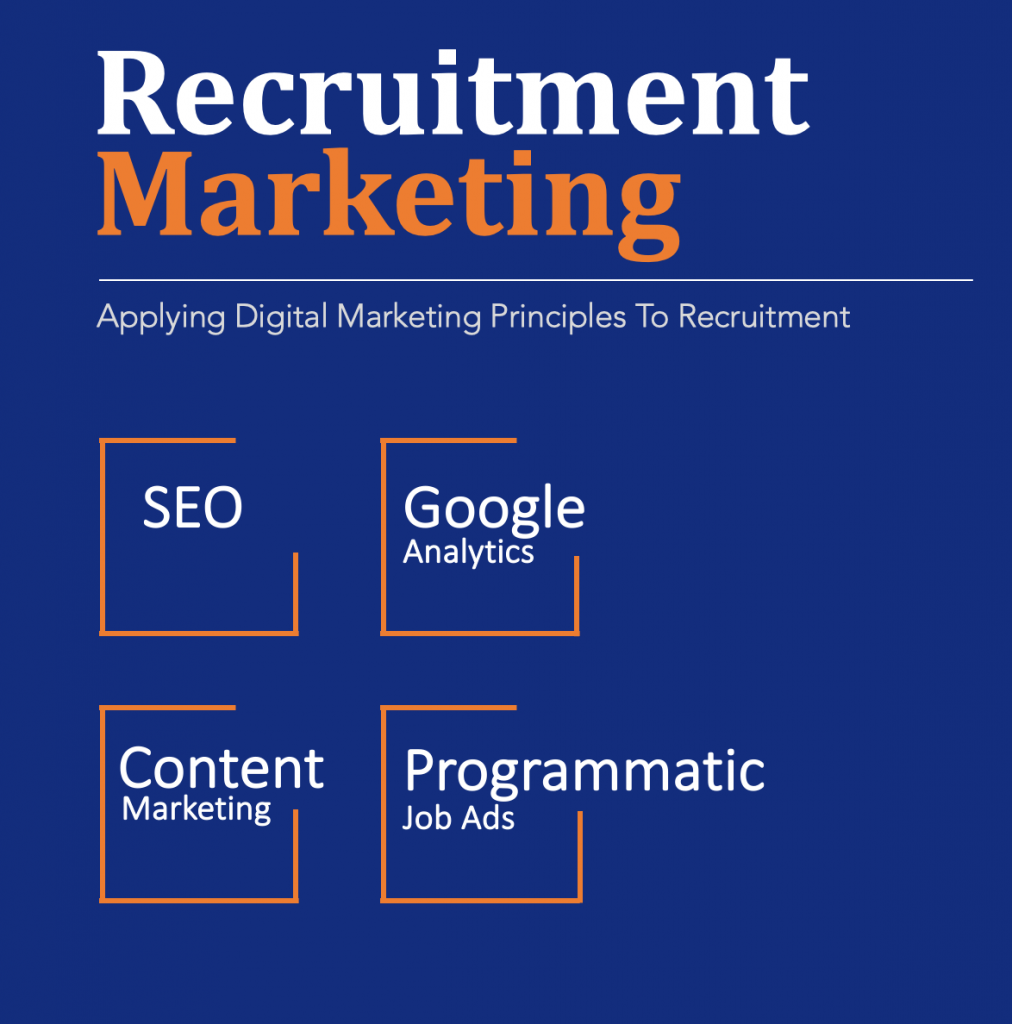 1. Content Marketing For Employer Branding
Candidates apply to companies rather than jobs. Meaning they evaluate your company brand on various parameters before they decide on applying for the job position. Hence, employer branding plays a crucial role in attracting candidates.
Candidates will always visit the company website before they would apply for a job. They will be interested to know more about your organization's culture, your business, your achievement, perks, benefits, etc. Hence, the content of your website is very important.
The company career page is a great way to attract top talent. In fact, the company career page is one of the best candidate sourcing channels. A well-thought company career page can convert a visitor into a job applicant.
Building a great website with an intuitive company career page is one of the key content marketing strategies. However, it is not limited to the company website. You should design a great logo, write blogs, and use referral platforms, and social media platforms to publish content that could drive traffic to your website.
2. SEO For Recruiting
Using SEO for recruiting can help companies immensely in sourcing candidates. A great website with informative and inclusive content will help companies with their SEO score. A good SEO score will ensure your company's career page is tracked by Google which will also help you in listing jobs in your company as part of Google for job search results. It means more and more candidates can easily find jobs in your company and can apply to these jobs.
Another benefit of a good SEO score is you draw more organic traffic to your content or website. This helps greatly in brand building.
3. Google Analytics To Build Recruitment Metrics
Google Analytics is a great tool to measure traffic coming your way. You can measure where potential candidates are coming from. Which candidate sourcing channel is working best for you? You can measure if it is paid channels or organic channels bringing in candidate applications for you. You can extend these recruitment metrics to measure more specific things. For example, which sourcing channel works best for which kind of job functions? You may find LinkedIn works best for tech jobs and Facebook brings more traffic for horizontal roles.
You can use Google Analytics to observe the behavior of visitors when they visit a website or website career page. It could tell you if they click on the job posting or if they abandon the job application form. Career page analytics can help you understand if you are offering a great candidate experience to your potential candidates.
All these various candidate sourcing metrics you could build using Google analytics hence you must enable Google Analytics on your website.
4. Programmatic Job Ads
For the last decade or two, Pay Per Click (PPC) campaigns got popular in the digital marketing world. Although PPC is still actively used, programmatic job advertisements are becoming more popular.
Recruitment marketing automation software would run programmatic job advertisements to target more suitable candidates. The main difference between programmatic job advertisements and PPC is that the job ads are visible only to high potential candidates rather than to most of the traffic. As a result, it saves costs and improves candidate engagement. It also reduces the cost per hire by 30%.
5. Online Recruitment Software
Modern online recruitment software helps you in automating most of the marketing-related activities. For example, posting jobs directly to paid and free job posting sites, sharing jobs on social media platforms, career page design, and employer branding. It also helps you in measuring your hiring process with various recruitment metrics. You can also read Google Analytics data directly into online recruitment software.
Investing in modern hiring software can help you consolidate your efforts and saves a huge amount of time.
Summary
The biggest advantage of using digital marketing methods for recruitment is you get quality job applications. Recruitment marketing saves a huge amount of time for recruiters who otherwise would go about finding candidates on job boards. Recruiters spend most of their time chasing non-qualified, non-interested candidates. Instead, recruiters can make their candidate sourcing process more inbound where candidates can easily find job openings and the job application process makes sure it identifies quality candidates. Adopting recruitment marketing methods actually makes your hiring process more data-driven which assures better success in closing job positions.