So, you want to start a recruitment agency. But have no clue where to start?

Then, no need to stress out because this ultimate guide will walk through all the do's and don'ts to start a recruitment agency.

Let's dig in to launch a successful recruitment agency.
Is It Profitable To Start A Recruitment Agency Today?
The answer is a big YES! Today, businesses are losing loads of time and resources on hiring the right candidates. Even the big companies are struggling to screen and interview competent candidates quickly while managing their regular business operations.

Here check out some statistics to understand why are businesses in dire need of good recruitment agencies:
According to Glassdoor's method of calculating cost per hire, an average company in the United States spends $4000 on hiring a new employee. The whole recruitment process takes at least 52 days to complete.
Another study by the National Association of Colleges and Employers shows that a company with 0-500 employees spends around $7645 hiring a new employee.
A famous MIT study on employment cost has shown that employers have to spend anywhere from 1.25 to 1.4 times higher than the basic employee's salary on the recruitment process.
All in all, recruiting the right candidates is a time-consuming and money-sucking process for businesses. In this situation, if you provide an affordable and fast recruitment solution to companies, why will they not use your recruitment services?

All you have to do is start and promote your recruitment agency in the right manner to make profits.
While starting your new recruitment agency, you have to do the following things to set a strong foundation for your business:
1. Find Your Sweet Spot – Decide Your Market
First thing first, choose a niche for your recruitment agency. Do you want to start an IT-centric, retail sector, or any other industry targeting recruitment agencies?

Today, every business sector needs qualified and skilled staff. So, you have endless niches to explore.

However, it is recommended to target your recruitment agency niche based on your knowledge and network. Suppose you come from the IT sector; you should provide recruitment services in the IT arena because you already know the recruitment requirements in this area.
Although some sectors like IT are so vast that it is wiser to narrow down further. For example, there are recruitment agencies that only hire for certain roles like Data Scientist, Full Stack Developer, etc.
Another way to narrow down your niche is by focusing on the segment. You can decide if you want to work with startups, SMB, or large enterprises.
So, here are the four types of recruitment agencies that you can choose from. Once you choose the type, you should work on finding the niche.

Traditional Recruitment Agency: This is a basic employment agency that scouts for candidates only when their clients need to fill a certain job position.
Headhunting Agency: These recruitment agencies only help companies to fill top executive positions such as Chief Executive Officer, General Managers, and so on. It's called executive hiring.
Staffing Agency: These are manpower agencies that create a talent pool. Whenever their clients request a candidate to fill a job position, they find matching candidates from their internal talent pool. These agencies don't hire employees for their clients permanently; they simply provide temporary employees for a job role.
Recruit and Train: These are specialized recruitment agencies that understand the skill gap in the industry and train potential candidates to fill it.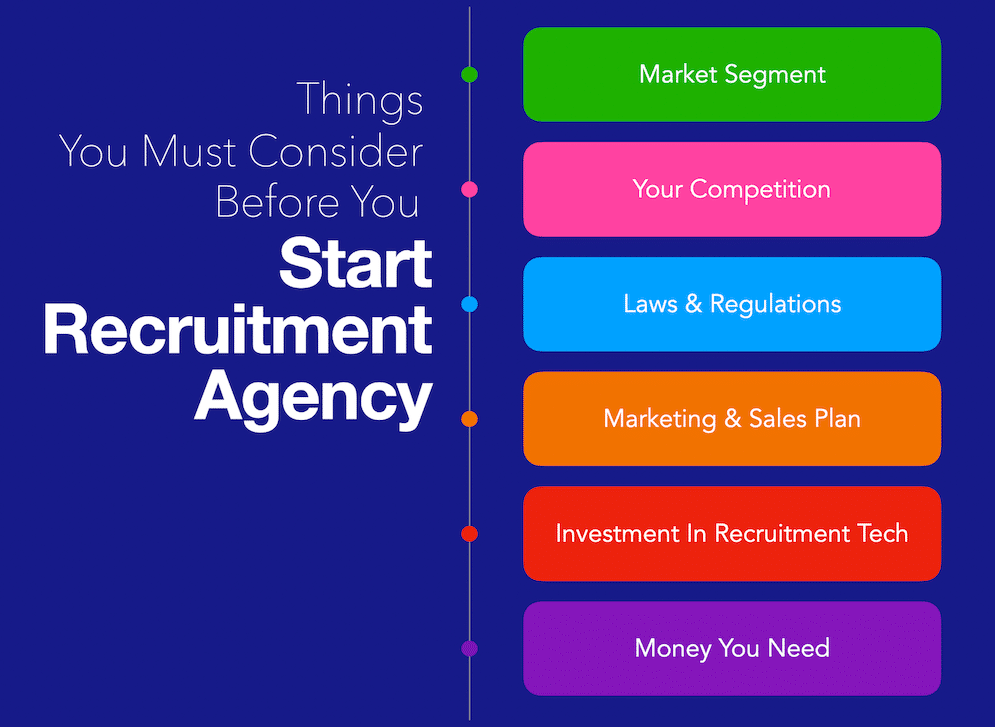 2. Check How Is Your Competition Doing – Learn And Do Better
The number one business rule is always to keep an eye on your competition. Before starting your recruitment agency, explore other recruitment agencies working in your niche for years.

You should first understand gaps in your targeted market and the shortcomings of your competitors. This will help you create a better recruitment agency than your competitors.

For starters, focus on these pointers;

Find what percentage of positions your competitors can close
How much are your competitors charging for temporary and permanent recruiting services?
Do you plan to set up a physical or remote recruitment agency?
Which marketing strategies are your competitors using to attract customers?
The one thing you want to focus on in your research would be, why other recruitment agencies fail to close job positions. This will help learn the challenges that you are going to face.
3. Learn About The Laws and Regulations
If you decide to start a staffing company then figure out the kind of entity you want to register as.
Every country has different kinds of entity structures. And every structure comes with a different set of laws and regulations.
Also, the kind of customers you want to work with will play a big role in the kind of company you register as.
For example, if you are hiring for EU nations then it does not matter where your company is registered, you will have to be GDPR compliant.
Similarly, the bigger organization you work with the parameters like data security and data governance will come into the picture.
4. Calculate How Much Money You Will Need To Start Recruitment Agency
So, starting a new business venture requires funds – a lot of funds. Thus, you should map out the entire cost to set up a recruitment agency beforehand, so you don't end up owing a huge debt to the bank.
There will be capital expenditure (CAPEX) and operations expenditure (OPEX).
While evaluating the recruitment agency startup cost, you have to allocate a significant budget to the following heads:
Office space
Employee salaries
Subscriptions to the top job boards like LinkedIn, Indeed, etc
Marketing
IT infrastructure (Desktop, Laptops, phones, internet, necessary software, etc)
Recruiting tools like ATS, recruitment CRM
Insurance
Miscellaneous business expenses, including electricity bills, refreshments, office infrastructure, etc.
It could get overwhelming and hence finding a partner in the venture may be a good idea. A business partner can share not just the financial load but can also take more responsibilities in running the recruitment agency.
5. Work On A Sales And Marketing Plan For Recruitment Agency
It is imperative that before you jump into starting a recruitment agency you must have a plan to acquire new customers. Here is a detailed guide on how recruitment agencies can find clients.
However, we will briefly discuss different channels that you can use for marketing and sales.
A. Low Hanging Fruit – Tap Into Your Network
Traditionally, the recruitment agency is a relationship-driven business.
You need to keep building new relationships to get new business. And of course, you need to nurture these relationships too.
So, one of the simplest ways you can get early business is by reaching out to your friends in the corporate world.
If your friends are not directly responsible to offer you the contract then ask them for the right references.
B. Traditional Approach – Cold Calling and Cold Emails
Once you decide your niche, check what all companies from that niche are hiring.
Let's call it your customer persona.
Reach these companies with cold calls and cold emails. You can also use LinkedIn InMail functionality to reach potential customers.
Outbound should be the primary strategy for a newly started recruitment agency.
C. Content Marketing – Having A Website Is Not Enough
Today, in the digital world there is no replacement for content marketing. People do their research seating in the comfort of their homes.
Although you must start first building your website it is not going to be enough. The idea of content marketing is to make sure that the companies should be able to discover you when they are looking for recruitment agencies.
It means you will have to take care of SEO, blogs, social media posts, account-based marketing, career page, etc.
If your website or content marketing doesn't consider any of the above, it is as good as your website doesn't exist.
Content marketing is for the long run. It won't give you immediate results. But when it starts working for you, it could give you exponential results.
Also, if you take care of contact marketing, you will not only attract customers but you will also attract candidates.
For example, when you set up your career page, your job postings will get indexed by Google and it will be shown in the Google job search.
What could be a better way of organic marketing than posting your jobs on Google job search.
6. Invest In Recruiting Tools Or Struggle
Most recruitment agencies, to keep their operational costs low, refrain or defer investing in recruiting tools.
Recruiting tools such as applicant tracking system (ATS), recruiting CRM, and recruitment chrome extensions will help you tremendously to close more job positions.
There are many mundane recruiting tasks such as emailing or messaging candidates, scheduling interviews, resume screening, calling and asking the candidate pre-qualification questions, preparing spreadsheets.
If you are not using recruitment tools, it means you are doing repetitive tasks manually, every day! It means you will certainly take more time to reach the right candidates.
Recruitment technology is getting more advanced with tools like AI recruiting software, AI for resume screening, etc.
Also, when you start a recruitment agency, outbound hiring is something you would want to start with. It means you will have to invest in a candidate database or job board that also provides a resume database.
You may start with free job boards, but you must invest in the top job boards. Often, top job boards charge premium amounts and hence many recruitment agencies opt for the second-best job board or candidate database solution.
If you buy a subscription to the second-best job boards, there is a great chance that you are going to struggle to find the right candidates.
Apart from the key 6 important checks, office location is one of the things that you may want to think about. As we are moving into a working remote culture, the physical location should not be a constraint. However, it could be helpful to have a physical address where most of your clients are located.
Let's Start A Recruitment Agency
You are now ready to start a recruitment agency.
You now know how to prepare yourself before you jump to start your staffing company.

Now we leave you to create a business plan to start your dream recruitment agency. It may look overwhelming to begin with. But, one step at a time and you could get there!
Best of luck, we know your new recruitment business will flourish in no time.