In September 2019 more than 1 million people have Googled a Sales job in the US. That is just in one month alone. The search volume was similar for the IT, marketing, and hospitality industries. The search takes them to the career page of the company. Also, companies are posting jobs on various social media platforms, and job boards. Even their employees are further sharing these jobs on social media or chat applications or emailing their friends. But eventually, everything links back to the company career page where job details are present.
Design Your Career Page In Less Than A Minute. Start Now.
Candidates might use desktops or mobile phones to hit these job links. When candidates start visiting the company career pages if they don't find it aligned with their screen or looks dated or have lengthy job applications you will see candidates bouncing off career pages. You need to make sure you provide a great candidate experience to convert a visitor into a job applicant.
Unfortunately, most companies don't measure how many candidates visited their career page, how many clicked on the job and how many completed the job application. Hence they don't realize is they are missing out on potential candidates.
A dynamic career page would help you with such aspects. It should also list the jobs that can be easily searched. A career page working design should be such that it should help both recruiters and candidates. Let's look at some of these aspects of the company career page in detail and why it having a company career page matters so much.
Candidate No More Hitting The Job Boards. Instead, They Are Googling For Jobs
If you don't know already but Google For Job Search is already here. This means that candidates can now just google for the jobs. For example, candidates might search "Marketing Manager jobs near me" or "Financial Analyst jobs, 33rd street, New York". They would get the list of jobs and the set of filters to narrow down the search results.
Candidates are no more required to visit Job boards to search for jobs. They can simply google it. Well, Google search may also show job postings from leading job boards. But don't forget, you must pay to post jobs on these job boards.
If you can't get jobs from your company listed on Google for job search results, you are going to lose a lot of traffic coming your way. The way Google can find a list of job openings in your company is by visiting your company career page. There is no direct way of posting your jobs to Google. You should know more about how to post jobs on Google for job search. Or simply, let your modern recruitment software do it for you.
Company Career Page Reduces Cost Of Hire
If you want to publish a job to a leading job board it comes at a certain cost. And if you're going to put up a job posting on a niche job board then it comes at a higher cost. Considering more and more candidates are using Google for job search, you could save immense costs simply by making sure you appear in Google for job search results.
Today's generation or Gen Z spends a lot of time on social media. You can simply post your jobs on social media platforms at no cost. A Dynamic company career page shall allow your employees to share jobs on such platforms with a click. Giving more visibility to the job openings in your organization. It would improve your reach significantly, improving your chances of getting good candidates.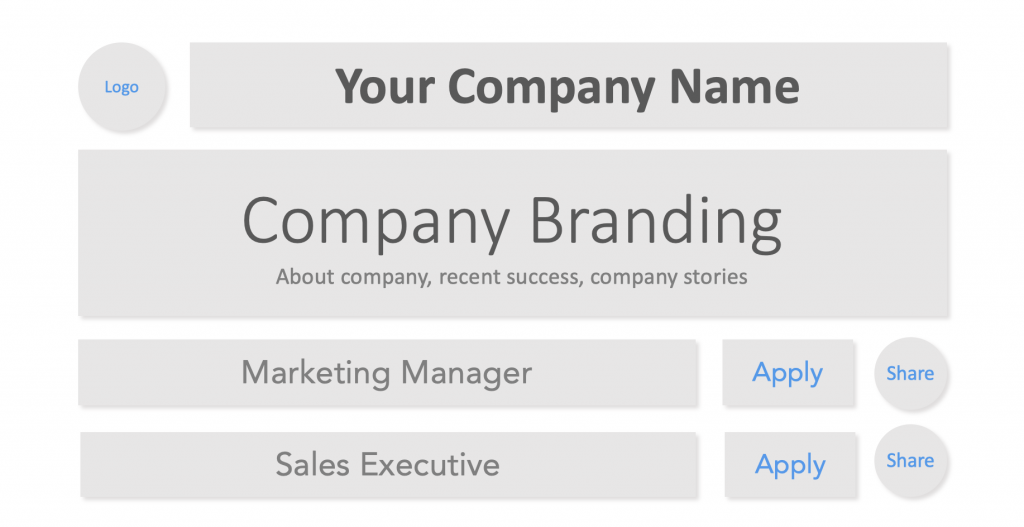 Company Career page Improves Quality Of Job Applicants
About 80% of the job applications we receive are irrelevant. We also see scenarios where candidates drop out during the interview process. Such things happen largely because candidates do not get the right information while they are applying for the job.
Using a dynamic company career page you can configure prescreening questions for every job. For example, you may want to know if a candidate is willing to work multiple shifts or if he or she is okay with frequent travel. How do they rate themselves on a particular skill? Such things could simply be mentioned in a job description. However, asking them as part of the prescreening QnA process holds them accountable.
All these small steps make sure more qualified candidates apply for the job. Also, with prescreening questions answered you already know if it's the right candidate for you to perceive.
Company Career Page Is The Best Place To Start Employer Branding
A career page is a great place and a great opportunity for employer branding. According to a LinkedIn survey of recruitment trends, 61% of the Talent Acquisition leaders think, the company career page is the best for employer branding. When a candidate is visiting your company career page he or she is not only looking into job details but also looking for how it would be for him or her to work in your organization.
Unless you are Apple or Google, candidates like to know the kind of business the company is into, and what are the company values and mission. They also seek employee testimonials to know more about the company's culture. Most company career pages do not have such important information and hence miss out on potential candidates.
If your career page is simply from the time of the 90s' or if it looks dated then it is simply going to put off many good candidates. For example, if the rest of the website is boasting about how good your business is doing and how your clients are ecstatic using your services then your career page needs to reflect the same story. As simple as if the career page is not mobile-friendly or if it still uses a decade-old design then it is not going to reflect well on your brand. Today, every company shares its job openings on various social media platforms and if the career page is not as aesthetic as it should be then you could lose the brand value. Because many candidates start with a career page and if they are interested then they take a look around, visiting other pages of the website.
Career Page Is An Opportunity To Sell A Job
When there is a job opening in your company the first thing that you might want to do is to publish it. You would put it on social media platforms, job portals, ask for employee referrals, etc. However, whomsoever gets to know about the job opening is finally going to visit that job on your career page.
Your career page is your opportunity to sell a job. Would you just leave it with a cold job description and with an email id to receive a resume? With the rise of social media, there is bound to be traffic coming your way once you share it on these platforms. The question is can you convert that traffic to qualified leads?
Also, time is changing rapidly. If you look at any trending social platforms they are full of visuals. A study shows that Gez – Z has an attention span of 8 seconds whereas it is 12 seconds for millennials. So posting plain text is not going to help you. You need to ask yourself if you have a strategy in place for hiring Gen-Z. Things like these are asking for a dynamic company career page.
Your Recruiter Has More Important Things To Do
If candidates are not redirected to the career page that means you are using email to receive resumes from candidates.
So, imagine you are receiving an average of 250 resumes for every job in your email. Using emails for tracking candidate applications will simply exhaust your recruiter. It's just not productive.
In another scenario, recruiters have to phone screen candidates before they want to consider them for the job. When they find a good resume they need to talk to candidates so that they get some basic insight into them. For example, they would like to know why they are looking for a change, what kind of salary they are looking for, etc. The same questions can be a part of each of your job listing on the company career page. Again it would save a huge amount of time for recruiters.
Conclusion
A company career page should include a list of jobs and tons of reasons why a candidate should join the company. It could include real pictures, videos, perks and benefits, and a section that says "Why to Work With Us!". We must remember it's a candidate-driven market and we are just trying to find the best candidates for our organization. A company career page gives you that competitive advantage because it is an interface between a candidate and a company.
Build Your Career Page In Less Than A Minute