Intelligent technologies are transforming the hiring process. AI recruiting software using machine learning, natural language programming (NLP) to take recruitment automation to the next level. AI for resume screening, recruiting chatbots for candidate engagements, predictive analytics to notice employee's likeliness to change the job are few such as the new-age recruitment automation tools.
Dice recruitment automation report of 2018 reveals that 77% of recruiters think that they need to adapt to new AI for recruiting.
Some of the interesting findings from the Dice recruitment automation report are highlighted below.
Recruiters Consider AI as Help And Not Threat
45% of recruiters are looking at AI as an assisting powerful tool rather than as a threat. They think it's a positive thing. However, 49% have stayed neutral when asked about how they feel about AI recruiting tools. Only 6% of participants felt negative about these new-age tools.
Benefits of Recruiting Automation
When asked if recruiting automation brought them any benefits, 55% of the respondents said their life became easy after automating daily mundane manual tasks.
Dice recruitment automation report shows 34% of the participants said recruitment automation has improved the quality of hire whereas 39% agreed to a reduction in time to hire. These recruiters were from the companies that have implemented recruiting automation.
When asked to recruiters who are still using manual methods for recruiting, 44% of such recruiters said they missed hiring opportunities because of a lack of automation. 72% of the respondents agreed that their process was slow. 19% of these recruiters said lack of recruiting automation leads to poor candidate experience, which also negatively impacted their brand of the company.
Tasks Recruiters Want Automated
Although companies are looking at using ai in recruitment automation, recruiters seem to have preferences in terms of the automation they want to see and automation they may want to avoid.
Recruiters spent the majority of their time sourcing candidates. They could be using job boards or social media channels to source candidates. 46% of the survey respondents have said they would like to see candidate sourcing automated.
Using AI for resume screening can save a huge amount of time. Resume screening is another everyday task where recruiters spend a huge amount of time. The recruitment automation report indicates that 31% of the recruiters said they would like to see resume screening automated.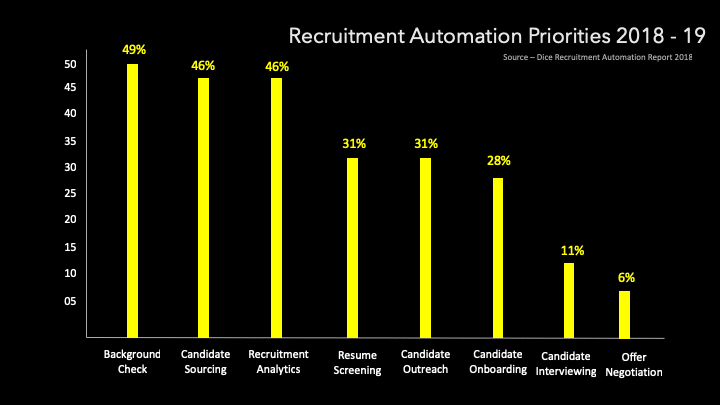 46% of recruiters felt that recruitment automation can help them measure various aspects of the hiring process. Recruitment analytics can reveal interesting facts about your talent acquisition process.
Although most recruiters want most of their daily tasks automated, they feel that tasks like interviewing and offering negotiations cannot be automated. Recruiters felt personal level engagement is required for both offer negotiations and interviews.
Summary
With the rise of AI for recruiting, there is a lot of buzz around intelligent recruiting automation. Companies are looking for recruitment automation software with technologies like AI, ML, NLP to automate most of their recruiting tasks. The majority of recruiters seem to look at AI recruiting tools for smart assistance than seeing it as a threat. Hence, 30% of the recruiting teams are planning to spend on recruitment automation in the coming year. Also, recruitment automation improves the candidate experience. Good candidate experience registers with the user. It ultimately helps in improving the brand value of a company.