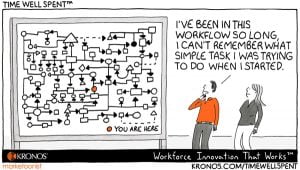 21 #HRTech delivers on Speed means the Velocity — The pace at which the old operations are done with the automation and without the automation :
HR professionals have to start working backwards like Project Management Professionals in harnessing the Speed or Velocity at which the required number of tasks are achieved  pre and post the use of automation. The improvements in #workflow are often between 30 percent and 100 percent in process in terms of speed after HR Tool deployment. Companies expect improved level of service as per the agreement over a short period of 3 to 4 of data processing that is to be automated over a set of operations. Certain tasks in combination with human interface normally take days, but the automation can complete them in just hours.
22 #HRTech  delivers on Productivity — Amount of time taken for the entire length of operations : pre and post automation    :
HR professionals have to benchmark the time it has taken for reduction in manual work through a successful deployment of HR Tool. Certain tasks in combination with human bring scalability which requires no supervision for the team hence the HR department overall does not need to spend time on reviewing daily or hourly certain processes like hiring of candidates. In fact the #AI used in Talent acquisition adds very high degree of efficiencies into the HR recruitment processes along with the removing of sub-conscious biases in the selection steps.
23 #HRTech  delivers   Object-oriented structured tools  :
HR professionals may require more time in the beginning, these new HR tools also provide great reusability and resilience and with the advent of #AI based on #ML. This should pay off significantly in the long run. With object-oriented hr tools, organizations can reduce end-to-end build time by allowing multiple people to work on the BEST way of USING automation simultaneously. This frees up the HR process architect to focus on developing the critical path activities by use of the AI based tools with business rules and logic being ML aided.
24  A large gap between need for HR Transformation and sustainability of old processes :
HR needs to take to onus of disrupting itself or be disrupted. This doesn't need to be "The one shoe fits all".  The old processes have stopped mimicking the new ways and means of hiring that means whether its #ATS or any #HCM or# HRIMS. Use of HR Tech has now evolved with use of #AI, #MachineLearning, #DeepLearning, Data Analytics to the core with a view to insight and automation.
25 Trusting algorithms is new way of being open to Tech changes  by #HR for HR:
If one could move from LOTUS 123 to excel sheets to accounting software using #AI , #BigData , Algorithms shaping buy/sell in stock markets. Is there any need for lack of trust in HR going the same way. Since financial decisions are made by CEO's or CFO's , old age cost centre tag will not result in changes amounting to disruption for the better. And a strong brand may not necessarily help as core ROI proof lies with #HR.
26 Use of Automation will rejig the HR world to decrease repetitive work and not HR jobs :
This basically means HR professional who is already getting a grasp of things to come will welcome the change whether it is #AI enabled or Augmented enabled automation. The human touch will be the key that means integration of #HRTech with new upskilling , focus on getting to right candidate first whether you get to the purple squirrel, it's a business process engineering the key to HR Transformation at the end 2020 like someone said HR will be changes thanks to Automation.