If you haven't read the previous parts in this series, you can read it here : part 1 – Top 26 key reasons driving HR Transformation and  part 2 – Top 26 key reasons driving HR Transformation, where I have discussed various aspects about talent recruitment.
14  Underestimating the power of new #HRTech in improving ROI : 
Underestimating the potential return on investment has been happening due not having sufficient time mapping of the HR processes. A consulting firm in US has done mapping of the ROI of countless deployments of #HCM technology. It was found that cloud-based solutions deliver more than two times the value of solutions that exist as on-premise or are merely hosted privately. There is a high difference between usability and functionality.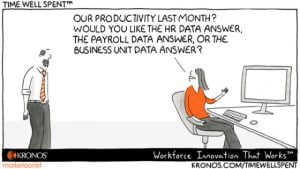 15 Do not use existing HCM platforms as the benchmark :
The latest HR Tech solutions promises to equip employers with insights that can help them make smarter strategic and tactical workforce decisions. But not every solution is right for every company's needs due to lack of understanding of the inherent flaws in the old outdated processes. E.g Use of #AI is a game changer but doesn't sticking to mundane steps in hr process which has human bias cause us to stick to in efficient and time consuming procedures due tack of trust in Technologies – A basic need in Robotic Process Automation(#RPA).
16 Any HR System using Skill Mapping as its core – is bound to win :
The question is how many  claim to be truly assessing skill of the candidates a core of any HR system . There will be trade- offs as finance or tech or marketing verticals will require certain information and data apart from the HR department needs to get its key concerns solved first. Agreed Traditional HR systems used to cost an arm and a leg. Taking this back to my very point 14, this was because they were designed for large, often international, organisations. If you are worrying about affordability, then it's probably because you're still unaware that all your concerns get addressed if you define your key problem. And I've got great news for you – there is a lot of HR technology (#HRTech) out there right now that is built especially for you !
17 If #AI needs Human Intelligence its also vice versa even in #HRTech :
#HRMIS are in the need for a major overhaul, but does not mean the old processes do not work. Now let's give it a time factor called a being agile . If Sales & Marketing , Operations and Finance are all agile up and running with talent recruitment software with intelligence derived from machines aided by humans. HR Systems are bound to feel the heat , the need to respond based on data and insights FAST is the key. So which means HR IS NOT ONLY ABOUT HR – it never was a balance in any organization is achieved when technology uplifts each departments productivity – KEY to HR TRANSFORMATION.
18 Saving recruiters' time by automating high-volume tasks is the key to using #HRTech :
Speed up at the cost not losing the quality of talent recruitment through automation softwares's reduces time-to-hire which means HR now possesses the ability to zero in the best talent to faster moving competitors. So whether you are a small SME or a big Organisation , the journey of recruiting is getting longer and the fact that 2/3rd of the recruited professionals quit in the first two years. The best AI-powered technology will be designed to not only automate a part of your workflow but to integrate seamlessly with your current recruiting stack so it doesn't disrupt your workflow.
19 Bringing objectivity to recruiters' time by automating repetitive process using #HRTech :
The promise of using Technology e.g. Use of #ML Algorithms  to improve quality of hire lies in its ability to use data from the digital profiles to do the matching between candidates' experience, knowledge plus skills and the requirements of the job.This improvement in job matching is given for the HR professionals to lead into the next steps with time on their sides – more than 80% time saved, more productive employees who are less likely to leave –  because HR has the time to spend more on human – one to one interactions. #HRTech uses the data derived from profiles for the #Talentacquisition arm to do  a better job based on #Insights drawn in a manner to cascade the right hire .
20 #HRTech disruption is not only on ROI but also effective #HRTransformation that simplifies operations :
HR professionals are often are pushed into taking decisions on whether to encourage algorithms to be used that will truly not just replicate their operational and cognitive processes in HR – search – match  –  hire for talent recruitment. Understandably, talent acquisition heads can be more than apprehensive of any technology that promises to make their decision making cognitive tasks to be made easier. The key is have a set of parameters which will  them to be assured  that any automation software that will automate one of their work tasks is going to be able to do as good of a job as they can.
CVViZ(www.cvviz.com) has made a compelling business case with many such organizations (Global Players and Indian Companies) who truly believe in digital transformation starts with people + processes and have presently made a more capable HR talent recruitment team.
Quote by Josh Bersin :- " In India, There will be shift in service delivery towards strategic consulting  for HR,#AI and cognitive computing has come to HR – it's even bigger than we expected. "