We always measure things that we are focused on or things are of high importance. An athlete would measure how fast he is going. A health conscious person will regularly measure important health check parameters like blood pressure, sugar level, body weight, etc. Similarly, recruitment analytics is a way to measure how efficient and effective recruitment processes are.
Why Recruitment Analytics Is Important?
Recruitment analytics comprises of various metrics. These metrics gives us proofs or it unveils different stories like are we hiring better than last year? Are we paying at par to our employees? Is investing into recruitment technology such as AI in recruitment giving us edge over others? What are the kind of candidates our company is attracting? Do we need to change our recruitment marketing strategies to attract better talent? And the list goes on.
Answers to all such question help organizations plan better for their growth. Companies get to know what kind of resources are available out there. Therefore, it also helps companies in budgeting their spend. Basically, recruitment analytics help you optimize your hiring process.
While the advantages of recruitment analytics are numerous, let's take a quick look at some of the important metrics.
A. Time to Fill
It is a great metric to measure efficiency of the recruitment process. Time to fill is a time or days spend from the day of publishing the job and till the day of hiring of the candidate for that job. It is often measured for a recruiter however it is equally important to measure this parameter for hiring mangers.
Same parameter can be used for a job role as demand and supply ratio varies for every kind of job. Meaning, in general, it takes longer to hire someone for niche skills than to hire someone for vanilla skills.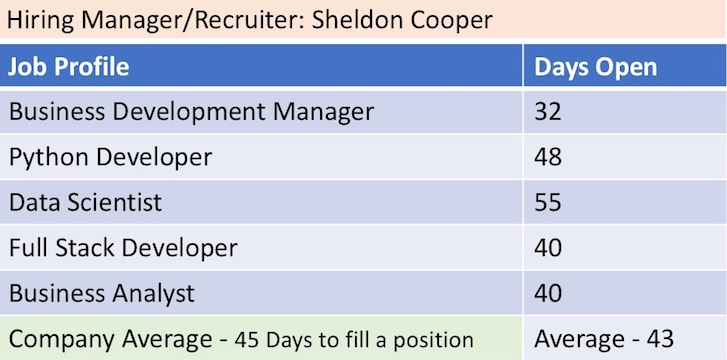 B. Time to Hire
Time to hire indicates the number of days between the candidate first approached and the day candidate accepts the offer. In other words, it shows how efficient is the hiring process once the candidate has applied or approached for the job.
Remember, active quality candidate vanishes off market in a blink of an eye. Hence, this metric is important indicator of the efficiency.
C. Cost Per Hire (CPH)
Cost per Hire is a great measure of effectiveness. It is a simple ratio of total amount spent and number of hires. However, amount spent comprises of multiple cost structures such as –
Advertising cost
Recruitment vendor charges
Referral amount
Candidate Expenses (travel, recruitment drive, etc)
Salaries for recruiter, hiring managers, hiring panel (number of hours spent * salary per hour
The formula for cost per hire would look like –
CPH = Total Recruitment Spent / Total number of hires
D. Source of Hire
Source of hire is a one of the basic recruitment analytics metric. It tells where you are getting candidate applications from. It largely depends on the kind of job profile you are hiring for. There are various recruitment channels such as career page, employee referral, job boards, recruitment agencies or recruitment companies, social media, social hiring, etc. Therefore, it helps if you understand each recruitment channel well.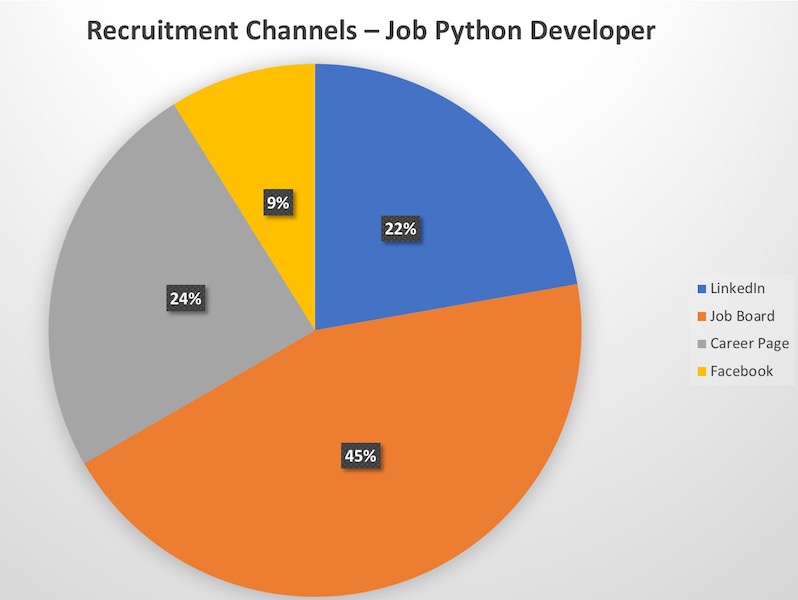 E. Effectiveness of Sourcing Channel
It is equally important that you measure effectiveness of each sourcing channel. Each source channel will perform differently for different job role.  e.g. You may realize you are able to source quality candidates for niche programming skills on specialized social platforms like GitHub where as you may be able to source more candidates for marketing positions from job boards.
This metric in recruitment analytics is very interesting. Reason it interesting because it helps you in allocating budget for your recruitment spent. Based on the job you are hiring for you can focus on particular recruitment channel.
For example,
8 out of 50 (16%) sourced candidate from LinkedIn were shortlisted for interviews.
10 out of 40 (25%) candidates who had applied for the job were shortlisted for interviews
Similarly, this can continue till the final stages of hiring process. This could be a good evaluation of portals such as Indeed, Monster, Dice, Seek, etc.
More Recruitment Analytics Metrics
While we discussed some basics metrics, there are many more metrics that will help you measure important aspects of recruitment and selection process. For example, you can measure effectiveness of recruitment process by measuring quality of hire, hiring manager satisfaction and candidate experience.
Final Thoughts
If one is serious about running recruitment process with great success, it is important that these recruitment analytics metrics are measured every month, quarter or every six months. You need to benchmark your results with previous results and then with the industry standards to know where you stand. A good modern applicant tracking system or recruitment software should provide you such recruitment analytics.