The recruitment process demands precise coordination. It involves many stakeholders. Hence, you should be using recruitment technology such as online recruitment software to help you achieve most of your goals with ease.
While there are many options out there, let's look at what are the important features that every recruitment software must have.
What is an Online Recruitment Software?
Online recruitment software is a tool to automate many routine tasks within the talent acquisition process. Online recruitment software is referred by many terms such as talent acquisition software or applicant tracking system or ATS.
Term 'online' in online recruitment software suggests that it's a software that can be accessed via a web browser. It may also suggest that it's a cloud-based recruitment software. And most importantly it hints at is that you should be able to work anytime and from anywhere.
There are many online recruitment software available in the market. These may vary in terms of features they offer. However, there are some basic features which must be provided by any online recruitment software such as
Resume Storage
Resume Parsing
Database Search
Manage Job Requisitions
Career Page Hosting or Integration
Emailing
Interview Scheduling
Social Media Integration
Resume Storage
You can expect many resumes to flow in when you post a job out there. However, your online recruitment software should make sure that these resumes are uploaded into the system. These resumes can be received when someone applied to the job you have posted.
There are times when you will receive many resumes in emails. Good online recruitment software should be able to pull resumes out of your emails or Inbox.
Resume Parsing
It is one of the most critical features of online recruitment software. Resume parsing is extracting important information such as name, email id, contact information, qualification, work details, etc from resume.
It may not be an entirely user-facing feature but it helps in structuring resume data.
Resume Database Search
Once you start storing resumes into the system, you would want to search through them. Search is a very important function for any online recruitment software. You should be able to search for resumes in your recruitment database whenever there is a new requirement.
Today, with technologies like elasticsearch, search capabilities have become very powerful. You can search almost anything in your resume database in no time! You can do full-text search, boolean search, keyword search and many more kinds of searches. New recruitment software provides such powerful search capabilities.
Manage Job Requisitions
In general, most organizations would hire for about 18% of their current strength. It means there will be multiple positions to hire for. Few positions are urgent, some may go on hold, some are niche and some are difficult to fill.
You could be using multiple job boards like Indeed or Dice for sourcing as well as advertising your jobs. You need to manage both sourcing resumes for a job or for multiple jobs. There could be one or more recruiters working on a requisition. It could also happen that recruiters have different roles assigned among themselves. Whatever is the story, good online recruitment software should help you to manage all requisitions with ease.
Career Page Hosting or Integration
A career page on a company website displays all open positions. Online recruitment software should allow you to manage these positions on the career page.
Interested candidates often visit career page and apply. They submit their resumes on the career page. Recruitment software makes sure this resume is uploaded into the system.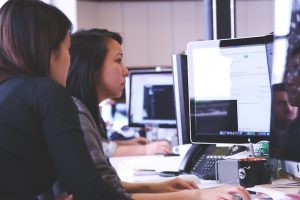 Emailing
The hiring process is a highly collaborative process. It connects hiring managers, recruiters, and candidates. And communication is the key to keep them connected. Hence, it is important that your online recruitment software must help you to communicate with all these stakeholders efficiently.
Emails are the most common formal communication channel. According to a survey by Entelo, email is the most effective and most commonly used medium of communication. Hence, your recruiting software should be able to help you organize email communication with features like auto emailing, different email templates, personalized emails, auto-interview feedbacks, etc.
Interview Scheduling
Interview Scheduling is more of a coordinating time slot between an interviewer and a candidate. Instead of calling them out of turns, let you online recruitment software help you schedule interviews automatically.
Both parties will get an email to choose preferable slots and then get notified or reminded when the interview date appears.
Top online recruitment software can also help you to conduct video interviews and store interview feedbacks on candidates.
Social Media Integration
With social media platforms' popularity, they can be great candidate sourcing channels. These platforms help you in spreading the word faster. It helps you in marketing open positions. However, you cannot go about posting every job manually on every leading social platform. Well, your online recruitment software should be able to post jobs to relevant social media platforms or job boards in a click of a button.
Conclusion
With ever-growing job markets and competition to hire the best talent, it is very important to source, to identify and to reach qualified candidates sooner and faster.
Remember, hiring is one of the most critical functions of any organization. Hence, a recruiter should be spending most of their time in engaging the best candidates and not get lost in the hiring process.
While there are many good options out there, some could be very traditional like Taleo, and some are modern applicant tracking system. You need to find out what kind of online recruitment software is best for you. Nevertheless, 93% of the organizations who have used any online recruitment software said they were able to hire faster and better.