Hiring is becoming increasingly difficult. Every so often, reassessing your recruiting strategy is a must, as there is a myriad of new trends continually reshaping the talent landscape. If you're on the lookout for new talented professionals, then doing so is a good move.
One of the trends that have been making a lot of difference for recruiters is social media recruiting. It's not exactly a new tendency – in fact, 82 percent of U.S. companies and recruiters were using social media for hiring as early as 2010 – but it continues to be one of the most important to consider.
In this article, we're going to talk about why social media makes perfect sense for recruiters looking to hire college students. Not only can social media be a treasure trove of candidates, but it can also increase the quality of hires.
But first, let me explain why social media can support recruiters on the quest to find talent.
Social Media: Hiding Little Nuggets of Gold
Okay, there's no actual gold on social media, but as a recruiter or a company looking for talented hires, you know very well that many great candidates aren't looking for a job. Unlike active job seekers who publish resumes on online job boards and connect with recruiters, these people are employed but ready to accept employment offers.
Yes, I'm talking about the so-called "passive job seekers."
According to a recent survey by LinkedIn, up to 70 percent of the global workforce consists of passive talent. About 87 percent of both active and passive candidates are open to new job opportunities, says the same source.
Thus, it's safe to assume that many employed professionals would be interested in knowing about offers from other companies (often they get information about new offers from colleagues and friends).
The high percentage of passive talent also means that the overwhelming majority of qualified individuals are waiting for you to discover them, but doing so wouldn't be easy. In other words, they don't have their resumes readily available for you on an online job board like those actively looking for a job.
This is where social media recruiting comes in.
A candidate, be it a veteran professional or a college student looking to start a career, has a social media profile on at least two major social media networks. In fact, the average person has 7 social media accounts, and this number rises to 8.7 accounts for those aged 16-34.
With Facebook, Instagram, and LinkedIn being the most popular networks, recruiters can easily expand their strategies beyond job boards and job fairs and enter the world of social media hiring. Besides, LinkedIn – the most valuable source to recruiters with it comes to social media – has become a student-friendly platform.
That's why the vast majority of job seekers – 85 percent, to be exact – have profiles on LinkedIn.

Plus, LinkedIn encourages college students to create profiles and provide tons of advice on attracting potential employers. For example, the below image is part of the special guide on creating effective student profiles on the platform, developed by LinkedIn.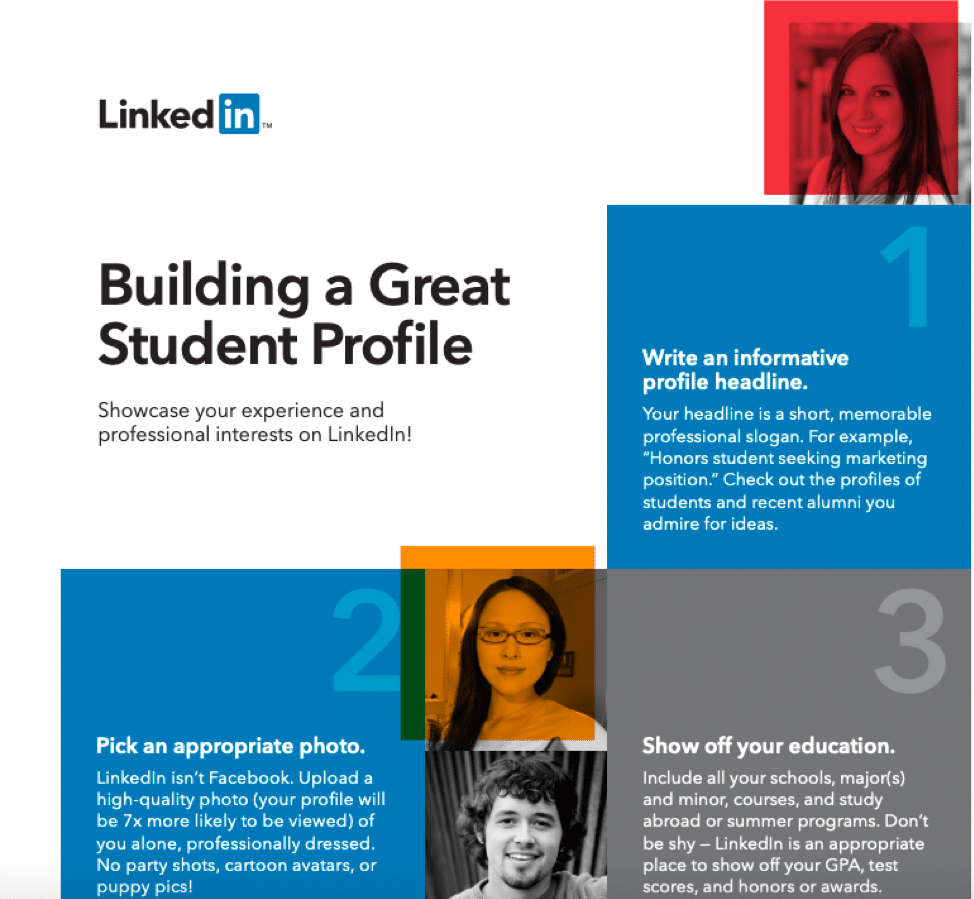 On a personal note, it's a good thing that LinkedIn is doing this, as some young people often tend to treat professional social media networks like Facebook.
This effort to attract students and fresh graduates is definitely paying dividends, as they're about 39 million student profiles on LinkedIn now, and this number increases every day.
So, to tie this back to recruiting, social media has a lot of passive candidates, many of them being students, which are basically little nuggets of gold for recruiters. So you should definitely do some "digging" to find them.
How to Use Social Media to Recruit Promising College Students?
There's a good chance that you've already used social media to find talent. Perhaps, you looked at a candidate's profile and evaluated their experience before making a decision to contact them. Well, in the case of college students, there might be no significant experience – or no experience at all – to look at and evaluate.
This means that screening student profiles will be a little bit different. Let's start with the basics.
1. Make LinkedIn Your Base for Search
LinkedIn is without a doubt your best shot here with a sizable student community awaiting proposals from employers (as mentioned, 85 percent of job seekers have a profile on this platform). Widely regarded as the number one source of quality hires, this professional network is where we'll start looking for student candidates.
While the basic candidate search tool on the platform doesn't provide most of the search filters you need to find students, it could still work for you (if you're willing to invest a bit more of your time). On the other hand, a LinkedIn recruiter, a premium search tool, is a better way to go.
For example, it has more advanced search filters to refine your search results, and some of them are super helpful in the student candidate search. For example, you can refine the results by adjusting such search filters as Education & Experience, Schools, Year of Graduation, Fields of Study, Degrees, and Seniority.

By using these filters, chances are good that you'll be able to discover interesting student candidates. Check their degrees, the year of graduation, fields of study, and other factors to make a good choice. Then, connect with those who look the most promising based on your company's needs.
Also, take note that companies are advised to connect with students for at least a year before graduation. This gives a chance to stay top of mind with students by sharing interesting information, employment opportunities, and behind-the-scenes videos. If a student realizes that your company is a fun and interesting place to work, your website will be the first they'll visit when looking for a job.
But, of course, feel free to connect with students of different years of graduation if your priority is to find part-time employees.
Another way to look for student candidates on LinkedIn without the need to upgrade your account to use the recruiter feature is to visit profiles of educational institutions and look through the alumni pages. For example, every university or college profile has an Alumni tab on the menu, which you can use.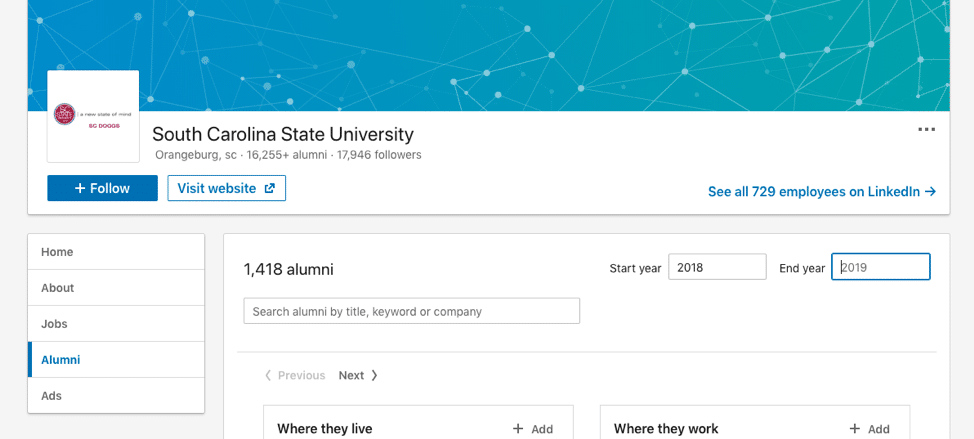 As you can see in the image, South Carolina's State University's page has 1,418 alumni profiles, and you can even adjust your search by a start year, title, keywords, and other filters. The search opens a list of people associated with the University, and many of the profiles you'll find will belong to students and graduates.
The search for current employees is also available, so you can find students currently working for their educational institutions (passive candidates, remember?)
However, even though LinkedIn is the best place to find talent, don't underestimate Facebook and Twitter. Being good starting points for candidate search, these platforms could help you to find more useful information about candidates you found on LinkedIn.
Takeaways:
LinkedIn is your best bet as a social media platform for recruitment
Whether you're using the basic candidate search or LinkedIn Recruiter tool, there are ways to find student profiles
Linkedin has university and college profiles to provide you with access to potential candidates.
2. Look for Good Signs and Red Flags in Social Media Profiles
Regardless of the social media platform, you're using to find student candidates, there are a number of sure-fire good signs and red flags to look for.
According to the 2018 Recruiter Nation Survey, recruiters have a list of them. For example, references to marijuana the worst thing on a candidate's profile while engagement in local or national organizations was considered the best sign.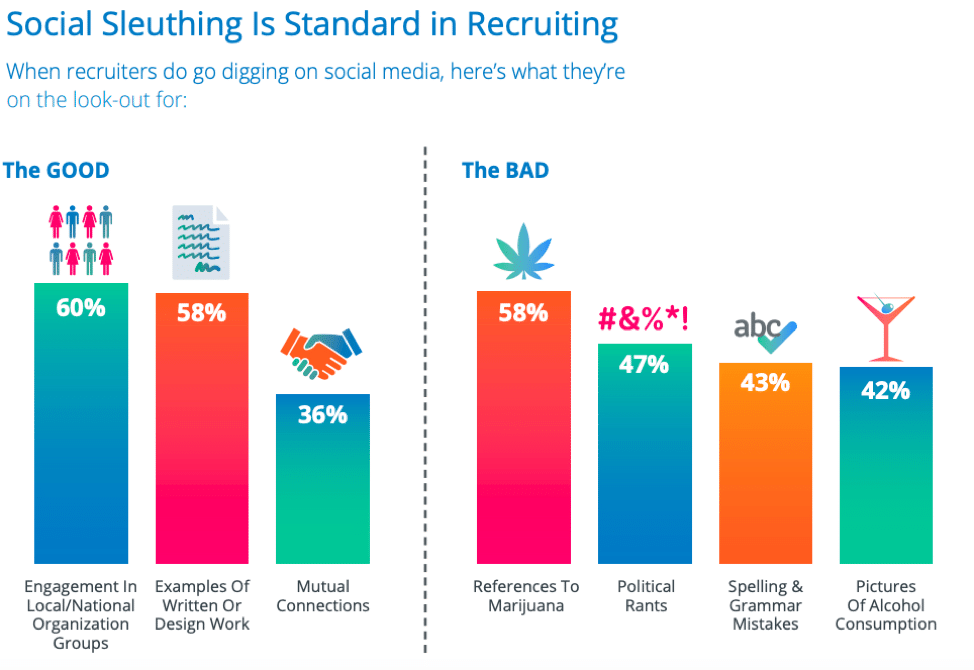 Of course, the list of red flags doesn't end with the four examples above. Other ones that had less impact on a recruiter's decision include:
Candidate's showing off wealth or big purchases
Dressing in revealing outfits
A lack of social media activity (some recruiters treat it as a sign that a candidate is not dynamic enough)
Messages bad-mouthing previous employers
Showing too much skin in photos.
One exception here is selfies. Just five years ago, a big share of recruiters opposed selfies and treated them as a red flag. However, nowadays, the overwhelming majority of hiring managers and recruiters said that selfies didn't influence their opinion on a candidate.
In addition to selfies, examples of work, engagement in organization groups, volunteerism, academic achievements, and internships are good signs to see.
3. Use Videos in Recruitment
Video is the most popular medium out there. It's the best in driving engagement, so there's been a tremendous explosion of video production out there. In fact, there are predictions that video will comprise 80 percent of all Internet traffic by the end of this year.
It's definitely on the way there. According to Forbes, more than half a billion users watch online videos on Facebook every day, and this number grows every day. Unsurprisingly, most of the viewers are Millennials – people aged between 22 and 37 – and Post-Millennials (0-21 years old now).
The benefits of video for recruitment are numerous and definitely worth pursuing:
Reach passive candidates. In addition to showing the videos on your official pages, you can go for paid ads to show them in social media users' feeds. A passive candidate thus can spot and view the video even without being connected to your company's profile or a recruiter's profile
Engage young candidates. Since Millennials and Post-Millennials watch videos on social media the most, using videos for recruitment would mean creating content they prefer. In other words, video can generate more candidate engagement than other content types such as a traditional textual job description.
This makes video a perfect tool for recruiting students. Here are the tips to make them work for your company:
Incorporate videos in job postings where available or share job alerts in the video. Have your recruitment managers share videos with job alerts and posting on social media and invite people to apply. Below is an example of a recruiter using video in a job posting on LinkedIn to attract more views.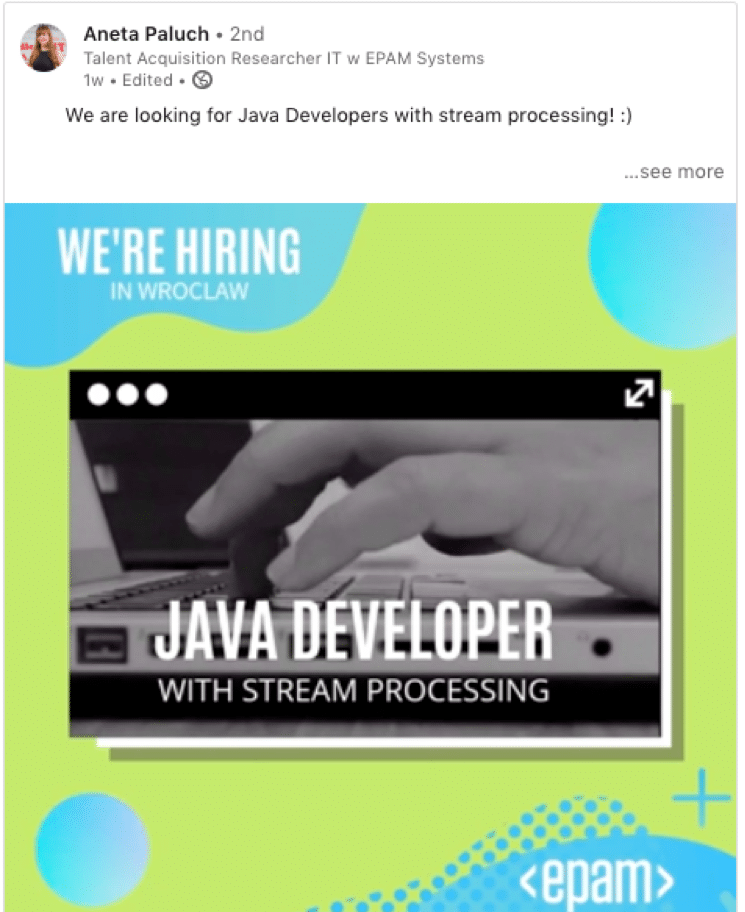 Share videos of how your company works to show that it's a nice and fun place to work in. For example, you can show such events as birthday parties, conferences, individual or company achievements, awards, and other exciting events. Not only this works to attract more attention but it also improves your employer brand.
Create video job descriptions. If it's possible, feel free to make the entire job description a video. It could even be something simple as an animated list of responsibilities and qualifications
Use pre-recorded video interviews. This is an interview where the candidate answers the questions without the presence of the recruiter. It works like this: you send a student candidate the list of questions to evaluate their candidacy and give them the deadline for making the video interview. A pre-recorded interview could be a great way to engage students who have studied and work part-time, so have a limited time to come to your office to speak with you
Live video interviewing. Another option is to engage students via video to reach student candidates in different geolocations. It's easy, free, and quick, and gives an opportunity to meet the candidate and assess their skills.
4. Evaluate and Confirm Candidates' Qualifications Online
Gone are the days when companies pre-screened candidates through personality assessments and phone interviews. Now, you've got tons of useful data to confirm a student candidate's qualifications; in fact, you can study their social media profiles and find out what's needed.
Here are some of the most useful and relevant things that a social media profile can provide to recruiters:
Job experience. According to the National Center for Education Statistics (NCES), 43 percent of full-time students and 81 percent of part-time students worked in 2017. With such a large share of students working, it's important for recruiters to check their experience with part-time employment and/or internships
Skills. LinkedIn, for example, allows a user to include as many skills as they want on their profile, which can be used by some to spruce up their resume. This means that in addition to custom essay writing, students can add a countless number of skills to their profile. If a recruiter needs to check the real skills of candidates, though, they can prepare personalized skills or ask to confirm the possession of skill during an interview
Interests and career aspirations. The content that a candidate shares in their feed says a lot about their personal and professional interests
Resume. Some student candidates share their resumes on social media to get the attention of recruiters.
Portfolio. Student candidates often share examples of their work on social media, preferably LinkedIn, so a recruiter can take a look and avoid making a poor hiring decision.
If you'd like to confirm a candidate's qualifications and tests, you can save the information above and match them to what he or she says in a resume or during an interview. As a result, you'll get a more accurate picture of their real qualifications and skills.
5. Build Employer Brand
Achieving this goal is critically important for companies. For example, having a great employer brand is an outcome of a constant nurturing of young candidates, which can result in the company being the first option that pops up when they think about looking for a job.
There are many ways in which employers can use social media to both build their employer brand and increase the awareness of their companies among students. Here are some of the best.
Here's how a talent acquisition professional working for Timberland and VF Corporation, shares a description of the culture on her LinkedIn profile.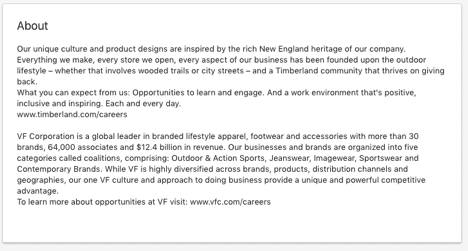 Share employee testimonials and stories. Learning from someone who actually works at a company is one of the best ways to know about organizational culture. Employee stories and testimonials about their experience with a company are therefore a great way to let student candidates do so. For example, here's an example of a video testimonial from Lorenzo, a store manager at Timberland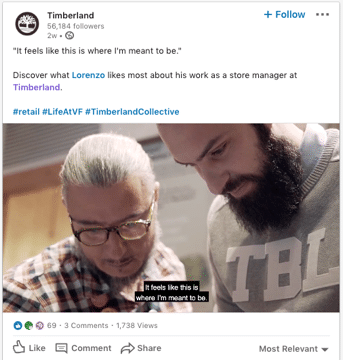 Show employee wins and accomplishments. Employee appreciation is a tremendously important part of a positive employer brand that can attract a lot of talent. To demonstrate how your company values its employees, you can share stories about them, their wins and achievements at your company, and other important events in their lives. For example, here's Timberland once again, sharing the info about one of the employees making the Drapers Power 100 list of the Most Powerful People in Fashion Retail.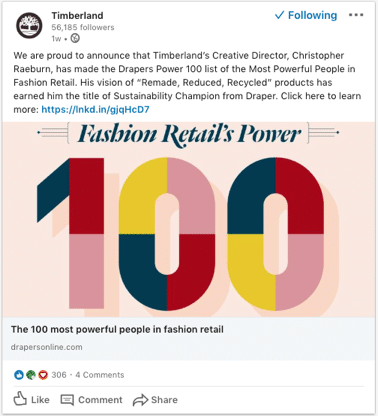 Sharing posts on a regular basis helps to build a positive employer brand and attract more student candidates. Remember, all people want to work for a company where they feel appreciated and comfortable, so doing your homework with social media will be a step to attracting student talent to your company's profiles.
Social Media is a Must for Attracting Student Talent
Social media is a must for recruitment. Essentially, it's a vast pool of student talent – both active and passive job seekers, and no other hiring resource doesn't even come close to matching its ability to provide access to candidates.
To summarize what we've just discussed, here's how to use social media to recruit student candidates:
Focus on LinkedIn, as it's the best positioned to provide relevant information
Look for red flags and good signs in student profiles
Use videos to increase engagement
Evaluate and confirm candidates' qualifications using the information on their profiles
Aim to build a positive employer brand with every piece of content you share on social media.
The bottom line here is that as a recruiter or a talent acquisition professional, you need to be where the most talented job seekers are, and social media is certainly a place like this. Meeting the candidates where they are and presenting them with an opportunity to see how great your company is would definitely be super beneficial.
About The Author
Jessica Fender is a professional writer and educational blogger at Bestwritingadvisor, an aggregator for useful college resources and websites. Jessica enjoys sharing her ideas to make writing and learning fun.